Baltimore Orioles: Top Five Pitchers Of The Decade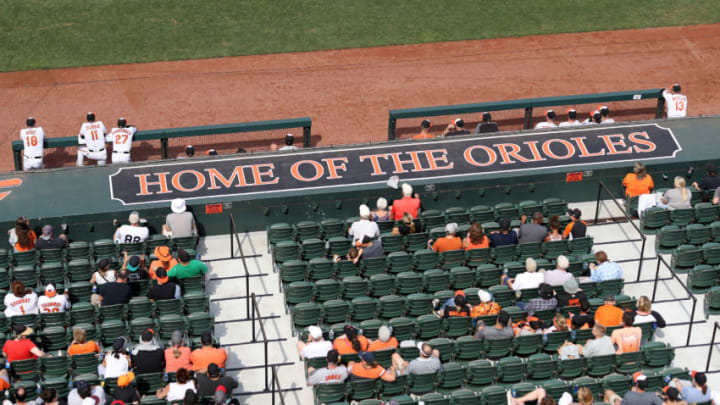 BALTIMORE, MARYLAND - SEPTEMBER 22: A general view during the Baltimore Orioles and Seattle Mariners game at Oriole Park at Camden Yards on September 22, 2019 in Baltimore, Maryland. (Photo by Rob Carr/Getty Images) /
With another decade in the books, we take a look at the top five Baltimore Orioles pitchers from the last ten years.
Earlier this offseason, we released our Baltimore Orioles All-Decade Team, which you can check out here. Since then, many other websites and blogs have published their own lists for their respective teams, which are always fun trips down memory lane.
From 2010-2019, the Orioles made the playoffs three times ('12, '14, '16), won the American League East once ('14), and put together five-straight seasons of .500 or better ball ('12-'16) after 14-straight losing seasons in Birdland.
Despite finding themselves at the top of the list for wins by an American League team for a good stretch of the decade, the Orioles closed out the 2010s with two of the worst seasons in franchise history and find themselves in the midst of a complete rebuild with even more house cleaning set to come before the 2020 season begins.
One common theme throughout the decade was the lack of starting pitching, even on winning Orioles ballclubs. To go along with our All-Decade Team, we wanted to highlight the top five Baltimore Orioles pitchers of the last ten seasons, with an interesting note to start.
Based on Fangraphs' WAR, the top pitcher on this list compiled a 10.4 fWAR over the last decade in an Orioles uniform. For context, more than 120 other pitchers finished with a higher fWAR value during the same time frame.
Here's the breakdown of that Orioles list:
After making his major league debut at 19 in 2012, Bundy wouldn't return to the majors until 2016 where he has spent the last four seasons in the Baltimore Orioles rotation. Over that span, he is 38-45 with a 4.67 ERA and 1.33 WHIP. He has fanned 602 opponents across 614 innings, ranking him third among Orioles pitchers this decade, more than 200 behind Chris Tillman and his team-leading 808.
His best season came in 2017, where he won 13 games and recorded the lowest walk (2.7) and hit/9 IP (8.1) rates of his career, up to this point. He would follow that season up in 2018 by leading the league in losses (16) and home runs allowed (41).
Now coming off an improved season, Bundy finds himself on the trade block and is likely to be moved in the coming days after the release of this article. The former top prospect has yet to live up to his potential, but at 27, he's sure to provide value to another franchise as a back-end starting pitcher.
Britton played in an Orioles uniform for eight seasons from 2011-2018, climbing up to second on the Orioles all-time saves list with 139. Before his days as one of the more dominant closers in the game, Britton was a struggling starting pitcher in Baltimore, walking more than 4/9 IP during his time in the rotation.
He immediately found success in the bullpen beginning in 2014. Britton went 3-2 with 37 saves, a 1.65 ERA and a 0.90 WHIP in 71 contests that season. He would follow up his first season out of the pen with back-to-back All-Star appearances, including a league-leading 47 saves in 2016 to go along with his microscopic ERA of 0.54.
Over the course of his Orioles career, Britton was 30-22 with a 3.22 ERA, 1.26 WHIP, 139 saves, and 425 strikeouts. He was traded to the New York Yankees in 2018 for pitchers Dillon Tate, Josh Rogers, and Cody Carroll.
3 and 2) LHP Wei-Yin Chen and RHP Chris Tillman- 9.4 fWAR
A tie! Wei-Yin Chen's performances were never very sexy, but they got the job done, most of the time. Chen signed with the Orioles back in January of 2012 out of Taiwan and would pitch for four seasons in the Orioles rotation.
He would finish fourth in AL Rookie of the Year Voting after his 12-11, 4.02 ERA debut season with the Orioles and would not experience a losing record in his four years. Chen went 7-7 in his sophomore season, followed up by 16 wins in 2014 and 11 wins in 2015.
Overall, Chen was 46-32 with a 3.72 ERA across 117 starts. He signed with the Miami Marlins ahead of the 2016 season but struggled in his four seasons with Miami.
A leader for the Baltimore Orioles during his tenure, Chris Tillman won 74 total games with the Orioles and made one All-Star appearance in his 10 seasons. Currently a free agent and not having pitched since 2018, Tillman sits tied with Wei-Yin Chen on our list, according to fWAR.
He was a 16-game winner twice during his career, including his 2016 season where Tillman went 16-6 with a 3.77 ERA before falling off and never regaining his form due to injuries and decreased velocity.
More from Birds Watcher
Overall, Tillman was 72-55 with a 4.53 ERA, and a 6.73 K/9 IP rate across 198 games (193 starts) last decade, logging a team-high 1,080 innings (numbers do not include his debut season of 2009)
A former first-round pick of the Orioles out of LSU, Kevin Gausman struggled to put it all together in the Charm City, but he does go down as having the highest Wins Above Replacement value among every Orioles pitcher from 2010-2019. I wish I was kidding.
Gausman pitched for parts of six seasons in Baltimore, compiling a 39-51 record, a 4.22 ERA, and 697 strikeouts in 763 innings pitched. He won a career-high 11 games in 2017, his final full season in an Orioles uniform, but his best season, by WAR, came in 2016.
Gausman went 9-12 with a 3.61 ERA that season, sporting a career-high 119 ERA+, and an 8.7 K/9 IP rate, his highest strikeout rate in Baltimore.
As with most players of any value in Baltimore back in 2018, Gausman was traded to the Atlanta Braves along with Darren O'Day for prospects JC Encarnacion, Bruce Zimmermann, Brett Cumberland, and Evan Phillips. He would go on to compile an 8-10 record and 4.77 ERA with the Braves before being designated for assignment and claimed off waivers by the Cincinnati Reds.