Baltimore Orioles All-Decade Team: 2010-2019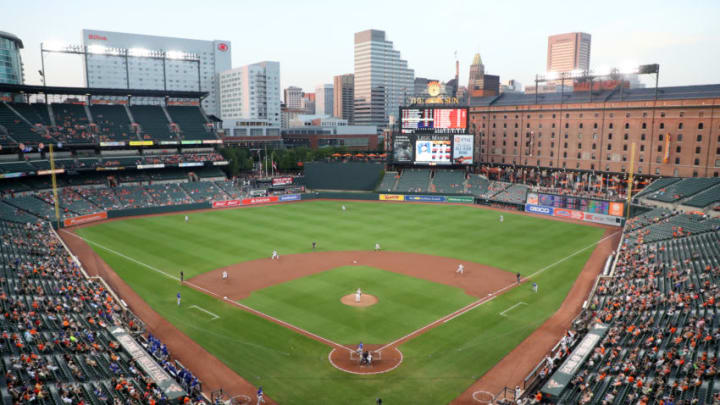 BALTIMORE, MD - AUGUST 29: A general view during the second inning of the Baltimore Orioles and Toronto Blue Jays game at Oriole Park at Camden Yards on August 29, 2018 in Baltimore, Maryland. (Photo by Rob Carr/Getty Images) /
The Baltimore Orioles have seen numerous memorable players come through the system over the last ten seasons. We compiled the best of the best to form the All-Decade team.
With the 2019 season coming to a close, another decade of Baltimore Orioles baseball is behind us. Times may be a little tough at the moment, but overall, this past decade was much more entertaining than the previous ten years.
Over the last decade, we saw the Orioles end their streak of 14-straight losing seasons, they made the playoffs for the first time since 1997, and we've witnessed the rise and fall of a thrilling era that featured fan favorites Adam Jones and Manny Machado, all led by the man himself, Buck Showalter.
From 2012-2016, the Orioles made three playoff appearances and despite not making it to a World Series, they were one of the more dominant teams in baseball during this stretch. However, as quickly as 96 wins appeared (2014 season), the losses accumulated in record fashion.
Since that 2016 American League Wild Card disaster, Baltimore dropped to 75-87, then a franchise-worst 47-115, followed by a 54-108 2019 season, all three records resulting in a last-place finish in the American League East.
Brighter times appear to be on the horizon with a new regime leading the way from the Warehouse, a vastly improved farm system, an international presence, and a modern approach to training and development.
To wrap up this last decade, we have compiled the top player at each position over the last ten seasons to form a Baltimore Orioles All-Decade team.
C- Matt Wieters– Wieters and Caleb Joseph have played the vast majority of games behind the plate for the Orioles since 2010, but Wieters' numbers have led the way. Playing in 786 games, Wieters hit .252 with 108 home runs, 394 RBI, and a wRC+ of 98. He was worth 17.4 fWAR, with Caleb Joseph ranking second with a 3.9 fWAR. He added four All-Star games and two Gold Glove Awards during his tenure in Birdland.
1B- Chris Davis– Let's remember the good times from Chris Davis. One of the more feared hitters during his prime, Davis has played in 1,135 games, CRUSHed 253 home runs, and has been worth 13.3 fWAR, even after a few depressing seasons to end the decade. He led the league in home runs twice (2013, 2015) and hit a franchise-high 53 in '13. We know he's coming back for spring training in 2020, but after that, will we see the end of the Chris Davis era?
2B- Jonathan Schoop– Another fan favorite during his time in Baltimore, Schoop played parts of six seasons with the Orioles, hitting 106 home runs in 635 games. His 2017 season was undoubtedly his best as his 32 home runs, 35 doubles, and 105 RBI led to his first and only All-Star appearance. Schoop was worth 8.4 fWAR, with Jonathan Villar quickly closing in at 5.2 fWAR.
SS- J.J. Hardy– Do you also hear Ryan Wagner's voice every time you see J.J. Hardy's name? I miss that. His 889 games at shortstop led the way for the Baltimore Orioles as the three-time Gold Glove Award winner compiled 107 home runs, a .252 average, and an fWAR of 14.4. There will never be another one like him.
3B- Manny Machado– Making his MLB debut at just 19, Machado played parts of seven seasons with the team that drafted him, racking up two Gold Gloves, a Platinum Glove, and four All-Star appearances in the process. According to Fangraphs, his 27.7 fWAR tops all Orioles third basemen this decade, with Hanser Alberto and Ryan Flaherty coming in second and third at 1.9 and 1.5, respectively. For much of the decade, it was the Manny Machado show in the hot corner, but this particular show now plays only in San Diego.
OF- Trey Mancini– The outfield in Baltimore has been…interesting over the last few years. From Delmon Young to Felix Pie to Craig Gentry, the Orioles have seen a lot of outfielders come and go, except for in center field, but more on that later. Mancini has just three full seasons under his belt and isn't even an outfielder, but that's where he's played the majority of time in Baltimore. Thus far, Mancini has a career slash line of .276/.335/.485 with 86 home runs and has posted a wRC+ of 115.
OF- Nick Markakis– A definition of consistency, Markakis appeared in 739 games this decade, hitting .284 with a .350 OBP and 64 home runs. He won two Gold Glove Awards (has since won a third with Atlanta) and ranks second among Orioles outfielders with an 8.8 fWAR since 2010. Now, can this man get a World Series ring before hanging up the cleats? Get to together, Atlanta.
OF- Adam Jones– Most of us accepted the fact that Machado was leaving, we can move on Schoop, and we're now begging Chris Davis to leave, but watching Adam Jones walk away hurt and still does to this day. Four All-Star games, three Gold Glove Awards, and a Silver Slugger Award were small accomplishments for what Jones was able to achieve since 2010. His 235 home runs, 70 stolen bases, and 26.5 fWAR all lead Orioles outfielders this decade.
DH- Steve Pearce– Seven different franchises, countless injuries, and multiple stints with the Orioles all resulted in a 2018 World Series with the Red Sox and a well deserved World Series MVP Award. Even Orioles fans celebrated a bit that night as the Red Sox took home the 2018 title. As an Oriole, Pearce played in 291 games and recorded a team-high 123 wRC+. His career-best year in 2014 went a long way in helping the Orioles win 96 games. He hit .293 with a 373 OBP and 21 home runs that year.
P- Chris Tillman– Looking at the Orioles pitching leaderboard over the last decade is a bit depressing. According to Fangraphs, Kevin Gausman leads the way with an fWAR of 10.4, but his 35-49 win/loss record and 4.24 ERA weren't quite enough to earn an All-Decade honor. No Orioles starter has more wins than Tillman's 72 and 1,072 innings are more than 300 more than second place on this list. His best season came in 2013 where he won 16 games, tossed more than 206 innings and made his first and only All-Star appearance.
More from Birds Watcher
P- Wei-Yin Chen– A blast from the past. Chen ranks second in wins (46), third in innings pitched (706), second in fWAR (9.4), and fourth in strikeouts (547). He never had a losing season in his four years as an Orioles starter. Unfortunately, since signing a free agent deal with the Miami Marlins, Chen hasn't been the same.
P- Zack Britton– Technically, if we're talking about 2010-2019 Orioles Britton, it's Zach Britton. After three seasons of struggles as a starter, Britton has developed into one of the top relief pitchers in the game. Out of the bullpen with the Orioles, Britton logged 260 games, 139 saves, a 1.69 ERA, and 260 strikeouts. His 2016 season was spectacular with his 0.54 ERA and league-leading 47 saves. Britton's 6.4 fWAR out of the pen leads all Orioles relievers since '10.
P- Darren O'Day– Sitting just behind Britton with an accumulated fWAR of 6.1 is O'Day. The Orioles reliever won 28 games, averaged more than 10 K/9 IP, and owned an ERA of 2.40. Only Mychal Givens has a higher strikeout rate than O'Day, among all O's bullpen arms with at least 100 innings pitched.
Give us a follow on Twitter @BirdsWatcherFS!