Baltimore Orioles Release their City Connect Uniforms to mixed reactions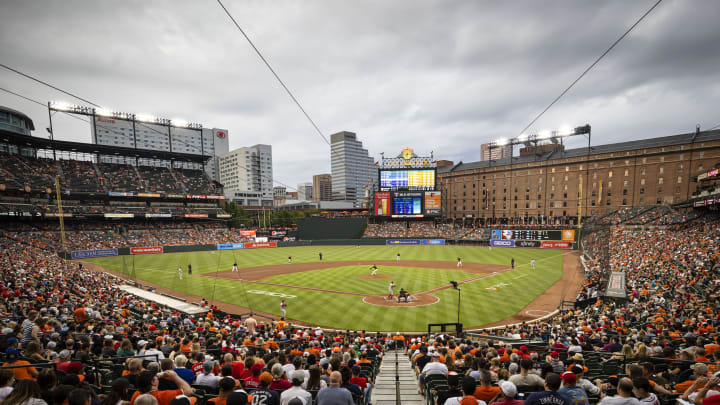 Scott Taetsch-USA TODAY Sports
On Monday morning, the Baltimore Orioles became the newest team to release their very own City Connect Uniforms. At the 24 hour mark of release, the reviews have been a bit mixed.
Baltimore Orioles draw mixed reactions to released City Connect Uniforms
The uniforms feature black jerseys and pants with white lettering that says "Baltimore". But underneath the plain exterior, there are vibrant colors around the collar and sleeves of the jerseys. The colors are meant to be a representation of neighborhoods within Baltimore City. The jersey as a whole is meant to show the surface level view of Baltimore. The hat features a cursive B, which comes straight from the Baltimore logo featured on the Orioles road jerseys.
As I previously mentioned, the fan reaction so far has gone both ways. After the reveal of the uniforms this morning, many fans expressed their distaste with the simplicity of the jerseys. The colorful designs are only featured underneath the jersey, making the rest of the uniform relatively bland. To go along with the simplicity of the jerseys, many fans were unhappy with the lack of classic "Oriole" characteristics, such as the staple orange and the Oriole Bird.
I share a similar sentiment as the fans. I really enjoyed the release trailer for the uniform and the creativity featured in the jerseys. But with the colorful design only being included on the inside of the jersey, the rest of the uniform seems a bit boring.
I would've loved something similar to the throwback, cream-colored jerseys. If they wanted to go outside the box they could've featured a design around the pattern of the Maryland flag, or something with the "Charm City" tag line.
The Orioles released the uniforms Monday morning and said "We are Baltimore. You can't clip these wings."
The new uniforms will be featured for the first time on Friday, May 26th when the O's take on the first place Texas Rangers at Camden Yards over Memorial Day Weekend.