Baltimore Orioles: When Tim Raines Appeared Twice on the Roster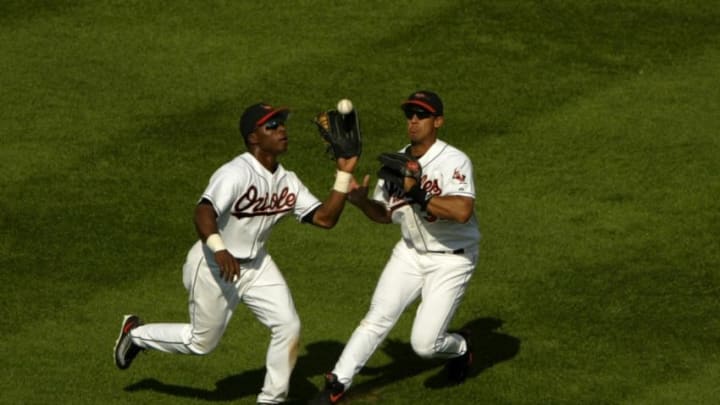 BALTIMORE - SEPTEMBER 10: Centerfielder Tim Raines Jr. #38 of the Baltimore Orioles steps in front of teammate Larry Bigbie #3 to catch a fly ball hit by Johnny Damon of the Boston Red Sox to end the fourth inning as the Red Sox defeated the Orioles September 10, 2003 at Oriole Park at Camden Yards in Baltimore, Maryland. (Photo by Doug Pensinger/Getty Images) /
Most baseball fans associate the Baltimore Orioles with one iconic dynasty: the Ripkens.
But, the Baltimore Orioles have had other notable families on the roster.
The Ripkens have had three generations of men play for the Orioles in some form. Cal Ripken Sr.played and coached. Billy Ripken wore an Orioles jersey for several years, and Cal Ripken Jr.is one of best known Orioles players in the history of the game. Now, Ryan Ripken – Cal's son – is working his way through the Orioles minor-league teams.
In October 2001, another Hall-of-Fame player got to share the field with a family member as Tim Raines and Tim Raines both took the outfield on October 4 in a rescheduled game against the Blue Jays.
Unlike the Ripkens, the Raines shared the same name but without the Jr or Sr designations. The younger Tim Raines made his MLB debut on October 1 with the Orioles, but he did not join his dad on the roster until October 3. That day, the son played centerfield and the dad entered the game to pinch hit in the bottom of the 9th and hitting a sac fly. So, while the father and son shared a half inning in the box score, they did not take the field together. The Orioles lost the October 3 game 6-7.
More from Orioles History
On October 4, the box score looked a bit confusing as both Tim Raines and Tim Raines were in the outfield. The father played left field and the son played center. In that game, they combined for one hit and one RBI in eight at-bats.
The Orioles acquired the elder Raines on October 3 from the Expos. He played in a total of four games for the Orioles at the close of the season. His son played in seven in October 2001. The father was granted free agency and joined the Marlins for his final season in baseball.
The son never really made it in the MLB. He played in 2003 and 2004 with the Orioles, but only in a combined 65 games. He remained in the organization through 2006, then he moved through several minor-league organizations until 2009.
The Raines were only the second father-son duo to play together in MLB games. The first family was Ken Griffey Sr and Ken Griffey Jr.who played together with the Mariners in 1990.