Baltimore Orioles: Managing Fans Outside & Players Inside the Stadiums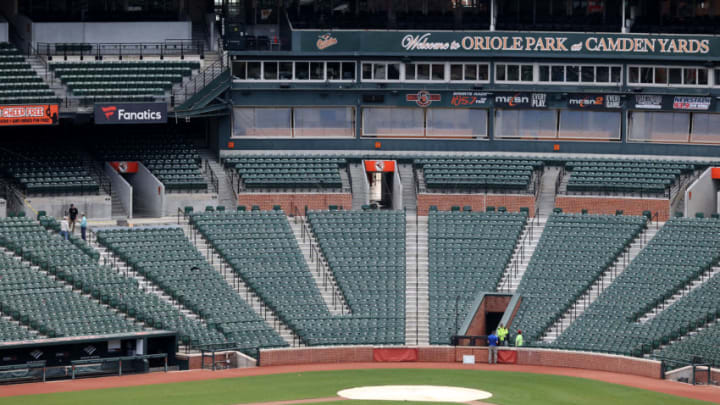 BALTIMORE, MARYLAND - MARCH 13: A general view of Oriole Park at Camden Yards on March 13, 2020 in Baltimore, Maryland. Major League Baseball cancelled spring training games and has delayed opening day by at least two weeks due to COVID-19. (Photo by Rob Carr/Getty Images) /
With all of the spring training facilities closed in Florida and Arizona, the Baltimore Orioles are officially holding their preseason training and games at Camden Yards.
The Baltimore Orioles received permission from Maryland's governor, Larry Hogan. But several social distancing guidelines still need to be followed by the players and coaches.
But, at this point in the state's reopening plan, no fans will allowed to enter the stadium. According to an article by Jon Meoli in The Baltimore Sun, this could change. Decision makers in the state and local government are in talks about whether fans could enter Camden Yards and watch their Orioles in 2020.
These discussions are happening in other markets, too. Other MLB teams are also discussing the option for having fans in the stands. Meoli wrote:
""Since MLB imposed the 60-game season, several teams, including the two in Texas, have explored the possibility of having fans at their games anyway.""
As a fan who loves to sit in the seats at stadiums all around the country, I've been wondering how teams will keep fans from watching through the fences. Most stadiums have spots outside of the gates where fans can see portions of the stadiums.
More from Orioles News
Some also have hotels with bird's eye views of stadiums, like the Baltimore Hilton Inner Harbor. Then, there's places like Wrigley Field with the rooftop seats outside of the stadium. Will fans pay top dollar to be one of the few who can watch their teams from a distance? Detroit Tigers fans often gather to watch from the top of the Detroit Athletic Club. There are options out there, but will they be open to the general public?
The players inside the stadiums will also need to be heavily managed. With COVID-19 social distancing restrictions, the players will have limited access to workout stations. For example, pitchers and catchers can only workout in groups of five or fewer, according to the MLB's manual for the season.
At Camden Yards, three pitchers can practice simultaneously on the three outdoor mounds. The team will have to plan when players workout in the weight room and other indoor spaces. Position players will need time on the field, too. The coaching staff has about a week left to workout time schedules for the players begin arriving on July 1.
The health and safety of the players is the number one concern for all teams at this point. The business of baseball is complicated, and adding these new restrictions on the number of players in a practice zone makes it even more complex.