Baltimore Orioles: How Ripken Healed Baseball in 1995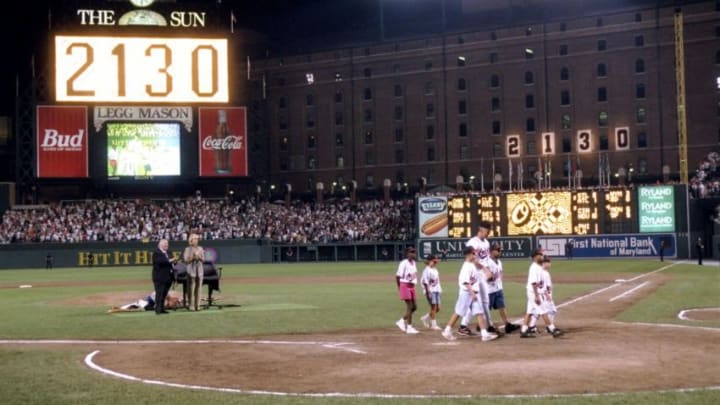 5 Sep 1995: General view of field and scoreboard announcing game number 2130 in which shortstop Cal Ripken of the Baltimore Orioles has tied Lou Gehrig''s record for number of consecutive games played. The game was between the Orioles and the California Angels and the Orioles won 8-0. Mandatory Credit: Doug Pensinger /Allsport /
In 1994, MLB entered into the strike that lasted through the post-season. As that season ended, the Baltimore Orioles were in second place in the AL East, which looked a bit different than it does today.
When the 1995 season began, fans weren't too thrilled, especially since the strike continued until nearly the end of April. Despite the frustration that many fans felt, Baltimore Orioles fans had something to watch: Cal Ripken chasing Lou Gehrig's consecutive-game record.
There were several other reasons for fans to get back into baseball in 1995. Will Leitch of MLB.com shared 10 great reasons why 1995 is worth remembering, but for Orioles fans, the year was theirs.
The Iron Horse
CLEVELAND, OH: Lou Gehrig follows through, Indians vs. Yankees League Park (Photo by Louis Van Oeyen/Western Reserve Historical Society/Getty Images) /
The record Ripken was chasing belonged to The Iron Horse who started the record on June 2, 1925. That year, Gehrig played in 126 games at the age of 22. He started at first base because Wally Pipp had a headache. After 13 years, Gehrig set the record of 2,130 games.
His final appearance at the plate was on April 30, 1939. In his final season, he played in eight games and was a phantom of his formal self, batting .143/.273/.143. Excluding his final eight games, his batting stats were a remarkable .341/.448/.634 with 493 home runs.
Gehrig died from ALS on June 2, 1941.
The Iron Man
In 1995, Ripken began the season with 2075 games under his belt. It was relatively easy to see that he was going to do it, there was still some anticipation about what could happen between April 26 and game 2131.
Orioles fans will always remember the numbers pasted on the B&O Warehouse. The number was 2130 on September 5, 1995. But, on September 6, when Ripken walked out to face Shawn Boskie, the crowd exploded as the number turned to 2131.
More from Orioles History
In his first at-bat, Ripken popped out to center field. But, in his second at-bat in the bottom of the fourth, he followed up Bobby Bonilla's home run with one of his own. It was practically too good to be true, especially since Ripken hit one the day before in the bottom of the sixth off of Mark Holzemer.
Two of the Greatest
Lou Gehrig played for 17 seasons (including the short on in 1939) with the New York Yankees. He was born in New York. He was the league MVP twice and he played in every All-Star Game since they were first played in 1933.
Ripken played for 21 seasons with the Orioles. Ripken was also a "home-grown player," being born and raised in Maryland. He also won two MVP titles, and played in 19 All-Star Games.
Both Iron Men are enshrined in the Hall of Fame, and rightfully so. Gehrig was elected to the Hall of Fame in 1939, in a special election. In 2007, Ripken was elected to the Hall of Fame on his first ballot with over 98% of the vote.
Lou Gehrig is fondly remembered as one of the best men ever to swing a bat. His legacy continues, despite Ripken shattering his record. In 1995, Ripken's dedication to the game reminded people of why baseball still mattered. Baseball was about more than owners, salaries, and player conditions. It was about the game, the men who excelled, and their record-setting statistics.
As Ripken chased the record, he forced people to remember one of the greats as his own legacy continued to grow. No one thought Gehrig's record would ever be broken, and now the same is said about Ripken's record as the 25th anniversary approaches.