Baltimore Orioles: Complete List Of Minor League Free Agents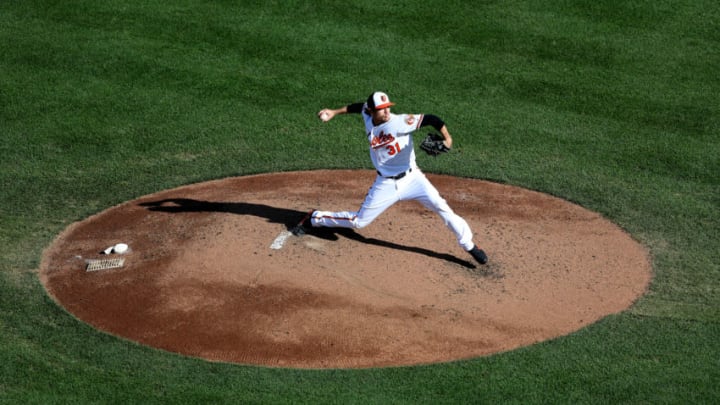 BALTIMORE, MD - SEPTEMBER 30: Starting pitcher Jimmy Yacabonis #31 of the Baltimore Orioles throws to a Houston Astros batter in the third inning at Oriole Park at Camden Yards on September 30, 2018 in Baltimore, Maryland. (Photo by Rob Carr/Getty Images) /
We now have the complete list of Baltimore Orioles minor leaguers who are officially free agents.
As someone who closely follows minor league baseball and always has MiLB TV fired up on my iPad, the release of Baseball America's complete list of minor league free agents is always a highly anticipated release. This offseason, 17 Baltimore Orioles minor leaguers were included among the complete list of 510 now minor league free agents.
There are a few intriguing names on the list, but no one fans are going to greatly miss. Of course, a few are likely to return on new minor league deals, especially one or two of the large handful of middle infield depth options who are now free agents.
Here's the complete list of 17 names with a brief description of how they performed in 2019.
Catcher Carlos Perez: Now 29, Perez was a valuable depth piece with major league experience and a key piece to the success of the Double-A Bowie Baysox this season. He appeared in 94 games, logging 36 extra-base hits (14 home runs) and hitting .251 with a .302 OBP. The Orioles have plenty of catchers who are ready for the upper-minors and a major league veteran free agent signing is also likely to replace Perez.
Infielder Chris Bostick: Bostick, 26, spent all season in Triple-A and surprisingly didn't get an opportunity in the major leagues as a September callup. He slashed .258/.323/.421 with 12 home runs and 50 RBI. He's certainly an option to return as a minor league depth piece.
Infielder Anderson Feliz: He split his time between Double-A and Triple-A in his second season in the Orioles organization, appearing in 79 total games. Feliz came up huge for the Baysox in this year's Eastern League playoffs after hitting .285 with a .363 OBP in the regular season. He can play just about every position on the field, which makes the 27-year-old attractive as a minor league signing.
Infielder Sean Miller: Miller played most of 2019 with the Frederick Keys, hitting .270 in 96 games. He had no home runs and walked just 15 times all season. He may have been a Carolina League All-Star, but was always a player who you had no idea was on the roster until you got to Hary Grove Stadium and saw his name on the lineup card.
Infielders Jack Reinheimer, Engelb Vielma, and Zach Vincej: Let's just lump all three of these guys together. Combined with Bostick and Miller, essentially all of the middle infield minor league depth is now gone, except for a few younger prospects like Mason McCoy who are worth watching.
Vielma is a switch-hitter but hit just .204 in Triple-A. Vincej was a valuable glove and bat for the Norfolk Tides this year, often playing out of position by the end of the year. He hit .270 with a .714 OPS. Reinheimer had an opportunity to make the major league roster out of spring training, but luckily we were able to enjoy Hanser Alberto instead. Reinheimer surprisingly stayed in Triple-A all season, slashing .246/.323/.336 with 12 stolen bases.
Outfielder Ademar Rifaela: This one hurts a bit, as a minor league fan. Rifaela was the 2017 Carolina League MVP after hitting 24 home runs with a .358 OBP and an .858 OPS. He finally reached Triple-A this season, struggling to a .236 average with just two home runs in 38 games. His 422 strikeouts over the last four seasons also caused a bit of a concern.
RHP Gabriel Ynoa, Tayler Scott, and Ryan Eades: We have already discussed these three guys earlier here and here after their removal from the Baltimore Orioles 40-man roster.
RHP Taylor Grover and Kieran Lovegrove were interesting options when they joined the organization. Grover was a Rule 5 pick in the minor league phase of the draft last season and became a bit of an internet sensation after touching triple digits in indy ball. Injuries limited him to just 12 games. He went 0-1 with a 5.27 ERA, 1.61 WHIP, and a .309 average against. Lovegrove gave up seven runs on five hits and 10 walks in his 6.1 total innings in High-A as walks continued to plague his once-promising career.
LHP Luis Gonzalez: Gonzalez found a lot of early success as a reliever in the lower minors but has struggled as he worked his way up the ladder. He split time between AAA and AA this year, working to a 3-5 record, 6.89 ERA, 1.63 WHIP, and .308 average against. While his 66 strikeouts in 48 innings was impressive, his .341 average against and 8.69 ERA in Triple-A aren't promising.
More from Birds Watcher
Finally, we have RHP Pedro Araujo, Marcos Molina, and Jimmy Yacabonis. Araujo was a Rule 5 pick back in 2018, owning a 7.71 ERA in his 20 games of action at the major league level that season (29 K, 18 BB). Mike Elias designated Araujo for assignment before his Rule 5 service time was satisfied, but immediately found his way back on the roster. While effective in AA (.183 average against, 1.13 WHIP), Araujo struggled in AAA, working a 12.54 ERA and 2.25 WHIP in 9.1 innings.
Molina figured to see major league action last season, until an injury limited him to just 14 starts. Molina went 4-6 with a 4.36 ERA with the Bowie Baysox, striking out 58 in 84.2 innings. He has been unable to rebound from Tommy John surgery in 2016, losing much of his velocity and sharpness to his once impressive slider.
Last but not least, Jimmy Yac. Yacabonis has been up and down between Norfolk and Baltimore for the last three seasons. He's been a closer, middle reliever, set up man, starter, opener, and any other term you can find to describe a pitcher. He went 1-2 with a 6.80 ERA and 1.83 WHIP in the majors before being designated for assignment in mid-August. He's now free to sign with anyone and will likely catch on somewhere on a minor league deal, maybe even back with the Baltimore Orioles.
You can view the complete team-by-team breakdown of all 510 minor league free agents here.