Baltimore Orioles: MLB Draft Is Not All Pomp And Circumstance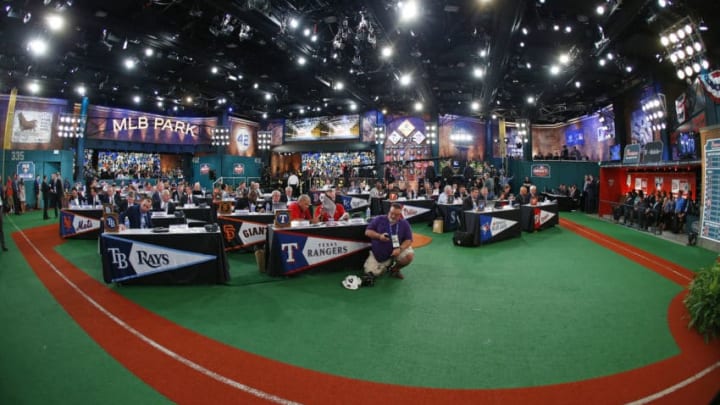 SECAUCUS, NJ - JUNE 5: Representatives from all 30 Major League Baseball teams fill Studio 42 during the MLB First-Year Player Draft at the MLB Network Studio on June 5, 2014 in Secacucus, New Jersey. (Photo by Rich Schultz/Getty Images) /
The first round of the MLB Draft is a prime-time, nationally televised event.  With a total of 40 rounds spread out over the course of three days, most players are drafted away from that spotlight. Their draft day stories can be quite ordinary. Here what a few current players in the Baltimore Orioles organization have to say about their draft day experience.
The 2019 Major League First Year Player Draft is complete.  All that remains is for the players selected to sign with their respective teams and report to places far and wide to begin their journey to professional baseball. This means plenty of new faces for fans of the Baltimore Orioles to get to know.
For the forty-one players selected during the MLB Network telecast, it was a night of glitz and glamour, TV time, draft parties, and interviews.  They were the stars of the telecast who hope to become stars for the teams that selected them.  The players selected in rounds 2 through 40 also hope to become stars for their teams, it's just that their selection does not garner as much publicity in most cases.
I reached out to some Baltimore Orioles minor league players to find out what draft day was really like for the greater majority of the players chosen and found out that it really was just another day.
Current Baltimore Orioles share their stories.
Andrew Ciolli (2018, Rd 37), Kevin Magee (2018, Rd 9) and Jimmy Murphy (2017, Rd 8) each shared their story with me.  All three were with family, trying to treat it like any other day. One was even in the process of applying for another job away from baseball.
The common theme among all three is that they were following the draft in one way or another, just not glued to the TV as those in the first round appear to be.  They were, however, going about their daily routine.
Ciolli told me that he was at his grandparent's house in Hudson, Ohio and was following the draft via Twitter when he received a call from Nathan Showalter informing him that the Orioles had selected him.  Getting the call from the person who had scouted him made the long day worthwhile.  Ciolli further said that it was worth the wait to see his name appear on the screen and to celebrate the moment with his family.
The day was "unconventional" in the words of Magee.  He was filling out an application for his dream job as a member of Immigration and Customs Enforcement working in the Homeland Security Investigations Unit when his phone started blowing up about halfway through the online application.  Magee was not following the draft and was not the first to know that he had been drafted; friends and family were calling to congratulate him on the selection.
More from Birds Watcher
Needless to say, he stopped the application process, "once I saw my name officially pop up on the draft board on my parent's iPad, I closed the application for the government job and gave my parents a hug.  I thanked them for making so many sacrifices in their lives so I could follow my dream".
Magee also told me that he was anticipating being selected in the 10th round as both the St. Louis Cardinals and Los Angeles Dodgers had inquired about his willingness to sign that round.
Murphy was another player who was not the first to find out that he had been drafted.  " I was at home with my family on the second day of the draft.  I was following but was trying not to be too eager or high with my expectations, as difficult as that was after receiving phone calls from scouts throughout the day.  We were not carefully watching the MLB network coverage and had rewinded a bit earlier, so without realizing, the tv was delayed.  I started getting texts from teammates congratulating me before I actually heard my name called.  About 30 seconds later, we caught up and heard my name on the tv", he told me.  He went on to say that it was "an unforgettable moment" and that he was "incredibly lucky to have shared (it) with my family".
For these three "Baby Birds" at least, one of the biggest days of their baseball lives occurred away from the bright lights of a television camera and even caught them unaware of the moment.  Imagine having your career change and you not knowing that the change has happened.
Regardless of how and when they found out, in the words of Murphy, "it was definitely a moment and a day I will never forget".  I am certain Ciolli and Magee would echo that sentiment.
Magee summed it up quite well when he said, "it's not about what round you get selected, but what you do once you're in your professional organization".  Those are words every player drafted would do well to heed.
The Baltimore Orioles sent out 41 of these calls in this year's draft. Hopefully, we get to hear more of their stories in the future.