Baltimore Orioles: The First, The Streak, The Malfunction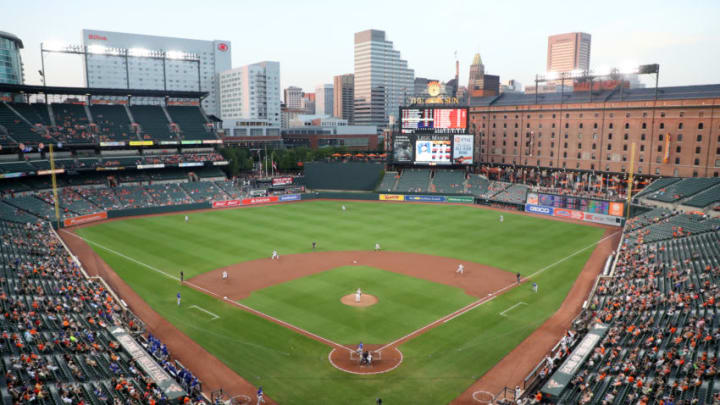 BALTIMORE, MD - AUGUST 29: A general view during the second inning of the Baltimore Orioles and Toronto Blue Jays game at Oriole Park at Camden Yards on August 29, 2018 in Baltimore, Maryland. (Photo by Rob Carr/Getty Images) /
Opened in 1992, Oriole Park at Camden Yards has been home to many memorable Baltimore Orioles games and events.  A lot has occurred in twenty-seven seasons.  I would like to share a few of my favorite memories.
Over the past few days, some of my colleagues here at Birds Watcher have shared their favorite memories of Baltimore Orioles baseball at Oriole Park at Camden Yards.  Daniel Garay, in his first post for Birds Watcher, shared his and later, Steve Rudden added his favorites.  Today, I would like to add mine.
I am old enough to have witnessed games both at Memorial Stadium and at OPACY.  I was fortunate enough to attend the final game at Memorial Stadium in 1991 but had no idea what was to come with the opening of "the Ballpark that forever changed baseball".
My favorite memories start with the opening of OPACY.  I was there for both the "dress rehearsal" exhibition game against Eddie Murray and the New York Mets on April 3rd and Opening Day against the Cleveland Indians on April 6th.
More from Birds Watcher
The exhibition game was exciting, as I was among a small number of fans who were able to see the ballpark before the general public.  The Baltimore Orioles used that exhibition as a soft opening in order to work out any kinks prior to Opening Day.  I was in awe of Oriole Park's beauty and nostalgia.
Opening Day was a gloriously sunny and beautiful day in Baltimore and OPACY lived up to all expectations.  In a game that took just over two hours to play, the Baltimore Orioles behind Rick Sutcliffe shut out the Cleveland Indians 2-0.
Those two games were as much about baseball as they were getting to know a new home for the Baltimore Orioles.  I remember the looks on the fan's faces as they took in all that OPACY had to offer.  So many people were walking and looking around during the game to discover the intricacies of the ballpark.
Another fond memory I have of Camden Yards is the game that was scheduled against the Seattle Mariners on August 14, 1997.  That may seem like an obscure game but it was significant due to the over 2 and 1/2 hour delay due to a malfunctioning light standard.  Many of us sat there not knowing what was going on until the game was ultimately postponed.
That game is memorable only because of the subterfuge afterward when it was speculated that Cal Ripken, Jr had some sort of legal issue that day and the postponement was to keep his consecutive game streak alive.  The legal issue supposedly surrounded Ripken, his then-wife Kelly and actor Kevin Costner.
Speaking of Ripken's consecutive game streak, I will always remember being in attendance in September of 1995 for games 2130 and 2131.  The visuals, ceremonies, Ripken's home runs and the trip around the ballpark will always stay with me.
The last memorable moment I would like to share is that of the night on September 6, 2012, when the Baltimore Orioles defeated the New York Yankees 10-6 on the night they unveiled Cal Ripken's statue in the outfield plaza. My most vivid memory is of that ballpark rocking with Adam Jones' RBI single and home runs by him, Matt Wieters, Robert Andino, Mark Reynolds, and Chris Davis.  The park was electric with the excitement of a defeat of the Yankees during a pennant race.
Those are my favorite memories and now we would like to hear yours, Orioles fans.  Share yours in the comments below and we all can reminisce.