How will the Baltimore Orioles handle the catcher position in 2019?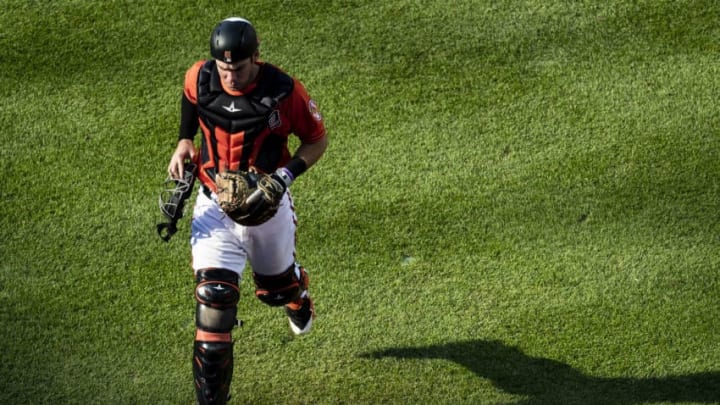 BALTIMORE, MD - JUNE 16: Austin Wynns #61 of the Baltimore Orioles in action during the eighth inning against the Miami Marlins at Oriole Park at Camden Yards on June 16, 2018 in Baltimore, Maryland. (Photo by Scott Taetsch/Getty Images) /
With the contract status of Caleb Joseph in limbo, the Baltimore Orioles have questions surrounding the catcher position heading into 2019. Will the Orioles reach into the free-agent market to fix the problem, or will they search within the organization to find a solution?
According to MLB Trade Rumors, veteran backstop Caleb Joseph is predicted to earn $1.7 million next year via arbitration. It's to be determined whether the Baltimore Orioles will be willing to spend the money to keep Joseph around next year or if they want to cut bait and move on.
Admittedly, that's a relatively cheap dollar amount to keep Joseph, who by all accounts has been a stand-up teammate during his tenure in Baltimore. He's done nothing but well by the organization and the city of Baltimore but I've made my thoughts on his baseball talents known, and have been of the opinion that it's time for the Orioles to move on from Joseph.
But without knowing who'll lead the rebuild in Baltimore, it's difficult to assume what options the Orioles are considering regarding their catchers as we head into next season.
More from Birds Watcher
The upside to keeping Joseph is that he's familiar with the pitching staff, and he allegedly is a positive influence on the younger players in the locker room. I'm not a reporter; I'm completely unfamiliar with Joseph's impact on his teammates on a day-to-day basis. But if that's the case, we can certainly see why the Orioles would consider keeping him around.
The downside to keeping him is that Joseph has struggled immensely at the plate over the past several years and it's difficult to think he's going to make significant improvements in his approach. He posted a .575 OPS with a wRC+ of 54 for the Orioles in 2018, and he's posted a sub-4.0% walk rate the past two years. He's not hitting for average, nor power, and he hasn't been able to get on-base; it's a bad combination.
However, if the Orioles shy away from Joseph but still want a veteran presence behind the plate, it'd be just as expensive, if not more so, to bring in a veteran catcher via free agency. And looking at the list of available free agents at the catcher position, there aren't any great candidates. The Orioles would be trying to coax someone like Robinson Chirinos, Nick Hundley, or Kurt Suzuki to come play in Baltimore. Regardless of who they'd get from the free agent pool, it'd be a limited offensive upgrade at a steeper price.
What about internal options?
Would the Orioles be willing to rely on either Austin Wynns or Chance Sisco as the primary backstop in 2019? Would they consider using the two in a timeshare? Is that even a good idea? It does seem unlikely, especially considering Sisco's trouble staying on the field and the mounting questions about him being a defensive liability behind the plate.
Wynns' numbers were unremarkable in 2018: .255/.287/.382 with a wRC+ of 81 and a 4.2% walk rate. But what's truly concerning is the 27.3% soft contact rate and the 1.75 GB/FB rate; Wynns made a habit of making weak contact in 2018 and there isn't anything to suggest that he's going to become a better hitter overnight.
Sisco struggled at the plate in 2018, but much of that may have been related to his inability to stay on the field. One of Sisco's biggest issues last year was his 35.9% strikeout rate; he's always been an above average hitter in the minors, but he doesn't hit enough to sustain a strikeout rate that high. On a positive note Sisco is still just 23 so there's plenty of time for him to get back on track and become the primary catcher in Baltimore, but he might need to be eased into the position.
Andrew Susac is still on the current 40-man but he could be one of the first roster casualties should the Orioles make additional moves this offseason. Susac dealt with a broken wrist this year and missed a bunch of time, but was a serviceable option in Triple-A during his time there. But similar to the rest of the Orioles roster, he was dismal in Baltimore. The new front office won't have any connection to Susac and he's a long-shot to remain on the Orioles roster throughout the offseason.
So no, the Orioles don't have any great internal options to replace Joseph behind the plate. At a certain point, it comes down to whether the Orioles believe that Chance Sisco stays on the field in 2019. If Sisco and Wynns are healthy, rolling the two out there probably isn't the best baseball decision but it'll help the Orioles save money, which could be a top priority for the new front office.
The Orioles will have the resources to reach into the free-agent market to find a suitable replacement, but it may well be the case that they aren't willing to do so. If they can save a few million bucks by tendering Joseph a contract, they just might do it. I don't think that the Orioles should view Joseph as their primary catcher heading into 2019 but I'm coming around to the idea of him being on the roster.