Baltimore Orioles: Rank 7th Among MLB in Fandom 250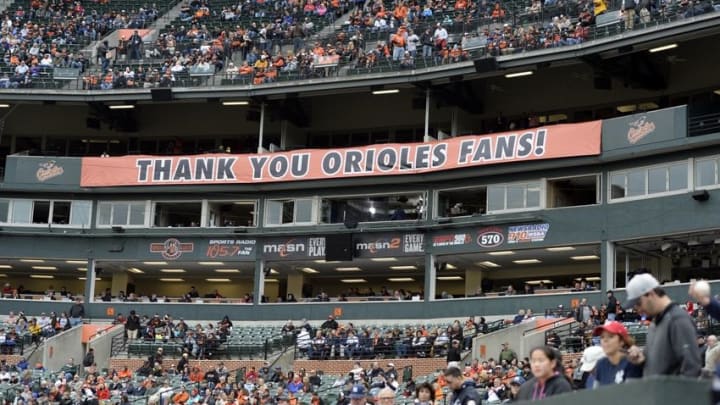 Oct 4, 2015; Baltimore, MD, USA; Baltimore Orioles places a banner above the press box thanking fans before the game against the New York Yankees at Oriole Park at Camden Yards. Mandatory Credit: Tommy Gilligan-USA TODAY Sports /
The Baltimore Orioles landed at #191 in the 2016 Fandom 250, a ranking of the best fans in the world within multiple disciplines including sports, entertainment, branding, etc.
It's a pretty impressive feat considering only 10 MLB teams cracked the Fandom 250.  Of those 10 teams, only 6 ranked ahead of the Baltimore Orioles including the Dodgers (#182), Mets (#129), Cardinals (#111), Red Sox (#29), Yankees (#25) and Cubs (#1).
In October, ESPN The Magazine released their 2016 Ultimate Standings of professional sports teams including MLB, NFL, NBA and NHL.  The Orioles finished #15 overall and #3 in MLB.
Considering the ESPN ranking only included 4 sports leagues while the Fandom 250 considered many different areas of sports and entertainment (Star Wars ranked #2, Beyonce #3 and Pokemon #18 just as examples), it appears the 2 rankings are somewhat aligned.
Success Breeds Fandom
The Baltimore Orioles success since the beginning of the 2012 season certainly plays into the the ranking.
More from Orioles News
The Orioles have developed a "new" following of 20-somethings who were too young to remember the Orioles as a competitive team.   Mix in the the older generation of followers who still reflect on the glory days of the mid-60's to the mid-80's and you have a solid fan base.
The Orioles have tradition including World Series victories and Hall of Fame players.
They also have some current, "cool", likable superstars such as Adam Jones, Manny Machado, Chris Davis and Jonathan Schoop.  Overall, the ranking should not be surprising.
If you look at the teams in front of the Orioles, they too have a long history and tradition including World Series victories (granted, the #1 Cubs World Series victory this year was their first since the beginning of the last century) and Hall of Fame players.
For the Orioles to keep their ranking, they have to rely on the front office to make solid off-season decisions which will allow them to continue their winning ways and enhance fan support.
Since the beginning of the 2012 season, the Orioles have the best record in the American League and the 4th best record in MLB.  Their 444 wins over this span trail only the Cardinals (461), Nationals (458) and Dodgers (455).
Next: 2016 Fandom 250: Orioles Rank #7 Among MLB
What do you think?  Are the Orioles worthy of their ranking?  If you disagree, who do you feel should be ahead of them in the Fandom 250?