Baltimore Orioles: Comeback kids led by Chris Davis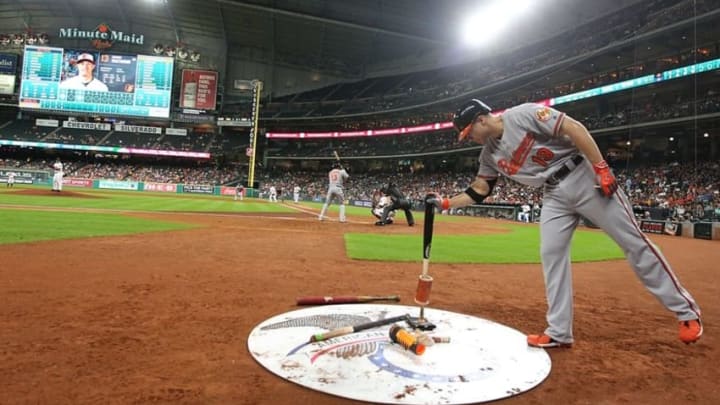 May 26, 2016; Houston, TX, USA; Baltimore Orioles first baseman Chris Davis (19) on deck against the Houston Astros in the fifth inning at Minute Maid Park. Mandatory Credit: Thomas B. Shea-USA TODAY Sports /
Chris Davis' go-ahead sac fly-RBI in the ninth gave the Baltimore Orioles another comeback victory on the season, this time against Toronto.
The Baltimore Orioles and Chris Davis lead the league in comeback wins after the seventh inning. Last night in Toronto, it was a gradual battle back – capped off by an almost anti-climactic sacrifice fly that gave the BIrds the lead. But even still, it's a comeback win and it came late. That seems to be the Orioles' trademark of late.
Tyler Wilson got bounced around a little bit, but with as potent a lineup as Toronto has that can sometimes happen. Wilson's line: 5.2 IP, 7 H, 5 R,  3 BB, 3 K. Wilson wasn't great, but he wasn't horrible either. Call it one of those in-between starts of which I like to speak. However as I've said, it's where those in-between starts end up that tells the tale of your season.
The Orioles struck first on Manny Machado's RBI-double in the first inning. Machado should have scored later in the inning himself on a double, however he forgot that there were two outs and that he could have run on contact. He held up at second base just enough for him to be thrown out at home plate. 
Live Feed
Chris Davis being put on Bobby Bonilla payout plan by the Orioles /
FanSided
Toronto would tie the game on a sac fly-RBI in the last of the first. They would then take a 3-1 lead on an RBI-double by Saunders, and an RBI-single by Martin. Bautista's RBI-sinble an inning later ran the score to 4-1.But this Oriole team is resiliant, and they find ways to win. Davis' sac fly-RBI in the third cut the lead to 4-2, and Wieters grounded into a force out with the bases loaded which yielded a run.
Toronto would take one back in the fifth on Donaldson's RBI-triple, but the Birds weren't about to be denied. Pedro Alvarez smacked a solo homer in the sixth, and Davis tied the game with one of his own in the seventh. At that point it's just a matter of who blinks first, especially in division games. And in this case, it wasn't the O's…
…Davis came back up in the ninth with a runner at third base. He sent a pop fly to center field at medium depth, however it was deep enough to allow the runner to tag up and score. The Birds made quick work of Toronto in the last of the ninth, and were able to record their fifth straight win. And another victory coming from behind late in the game.
More from Orioles News
Just prior to the game we also found out that Manny Machado had been suspended by the league for four games, and fined $2500 for his role in the brawl with Kansas City. Machado is appealing the fine, which is of course why he was able to play last night. He can probably get at least one game taken off on appeal, however all in all that's probably fair. As Showalter said, it's a shame that Machado is being suspended for something that someone else started, but it's part of the game.
On that note, Ventura's discipline was also handed down – he got nine games. The league will argue of course that Ventura got five more games than Machado based on his prior record of starting brawls. However read between the lines; Machado is missing four games. Given the fact that he's a starting pitcher, Ventura is only missing one start.
I'm not sure how exactly that's fair. Again, the league would argue that it's five games longer than Machado's suspension. But if they really wanted it to be apples-to-apples, Ventura should have gotten 20 games (four starts). Heck, since he initiated the brawl with his actions, maybe it should have been 25 (five starts). But there's something that isn't right there.
Next: Baltimore Orioles: Chris Tillman royally flushes Kansas City
The series continues tonight at Rogers Centre with Toronto. Kevin Gausman will get the start for the O's, and he'll be opposed by Toronto's Marco Estrada. Game time is set for just after 7 PM.