The Orioles Actually Have a Shot at Acquiring Juan Soto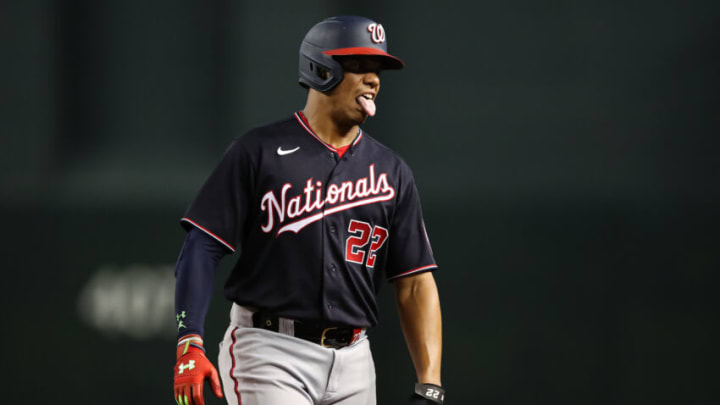 PHOENIX, AZ - JULY 22: Juan Soto #22 of the Washington Nationals reacts on the base path during the MLB game against the Arizona Diamondbacks at Chase Field on July 22, 2022 in Phoenix, Arizona. (Photo by Mike Christy/Getty Images) /
While still unlikely, the Orioles can pay up for Juan Soto.
The Baltimore Orioles are surprisingly competitive this season, though chances at making a run to playoffs remain low.  They are better set up to compete for the wild car next season, and Juan Soto would certainly help reach that goal.
With the news last weekend that the Washington Nationals will likely deal their superstar, our own Josh Linn bravely argued this week that Soto is worth trading a boatload of prospects for.  Like many of you, I scoffed at the notion of giving up four Top 100 prospects when the Orioles are only on the verge of contending, not when they are already in the playoff race.  Trading Grayson Rodriguez, Colton Cowser, Gunnar Henderson, and Coby Mayo might be fair value, but it goes against the direction of the team.
Two different reports in the last few days make it both easier and harder for any team to trade for Soto.  Since the Lerner family is likely to sell the Nationals, many potential buyers want to have Soto on the roster since he is by far the most valuable part of the franchise.  This means that GM Mike Rizzo might be better off holding on to Soto until the offseason, and his trade value will only slightly decrease with still two years of club control left.
What makes a trade more likely to happen is the fact that the Nats apparently want to dump Patrick Corbin's salary as part of a potential deal.  I think that would be a terrible move for the same reason it would be good for suitors.  Corbin has extreme negative value, meaning the buying team would not have to give up as much to acquire Soto with the attachment of Corbin.  With a tiny payroll, the Orioles can certainly afford to take on Corbin's remaining salary.
Some Fair Proposals
The Orioles would still have to give up a lot, but I think the fan base can stomach a potential return for Soto and Corbin.  Some people, including Josh, think the MASN lawsuit completely prevents any trade between the O's and Nats, but that only bothers ownership, not so much the front offices.  If Rizzo likes Mike Elias's offer, he will take it.
Using the great resource Baseball trade Values simulator, let's look at some fair proposals for the two All-Stars. All figures are in millions of dollars.  Even with Corbin's unsightly -54.9 median trade value, the total with Soto comes out to 121.9.
A third report Saturday, this one from Ken Rosenthal on FS1, says that the Nats are looking for at least prospects or big leaguers with low service time.  This return, mixed with prospects and young major leaguers, fits that to a tee.  The total is 120.8, and in order to only give up two Top 100 prospects, last year's Most Valuable Oriole must be the main return.
We can all quibble with the exact figures, but BTV gives Mullins a 59, while Hall is the next closest at 29.7.  All five of these players are important to the rebuild, but they would not tank the rebuild.  Hall, Westburg, and Stowers are all valuable, but there are better prospects in the system at the same positions.  Mullins would be tough to part with, but he is not totally untradeable or playing as well as last year, and Austin Hays can shift over to center with Soto in a corner.
Nationals get: Gunnar Henderson, Grayson Rodriguez
Instead of avoiding their two best prospects, the Orioles could trade only their two best prospects.  Henderson is worth 70.1 and GrayRod is worth 51.9, for a total of 122.  Given Rizzo's ideal package, Elias would have to give up more than this, but the numbers match up.
We are talking about two potential award winners here but trading away Henderson and Rodriguez would not empty the farm system.  All five players from the previous offer would still be part of the future, in addition to Cowser, Mayo, Terrin Vavra, and Heston Kjerstad.  Having Hays, Mullins, and Soto means Elias can freely trade Anthony Santander for prospects, and I haven't even mentioned the newest draft class.
The Orioles are just one of many teams dreaming about the next fifteen years with Juan Soto, but they have the legitimate offers needed to woo the Nationals.