On this day in Baltimore Orioles History: Eddie and Manny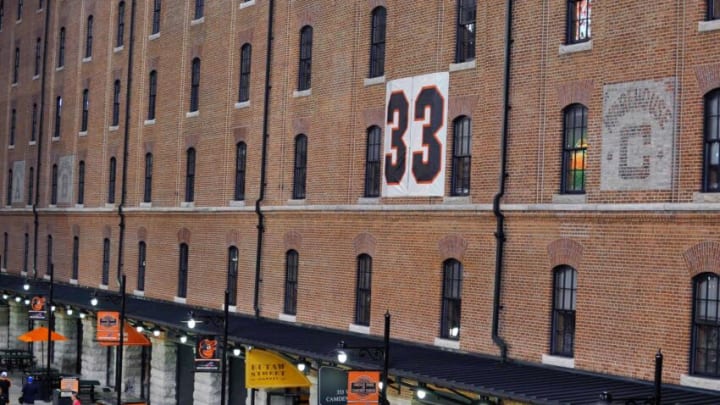 General view of the warehouse showing number 33 in honor of the Baltimore Orioles Hall of Famer Eddie Murray. Mandatory Credit: Joy R. Absalon-USA TODAY Sports /
In Baltimore Orioles history, June 7th marks two major marks in Charm City. First, the retiring of #33. Second, a draft pick that will never be forgotten.
On June 7, 1998, the Baltimore Orioles celebrated one of its legends in Hall of Famer Eddie Murray, by retiring his number. Unlike some of the Orioles foes in the AL East, they take retiring numbers a bit more seriously. The players and numbers given such honor are given to generational talents. Those talents who continue to inspire players today.
24 years ago today, the Orioles and their fans celebrated the legacy of Eddie Murray and put #33 alongside the five other numbers who represent the Orioles Way. In addition to his number hanging in leftfield, Eddie has his #33 statue near Babe's Dream.
Eddie played in the MLB for 21 years after the O's drafted him in the third round in 1973. Murray continued to build accolades throughout his 13 years in Baltimore, including two Silver Sluggers, seven All-Star appearances, and three Gold Gloves. He is in the top of many offensive and defensive categories, and with the numbers he has produced, he will be for quite some time.
On this day in Baltimore Orioles History: Eddie and Manny
On June 7th, 2010, the Baltimore Orioles made one of there best draft moves ever in drafting Manny Machado with the 3rd overall pick. There was a ton of anticipation on whether Manny would sign on not, but once he did, Orioles Nation was locked in on there future left-side infielder.
Manny Machado #13 of the Baltimore Orioles. (Photo by Greg Fiume/Getty Images) /
Manny Machado wasn't even 18-years-old when the O's picked him up, and in typical fashion was just turning 20 when the Orioles called him up to The Show in late August of 2012. From there, there was no turning back for the budding prodigy. Machado is a generational talent, making four All-Star appearances by age 25.
Machado has since moved on from Charm City after being traded in 2018 to the Dodgers, and eventually has ended up in San Diego. He may never go into the history books as an Orioles, but you will be hard-pressed to ever forget his time in Baltimore.