Baltimore Orioles: The anatomy of Adley Rutschman's MLB debut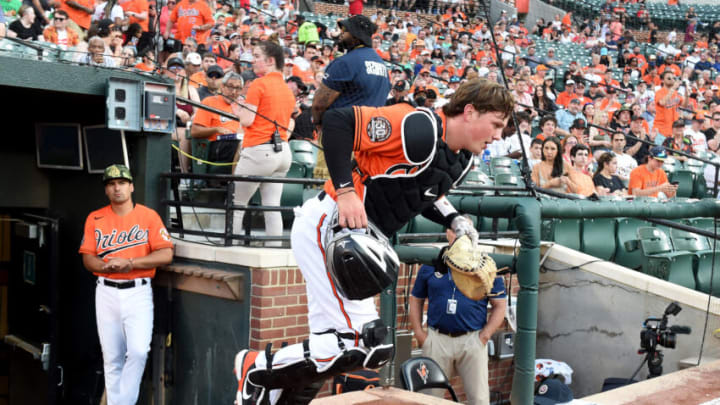 Adley Rutschman #35 of the Baltimore Orioles. (Photo by Greg Fiume/Getty Images) /
Adley Rutschman was a sight to see for the Baltimore Orioles during his 1st career start from beginning to end. Follow along as we break down his MLB debut.
Ever since the Baltimore Orioles broke the news of Rutschman's debut, the internet has been a constant onslaught of information, videos, and breakdowns about the youngster. The more you see him talk and get to know him, the more likable he becomes.
From birth until now, baseball has been in Adley Rutschman's blood, and it showed during his Major League debut Saturday night. His positioning, talent, and even his command to look like a big-league ballplayer were on full display. However, that is only the beginning of it.
The youngster went 1-3 on the night, showing his patience with a walk and his pace with a stand-up triple late in the ballgame. With all of the hype coming into the game for the No.1 overall draft pick from 2019, it came to no surprise that his first big league at-bat would be a lot to endure.
Baltimore Orioles: The anatomy of Adley Rutschman's MLB debut
After the 24-year-old had hit .309/.427/.515 with three home runs in 82 plate appearances in the minors, his first Major League at-bat was a strikeout. Imagine, if you will, that your first day on the job was watched by thousands of folks and recorded for all to see. The stress had to be overwhelming, but even with the K, Adley looked poised and ready for more.
His next AB was a walk, and the crowd went wild. From his first at-bat to his second, things looked calmer at the plate for the top prospect. He was patient, waited for his pitch, and even though he didn't get the pitch he wanted, he was able to settle for a walk and his first-time touching 1st base in the bigs.
Adley Rutschman has been MLB ready behind the plate since joining the Baltimore Orioles, which also showed Saturday. He wasn't tested on the basepaths, and you could tell why simply based on his poise and quickness behind the dish. Then, his third AB of the night happened.
His third at-bat looked a lot like his second, except he was back on the left-side on the plate, but he was locked in, waiting. Rutschman got his pitch to hit, and he took it deep into rightfield. What would've easily been a stand-up double turned into a triple as both his pace and the Rays' right fielder worked into the equation.
His last AB ended up in an infielders glove, but even with that AB, you just felt comfortable watching him take cuts at the ball. It in no way was a perfect evening, but there was so much hope from it all. Every at-bat got better, and he looked more at ease each time out. The Matt Wieters comparisons are accurate, and Rutschman might even turn out better!