Baltimore Orioles: Adding Melanie Newman Is Good for Baseball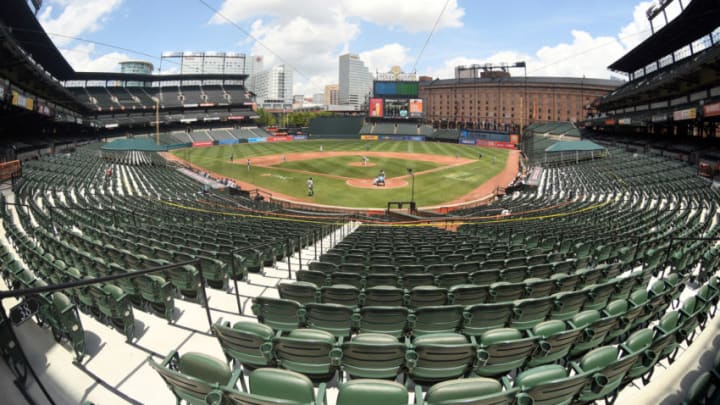 BALTIMORE, MD - AUGUST 02: General view of the third inning during a baseball game between Baltimore Orioles and the Tampa Bay Rays on August 2, 2020 at Oriole Park at Camden Yards in Baltimore, Maryland. (Photo by Mitchell Layton/Getty Images) /
With no fans in the stands, the Baltimore Orioles broadcasts matter, and adding a female voice is good for baseball.
With Melanie Newman on the Baltimore Orioles Radio Network, the team gives a major nod to a large group of its fans. Women love baseball, but have very little representation around the field.
Newman made her Orioles debut after being involved in several other MLB farm team broadcasters. She paid her dues and at age 29 is one of four female broadcasters for the Big League.
The other female broadcasters include Jessica Mendoza of ESPN, Jenny Cavnar with the Rockies, and Suzyn Waldman with the Yankees. They all follow in the footsteps of Gayle Gardner who did play-by-play in the 1990s for ESPN.
The team welcomed her to the booth via Twitter on August 4.
As a fan who loves to listen to radio broadcasts of games, it was a welcome sound hearing a woman talk about the O's – especially as a play-by-play analyst. She did get a practice shot when the Orioles faced the Nationals during their exhibition game.
More from Orioles News
In her MLB Network interview, she talked about how she began as a print journalist because she was such an introvert. She was pushed into the booth by sports journalists who believed in her. She said that she tries hard to bring emotion into the game, and she learned from listening to Vin Scully who could humanize the athletes and bring stories into the booth. Her goal as a broadcaster is to do the same for her listeners.
As a trendsetting broadcaster, she used her minor-league experience to build her confidence. She was blown away by Billy Jean King recognizing her place in the booth when she first began calling minor league games. In fact, Newman was a member of an all-female broadcast team for a minor league Red Sox team.
When women like Newman break barriers in professional sports, they open up opportunities for the next generation. Women don't play professional baseball, and it sure would be nice if MLB leadership would invest in a fastpitch league. But, women are doing what they can to get into the game they love.
Congratulations to Melanie Newman and to the Orioles fan base who gets to listen to her on the Orioles Radio Network.