Baltimore Orioles: Underrated Jose Iglesias Deserves More Respect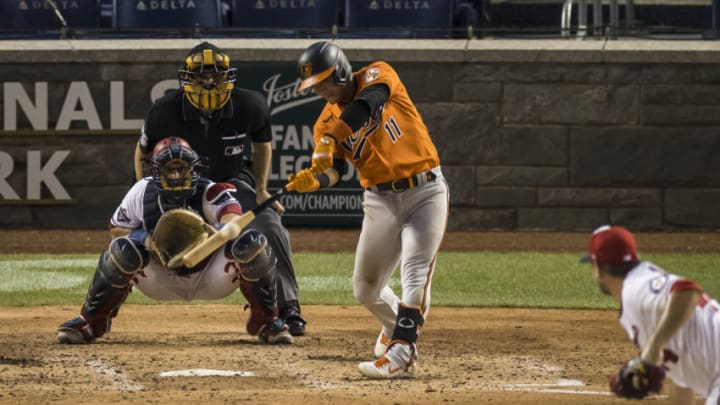 WASHINGTON, DC - JULY 21: Jose Iglesias #11 of the Baltimore Orioles at bat against the Washington Nationals during the sixth inning at Nationals Park on July 21, 2020 in Washington, DC. (Photo by Scott Taetsch/Getty Images) /
Of course it is tough to judge any MLB player after the first series, but the Baltimore Orioles shortstop has been nothing shy of consistent since his first exhibition game against the Nationals.
Watching Jose Iglesias bat third for the Baltimore Orioles shows that he is a player who deserves more recognition.
He's a career .274 hitting in his time with the Tigers and the Reds. But, he's always a guy more likely to be at near the bottom of the lineup. Now that Brandon Hyde is putting him in the key three-hole position, he seems to be relishing in his new skipper's belief in him.
Even in the intersquad games, Iglesias was regularly putting the bat on the ball. And, when he saw his first non-Orioles pitching, he went 3-4 against Stephen Strasburg. Since that game, Iglesias hasn't slowed. He went 3-4 in the second game against the Nats, too.
During the Red Sox series, Iglesias went 1-3 on Friday, 2-5 on Saturday, and 4-5 on Sunday. When compared to the rest of the MLB, hit batting average of .538 puts him in a tie for fourth place with the AL Player of the Week Nelson Cruz. Of course, Cruz has more extra-base hits, but Iglesias has never been known for being a power hitter. But in 2019, he hit 11 home runs – the most in his career.
Along with Iglesias's #4 spot on the current MLB batting average list, he is actually tied for first in actual hits with a handful of other batters, including Cruz. With the Orioles sitting idle for at least the next two games, he will lose his spot in this race. But, his batting average will hold.
More from Orioles News
Iglesias is also doing well against other batters when it comes to doubles. In the AL, he and Kyle Seager are tied for first with three. Only Justin Turner of the Dodgers has more with four. Again, he'll probably dip in this position with two idle games.
At age 30, Iglesias is still in his prime. He's filled out since his early days with the Tigers, but he is still nimble as a fielder. Unfortunately, he's already recorded an error against the Red Sox, but they don't happen often. Any error he does record is not for lack of effort, and the few he has each year often prevent the ball from reaching the outfield.
There are several outstanding shortstops in the MLB in 2020. But, it seems like the same ones get all the credit. In 2019, he was 7th in batting average and 16th in OBP. His lack of attention most likely comes from him not hitting for power, like Trevor Story or Xander Bogaerts. Hopefully, as a quickly emerging veteran star on a team that lacks those, Iglesias will get the respect he deserves.