Where and When to Watch the Baltimore Orioles Get their Draft Picks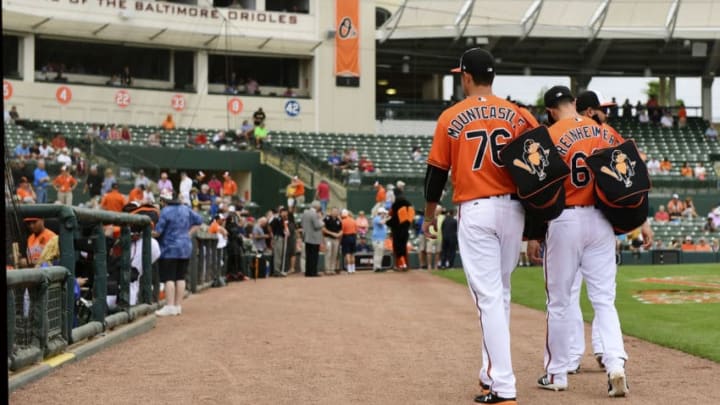 SARASOTA, FLORIDA - FEBRUARY 26: Baltimore Orioles players walk to the dugout prior to a game against the Tampa Bay Rays at Ed Smith Stadium on February 26, 2019 in Sarasota, Florida. (Photo by Julio Aguilar/Getty Images) /
The 2020 MLB Draft will be a fraction of what it was in previous years, but the Baltimore Orioles will still get the second pick.
The MLB finally shared when and where you can watch the Baltimore Orioles pick a few new guys.
According to a Tweet from the MLB, the draft will take place over two days:
Unfortunately, this announcement was a bit tone-deaf after several teams, including the Orioles released many minor league players. Just a week ago, the Orioles released 37 minor league players.
The Orioles weren't alone. MLB Trade Rumors reported that the Seattle Mariners released 50 minor league players on May 28. With the lack of baseball being played to live audiences due to COVID-19, minor league players have little-to-no value to their teams.
This is why the MLB draft seems so pointless right now. Yes, there are some good players who will be snapped up at low prices. But, there are other players who were excited drafted and have gone nowhere after a handful of years.
More from Orioles News
With all of the conversation about who the Detroit Tigers will pick first, there is little suspense about the Orioles first pick. Most assume it will be Austin Martin from Vanderbilt University. He is a third baseman/outfielder. The Orioles have so many needs up and down the lineup, and the 21-year-old has a bat that could make a difference in the next few years.
He is considered the best pure hitter in the 2020 draft class. He is also considered extremely athletic, with quick feet. His one weakness is throwing, which is a vital skill for any third basemen who needs to get the quick out from the hot corner.
However, if the Orioles picking Martin all hinges on the Tigers picking first-baseman Spencer Torkelson. He is a 20-year-old who hits with power, but is not very speedy. The Orioles already have someone who can do that in Ryan Mountcastle.
The other possibility for the Orioles is Asa Lacy. He's a 20-year-old left-handed pitcher with a nasty hard slider. Of course, the Orioles need pitching and I hope Lacy is their first pick.
Despite the timing and tone-deafness of the announcement, the draft could distract from the fact that there isn't any baseball. But, the shortened draft also emphasizes that baseball might not be back at all in 2020.