Baltimore Orioles: Could They Share Facilities with Nats in 2020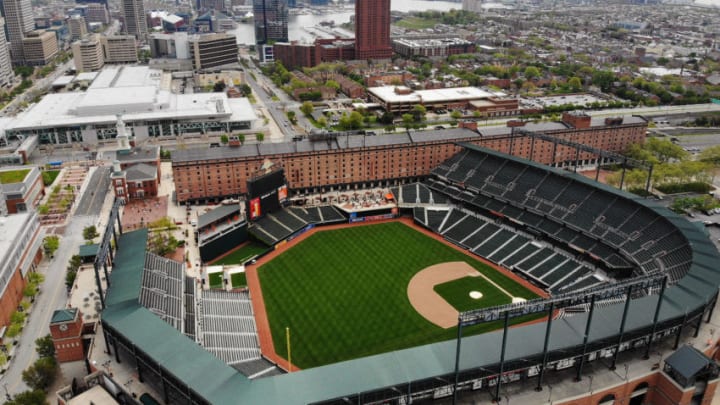 BALTIMORE, MD. - APRIL 29: An aerial view from a drone shows the Camden Yards baseball stadium on April 29, 2020 in Baltimore, Maryland. Baseball season has been put on hold due to states enacting stay-at-home orders and banning all non-essential travel to slow the spread of the coronavirus. (Photo by Mark Wilson/Getty Images) /
As details emerge about the MLB's latest ideas to get the 2020 season started, one smart, but subtle idea has emerged for teams like the Baltimore Orioles and the Washington Nationals.
Along the East Coast, several teams are in close proximity, including the Baltimore Orioles and Nationals. To reduce the costs of running baseball in the COVID-19 world, those nearby teams could share facilities.
In a world where fans could go to games, it might be problematic. But, since no fans will be allowed in the stadium, it might be wise to reduce the number of facilities. Then, again, it might not.
Bob Nightengale with USA Today wrote:
""If teams are unable to play in their home ballparks, at least at the outset of the season, they could choose to share a major-league facility with another team or play at their own spring-training complex. Yet, the preference by all owners is that the games, even with no fans, are staged at their own ballparks.""
There are pros and cons to teams playing at their home parks. Several teams already share facilities in the Grapefruit and Cactus Leagues. The Nationals are one of them, as they share the state-of-the-art FITTEAM Ballpark of the Palm Beaches in Florida. The Colorado Rockies and Arizona Diamondbacks share another young (and beautiful) facility in Arizona: Salt River Fields at Talking Stick in Scottsdale.
More from Orioles News
If teams do share facilities, they reduce the number of "essential" people who have to enter and exit. For example, if the O's and Nats share a facility, fewer people will enter to clean the facility between games. Media teams can also consolidate their equipment if they share a field.
Sharing facilities could boost rivalries, as most teams that are near each have fierce ones. The O's and Nats are one example. But, other long-time rivalries exist in Chicago and New York. Subway or Highway Rivals like the Yankees and Mets or Cubs and White Sox could be amplified based on which stadium is used.
Honestly, I don't really care where the Orioles or any team plays in 2020. They could play at a high school stadium with someone airing the game from their iPhone camera behind the home plate fence with someone announcing from a picnic table. I just want to see baseball.
My other hope is that the MLB and the players can come to an agreement that keeps everyone involved safe. That's what really matters.