Baltimore Orioles: Despite Financial Loss Baseball Should Focus on Fans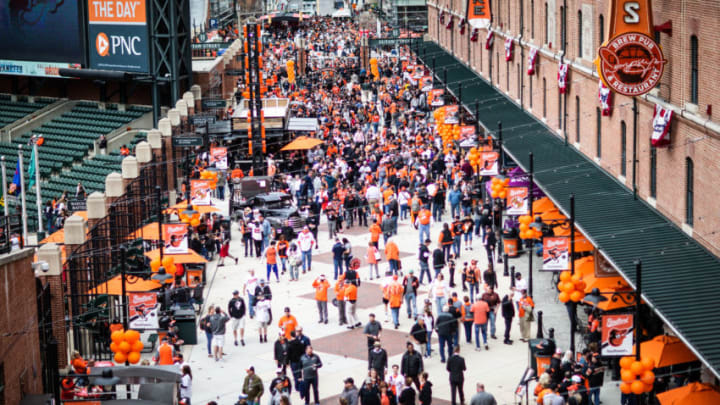 BALTIMORE, MD - APRIL 04: A general view of fans on Eutaw Street before an Opening Day game between the New York Yankees and the Baltimore Orioles at Oriole Park at Camden Yards on April 4, 2019 in Baltimore, Maryland. (Photo by Rob Tringali/SportsChrome/Getty Images) *** Local Caption *** /
As many states begin to open up in some form, fans of the Baltimore Orioles and all of the MLB teams wonder when they will see their teams again.
This is officially the eighth week of cancelled baseball, and the Baltimore Orioles have postponed  12 series. Players are quarantining at home, doing what they can to stay in shape as their gyms and other facilities are closed.
Just like us fans, players are waiting for word on what will happen when and if the MLB and MLBPA figure out what to do for the remainder of the 2020 season. This isn't the first time that MLB games have been postponed/cancelled for more than weather related reasons.
There have been a handful of labor strikes that have cancelled hundreds of games. During four seasons – 1972, 1980, and 1994-95 – MLB players went on strike due to labor conditions and fans were left without baseball. While all of the strikes were ugly, the '94-'95 one was particularly so as it forced MLB to cancel the '94 World Series and delay the following season's Opening Day.
During all of these events, the wealthy players and wealthier owners could not agree on complicated financial issues that went back to the very beginning of professional baseball. These issues often trigger the fan bases, who cannot relate to the money that these people make. Fans just want to see baseball, and sadly, the price of baseball is often overwhelming for fans.
As players, owners, and other stakeholders figure out what to do for the 2020 season, some ugly financial issues will arise. Yes, baseball made over $10 billion in 2019 – a record-setting amount. But, each game that is postponed due to COVID-19 in 2020 is a major loss for owners, not to mention the men and women who were expecting their hourly pay and tips at each game.
No matter what the MLB decides to do in 2020, the decision-makers should keep some focus on the fans. It is highly unlikely that any of us will be sitting in our favorite green seats at Camden Yards, so we will have to settle on watching games played on TV. And, according to Forbes, those TV deals are lucrative, and very close to total price of the MLB annual players' salaries which for 2020 begin at a guaranteed $563,500 and reach heights of $20 million and more.
More from Orioles News
Fans are doing what we can to get by. Many are out of work, or have had to take pay cuts. Parents are struggling to work from home and keep their children engaged in online learning. People are getting sick, and some are dying. The struggles are real, and there is little to look forward to each day (if you even know what day it is).
Being able to enjoy watching the Orioles on TV each night could make things a little easier for fans. And, if baseball stadiums do open, the owners should do what they can to make the experience affordable for fans. We will remember what happens, just as anyone who was around during the '94-'95 strike.
While fans cannot walk a mile in players' or owners' shoes, we can see their beautiful homes on social media. It is difficult to think that its tough to be quarantined in a home with seven bathrooms, a memorabilia-filled man cave, and a shimmering blue lap pool with a massive yacht parked nearby. If owners end up sticking it to the fans with long lines, high-priced tickets, and dirty stadiums, fans will never forget.
It is clear that fans are an important element in the financial world of professional sports. We buy the tickets, the gear, etc., that keep the billion-dollar industry moving along. Fans have been paying the price for years, without any say in the what costs are passed on to us. It's time that the players and owners remember that, and make their decisions for 2020 with us in mind.
MLB might take a financial hit in 2020, but if the reopening is done right and fans are treated well,  the future of baseball could be even more lucrative for the millionaires and billionaires involved in the game.