Baltimore Orioles: A Q&A With RHP Adam Stauffer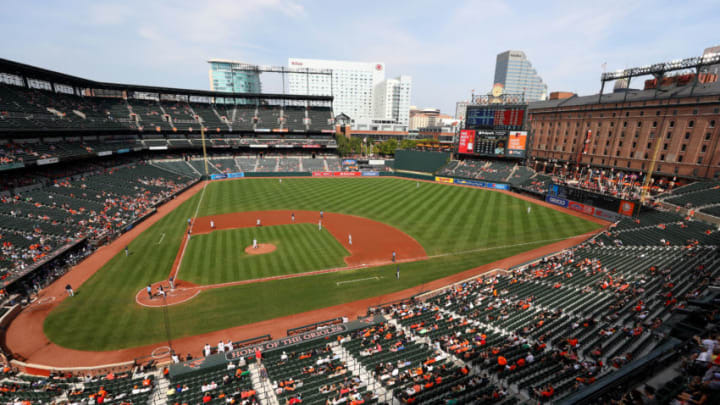 BALTIMORE, MARYLAND - SEPTEMBER 22: A general view of the Baltimore Orioles and Seattle Mariners game at Oriole Park at Camden Yards on September 22, 2019 in Baltimore, Maryland. (Photo by Rob Carr/Getty Images) /
Baltimore Orioles RHP prospect Adam Stauffer turned some heads with his dominant pitching performance during the 2019 season.  I recently had a chance to do a Q&A with him that touched on a variety of topics that I hope the fans find informative and enlightening.
Selected by the Baltimore Orioles in the 19th round of the 2017 MLB draft out of Coatesville Area Intermediate High School in Pennsylvania, RHP Adam Stauffer put his name on the prospect map in 2019.  His performance caught my eye back in July so much so that I tagged him as a rising star in the Baltimore organization.
Stauffer spent his first two seasons as a professional pitching in the Gulf Coast League, where his numbers (2-2 record, 9.19 ERA, 2.36 WHIP and 10 strikeouts) did nothing to foreshadow what was to come in 2019.
Starting the 2019 season in Aberdeen, Stauffer made five starts for the Ironbirds where he pitched to a 2-1 record with a 1.07 ERA, 0.87 WHIP and 29 strikeouts.  Promoted to Delmarva in July where he was used mainly out of the bullpen (3 starts in 9 appearances), Stauffer generated a 0.96 ERA and a 1.02 ERA while striking out 31.
He finished the 2019 season with a combined record of 2-1, 1.02 ERA, 0.93 WHIP, 60 strikeouts and 19 walks over 44.0 total innings.  Additionally, he had an impressive 12.3 strikeout/9 inning rate and a 3.16 strikeout to walk ratio.
Here is my Q&A with Stauffer:
How would you describe your professional experience so far?
Lots of ups and downs. I didn't get off to a good start but that was probably the best thing that could have happened to me.  It just makes me work that much harder and I will never take this opportunity for granted.  Lots of ups in 2019 and hope to continue that into 2020.
What was your "wow, this is professional baseball" moment?
I had a few small ones down in Florida but the biggest "wow" moment was our first practice in Aberdeen.  Just getting away from the Spring training/GCL schedule, that's when this finally felt like real professional baseball.
Please describe yourself as a player to the fans who have yet to see you pitch.
Tall righty who may not always have my best stuff (yet) but I always compete with what I have and make it work.  Also very very competitive.
What is your pitch repertoire and what do you consider your best pitch and the pitch that you need to improve?
Four-seam fastball, changeup and curveball.  Best pitch would have to be my fastball.  I am very comfortable attacking hitters with it and using it up in the zone for K's.  Curveball definitely needs the most improvement from last year but I'm very happy with the progress I've made so far this offseason.
Is there a specific part of your game that you feel you need to improve on?
Besides what I've mentioned above, I'd like to be more present on the mound.  Just focusing on what I am about to do and then execute it.
What has your off-season consisted of, is there a specific area you are working on or are you on a general throwing program?
A lot of time in the gym.  As far as throwing goes I've been mainly focusing on delivery work and pitch development (off-speed).  Every single throw has a purpose.
Your 2019 numbers were simply dominant, how do you see yourself improving?
Numbers wise, ideally less walks and more strikeouts, that's pretty much my goal every time I step on a mound.  Getting better at repeating my delivery and being able to consistently execute off-speed pitches are my main concerns, both go hand in hand.
Delmarva seemed to move you to the bullpen while having you make three starts, what is your preference, starting or relieving, and why?
Starting.  I like to have everything planned out and be on my time.  When I did relieve the coaches did a pretty good job at letting me know which innings I'd probably throw but even then no one knows.  I might have to get hot in the second inning or could be sitting until the 7th.
Since you were drafted before Mike Elias' arrival in Baltimore, have there been noticeable changes in the system from your viewpoint?  If so, what has changed?
There have been many changes but the most drastic has been in player development.  I can't get into details but they just make it so much simpler.  You get to see how all of your pitches play and then focus on how to make them better.  There's no more guesswork.
How much of the advanced analytics have you used and do you find them helpful?
I am fully on board with the analytics side of baseball and use anything I can to make me a better pitcher.  It is all there to help you if you are willing to work with it.  Also gave me some confidence with my fastball knowing if used in certain ways it can potentially be a real weapon.
More from Birds Watcher
As a Pennsylvania native I am sure even though the O's may not have been your favorite team growing up you are aware of their struggles.  How do you feel about possibly playing a big part in their resurgence?
The ultimate goal for me as a player is to not only be a part of, but contribute to a World Series win.  If I had the opportunity to do that with the O's after the struggles they've had, it would just make it that much more special and nothing would make me happier.
I hope that this Q&A session with Stauffer was informative and helps fans get to know him better.  If you want, you can also follow him on Instagram.
Finally, I would like to acknowledge and express my gratitude to Mr. Paul Kuo, Director of Analytics and Media Relations for the Ballengee Group for his invaluable assistance in facilitating this Q&A.
For more coverage of the Baltimore Orioles minor leagues, you can follow our stories here. Stay tuned all season long as we bring you all coverage from the field all season long.