Baltimore Orioles: Former Orioles Still Looking For Jobs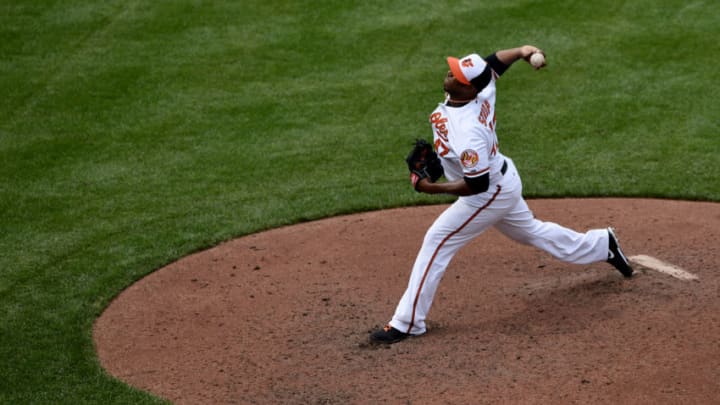 BALTIMORE, MD - JUNE 12: Pitcher Pedro Strop #47 of the Baltimore Orioles works the seventh inning against the Los Angeles Angels of Anaheim at Oriole Park at Camden Yards on June 12, 2013 in Baltimore, Maryland. The Los Angeles Angels of Anaheim won, 9-5. (Photo by Patrick Smith/Getty Images) /
Spring training is just around the corner and a long list of former Baltimore Orioles are still looking for employment.
It's hard to believe, but Baltimore Orioles pitchers and catchers will report to Sarasota, Florida for spring training on February 11th, with the first spring training contest set to take place less than two weeks after that. Ready or not, baseball is coming.
This offseason has been much more entertaining than last season and despite a recent lull in activity, you have to imagine that a Josh Donaldson signing will provide a big jumpstart to league-wide activity in terms of trades and free agent signings as teams attempt to check off the remaining boxes on their offseason shopping list.
For the Orioles, their big spending is over and by big spending I mean the $3 million they are going to pay shortstop Jose Iglesias in 2020. With that one signing (not including Kohl Stewart's split-contract), the Orioles have somehow managed to outspend the Seattle Mariners, Colorado Rockies, Pittsburgh Pirates, and the Chicago Cubs. And you thought the Orioles were being cheap this offseason.
As we enter the remaining few weeks of winter, a number of former Orioles are still looking for a job in 2020. One has been connected to the Orioles this winter and could sign with the team in the coming days, but what about the others?
Former outfielder Adam Jones took matters into his own hands and signed a multi-million deal to play in Japan instead of waiting around for a minor league invite somewhere, Jonathan Schoop landed a $6.1 million deal with the Detroit Tigers after hitting 23 home runs with the Minnesota Twins last season, and Kevin Gausman earned himself a $9 million contract with the San Francisco Giants after finding some success out of the bullpen with the Cincinnati Reds.
Former Orioles reliever Darren O'Day also ensured a spot on a roster in 2020, re-signing with Atlanta for $2.75 million in his age-37 season. But what about those former O's who are still unemployed?
Starting pitcher Andrew Cashner went 9-3 with a 3.83 ERA with the Orioles last season, putting together one of the best performances of his career before being traded to the Boston Red Sox and, like the Red Sox, completely falling apart down the stretch. As we've discussed before, signing Cashner to a low-cost/incentive-laden deal makes a lot of sense for the Orioles.
After a down year with the Cubs that saw Pedro Strop go 2-5 with a 4.97 ERA and 1.27 WHIP, the 34-year-old righty will look to continue his career with a new organization. Despite striking out 10.58/9 IP, the highest number of punchouts since 2016, Strop recorded his highest ERA since 2013 and the highest walk rate of his career at 4.32/9 IP. A team looking for a low-cost veteran option out of the bullpen could sign him late in the offseason.
More from Birds Watcher
Two former Oriole catchers are also still on the market and could be signed soon. Caleb Joseph joined Adam Jones in Arizona last season and split his time between Triple-A and the big leagues, his likely role in 2020 as well. The Orioles are reportedly close to signing a free agent catcher to a minor league deal and it could very well be Joseph.
Matt Wieters has also been rumored to be drawing interest from clubs, specifically the St. Louis Cardinals and Oakland A's. Wieters served as Yadier Molina's backup last season and saw 67 games of action after filling in due to injury. Wieters hit just .214, but he did chip in 11 home runs and there are plenty other worse options you can have as a backup.
RHP Bud Norris saved 28 games for the Cardinals last season, posted the lowest ERA of his career (3.59), and struck out more than 27% of hitters he faced. The 34-year-old still has some left in the tank. He wasn't with the Orioles very long, but was effective during his short tenure.
Last but not least, there are a handful of guys who may or may not land jobs in Major League Baseball next season. LHP Donnie Hart, 1B/DH Steve Pearce, 1B/DH Mark Reynolds, C Welington Castillo, and DH Mark Trumbo are all free agents, along with a few guys you may remember from their brief runs with the Orioles like IF Tim Beckham and RHP Jeremy Hellickson. We'll see how many suit up in a major league uniform next season.