Birds Watcher Introductions: Contributor Ben Schneider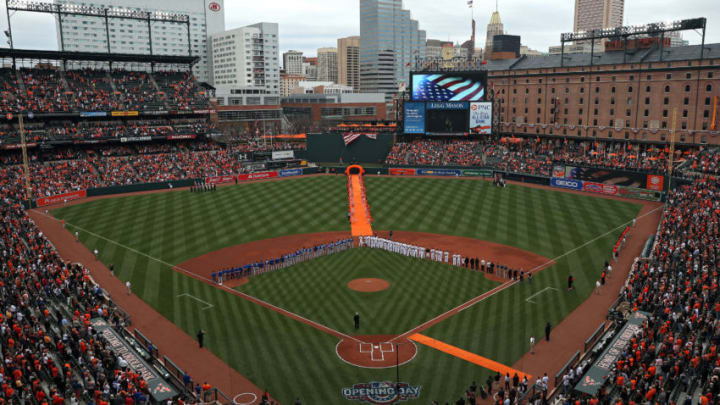 BALTIMORE, MD - APRIL 03: The Baltimore Orioles and the Toronto Blue Jays stand during the national anthem before their Opening Day game at Oriole Park at Camden Yards on April 3, 2017 in Baltimore, Maryland (Photo by Patrick Smith/Getty Images) /
Birds Watcher's newest contributor, Ben Schneider, introduces himself to Orioles fan.
Hey Birdland,
My name is Ben Schneider and I am a new contributor here at Birds Watcher.  I grew up in the Boston area and am currently a second-year English Literature student at McGill University in Montreal.  I have been reading Birds Watcher since last January and am excited to have the chance to share my thoughts with other Orioles fans.
What is someone doing in Birdland who lives in Red Sox Nation and maple country?  My dad grew up in Maryland, moved to Boston, and he passed down his love for the O's to me.  Living through the Dark Ages is tough enough, but being an out of town fan can really test a person's loyalty or will.  My love is undying and only made stronger by closely following the rebuild process.
Starting from when I became a fan in the late 2000's to now, my favorite active player has been Adam Jones, someone who plays the game honestly, had the drive to win, and with the joy that inspires others to play.  I wish there were more like him at every level.  Among retired players, my favorite is Brooks Robinson for many of the same reasons plus his dedication to the defensive craft.  Nolan Arenado is really the only one today who simultaneously honors the hot corner and pulls his weight at the plate.
More from Birds Watcher
While I pay most of my attention to the Orioles, I also love the sport of baseball and care deeply about the league as a whole.  In my articles, I hope to focus on news from around the league and minors from an Orioles perspective but also from the perspective of what is good for the sport overall.  Before Spring Training starts,  I will write my opinions on the Orioles offseason and the major stories from around the league, most notably the technology cheating scandals.
The Orioles are looking at a bleak couple of years, but the new decade looks very bright.  We will be on this ride together, and I am looking forward to everything that happens Orioles-wise with you.  If you would like to reach out to me personally, you can message me on Instagram @oneforschneidy.  I am happy to talk baseball, sports in general, rock music, and books and movies.
Go O's!