The Baltimore Orioles Made Things Slightly More Interesting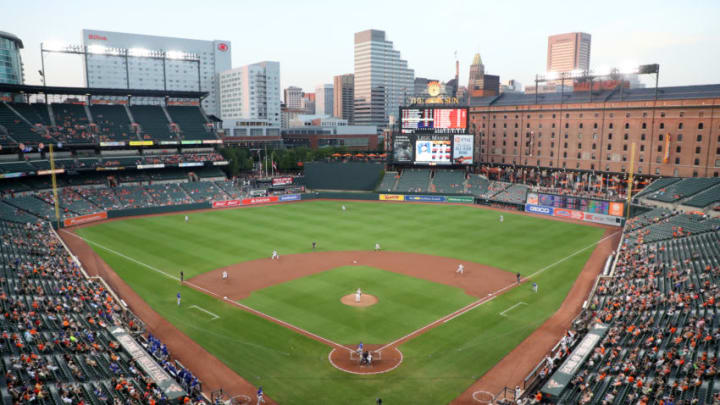 BALTIMORE, MD - AUGUST 29: A general view during the second inning of the Baltimore Orioles and Toronto Blue Jays game at Oriole Park at Camden Yards on August 29, 2018 in Baltimore, Maryland. (Photo by Rob Carr/Getty Images) /
The Baltimore Orioles made their second free agent signing on Monday, giving fans something small to be excited about.
First, there was the acceptance that the Baltimore Orioles are many years away from being a competitive team in the American League. We placed our full trust into Mike Elias and the process of building this franchise from the ground up, hoping that as a reward for years of pain and suffering to come, we can all one day celebrate together in the most beautiful ballpark in baseball.
Then the offseason began and frustration quickly crept in as the decision was made to move Jonathan Villar to Miami for a low-level pitching prospect instead of paying him a projected $10 million in 2020.
There was also the shipping of Dylan Bundy to the Los Angeles Angels for four pitching prospects as one of the lowest payrolls in baseball continued to trend downward. Bundy, like Villar, is arbitration-eligible this offseason and is projected to make just under $6 million next season.
While the Bundy move was largely expected for a while, legitimate questions arose among fans as to why the Orioles refused to pay their top player from 2019 in Villar, leaving an already barren roster void of many legitimate major league pieces.
It's not about winning games in 2020, we know that isn't going to happen, but there are still small moves out there that would not only make the team better now without sacrificing the long-term plan, but also make next year's Orioles club slightly more interesting to watch.
The signing of shortstop Jose Iglesias is just one of those moves.
We looked at some of his numbers yesterday, which you can read here. A below league-average bat that doesn't swing and miss very often, but one of the better gloves in baseball from the shortstop position at a very cheap price, that's Jose Iglesias in very simple terms.
Even after the initial excitement of the Orioles making a major league free agent signing wore off, I'm still more excited about this signing than I should be, but it's a solid move for Baltimore.
In each of the last three years, the Baltimore Orioles have ranked in the bottom third of the league in defensive value, according to Fangraphs. Before that, you have to go all the way back to 2008 to find another season in which the Orioles weren't among the top ten in the leauge in defensive value out of the shortstop position.
The Orioles used eight different shortstops during the 2008 season, with Juan Castro and his 54 games leading the way. I legitimately don't remember Castro playing for the Orioles, but that was also my junior year of college, the year I made a number of questionable life decisions.
With Iglesias now expected to hold down full-time duties at shortstop, the Orioles have themselves an improved defense up the middle. Having Pedro Severino behind the plate, Iglesias at short, Hanser Alberto at second base for a big chunk of games, and Austin Hays in center field is a big improvement over what we saw most nights in 2019.
The signing is important for two more big reasons. An improved defense and reliable glove at shortstop will help a young and inexperienced starting rotation gain a bit of confidence this season. With rookies like Keegan Akin, Bruce Zimmermann, and Dean Kremer expected to see major league action in 2020, along with two Rule 5 picks in Brandon Bailey and Michael Rucker, a competent defense behind them should benefit their development.
More from Birds Watcher
The Orioles bullpen ranked 5th in the majors in groundball percentage last season at 47.6%. This unit should also see a benefit in having an improved defense behind them.
There's also the case of Richie Martin. It's been widely assumed that Martin will spend 2020 in the minors next season, which seems even more plausible now after the Iglesias signing. If the Orioles think some additional seasoning will help Martin develop into either a major league shortstop or a quality bench piece, then a full season in Norfolk to focus solely on development may be the key.
Martin's numbers did improve in the second half of the season, but the Orioles used him sparingly and in only highly favorable situations, a larger sample size is needed to make more concrete observations.
At the end of the day, the Orioles are still going to lose a lot of games next year, and probably the year after that, but at least it will be just a little more interesting.
Stay tuned later today for more Orioles news. With the 40-man roster currently full, the Orioles will need to make room for Jose Iglesias, once the signing is made official.