Baltimore Orioles: 2020 Is A Pivotal Year For Ryan McKenna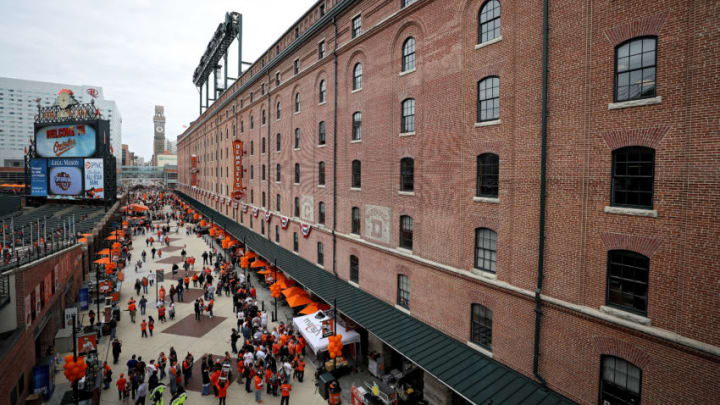 BALTIMORE, MD - APRIL 03: Fans enter the ballpark before the Toronto Blue Jays play the Baltimore Orioles during their Opening Day game at Oriole Park at Camden Yards on April 3, 2017 in Baltimore, Maryland (Photo by Patrick Smith/Getty Images) /
Now a member of the Baltimore Orioles 40-man roster, outfielder Ryan McKenna has something to prove in 2020.
The Baltimore Orioles added four prospects to the team's 40-man roster last month in pitchers Keegan Akin and Dean Kremer, outfielder Ryan McKenna and infielder Ryan Mountcastle, in order to protect them from exposure to the Rule-5 Draft.
A move like this says that the organization both values you as a prospect and has confidence in you as a player.  It is not, however, the end of the road, as the ultimate goal is to make the active roster.  Three of the aforementioned prospects are on the rise while one, McKenna, must put his trajectory back on the rise in 2020.
Without a doubt, McKenna was the breakout prospect of 2018.  He started that year in Frederick (A-Adv.) and slashed .377/ .467/ .556 with 60 runs scored, eight home runs, 37 RBI and a wRC+ of 192 in 67 games.  He was named the Carolina League's Player of the Week twice and was named to the Carolina League All-Star team as well for his performance.
All this resulted in a mid-season promotion to Bowie (AA) where McKenna found the adjustment to the Eastern League challenging.  He finished out the 2018 season by slashing .239/ .341/ .338 with 35 runs scored, three home runs, 16 RBI, and wRC+ of 92 over 60 games played.  It was not surprising that McKenna's numbers dropped off with his first exposure to AA competition.
The Orioles assigned McKenna to the Arizona Fall League for further seasoning against a higher level of competition in 2018 and he performed well.  He slashed .344/ .474/ .590 in 17 games for the Glendale Desert Dogs and was in fact named to the Fall-Stars team.
The 2019 season looked to be promising for the former 4th round draft pick (2015), but a return to Bowie still proved to be challenging.  McKenna's numbers this past season looked much like his 2018 numbers did in Bowie.  He played in 135 games for the Baysox and scored 78 runs with nine home runs and 54 RBI while slashing .232/ .321/ .365 (wRC+ of 96).  The major difference in 2019 seemed to be McKenna trying to lift the ball more; his fly ball percentage rose to 40% in 2019 compared to his 30% rate with Bowie in 2018.  He seems to have gotten away from what got him to Bowie in the first place by trying to hit the ball in the air more.
The concern in my mind is that the spots on the 40-man roster are so precious and valuable, especially to a team in a significant rebuild like the Orioles are, that production is the key to remaining on that roster.  I'm not of the opinion that McKenna needs to duplicate his 2018 Frederick numbers but rather that he needs to move the needle in a positive direction in 2020.  The new regime, led by General Manager Mike Elias, has no ties or specific loyalty to players drafted and in the system prior to their arrival in Baltimore.
More from Birds Watcher
Elias and Assistant General Manager Sig Mejdal are working wonders incorporating advanced metrics into the Orioles system but an emphasis on launch angle, if that is what McKenna is focusing on, may not be for everyone.  McKenna needs to return to what worked before and just focus all his efforts on being a good, all-around hitter.  He has youth and potential on his side; I believe that he can return to the form that made him a breakout prospect in 2018.
Currently the Orioles #13 ranked prospect according to MLB Pipeline, McKenna could play a major part in the Orioles future successes and that future needs to start in 2020.  For what it is worth, my money is on Ryan McKenna to be the player that he has shown he is in the past.
Want more news and discussion about the Baltimore Orioles minor leagues? Check out our MiLB coverage here.