Baltimore Orioles: Mike Elias On Possible Offseason Activity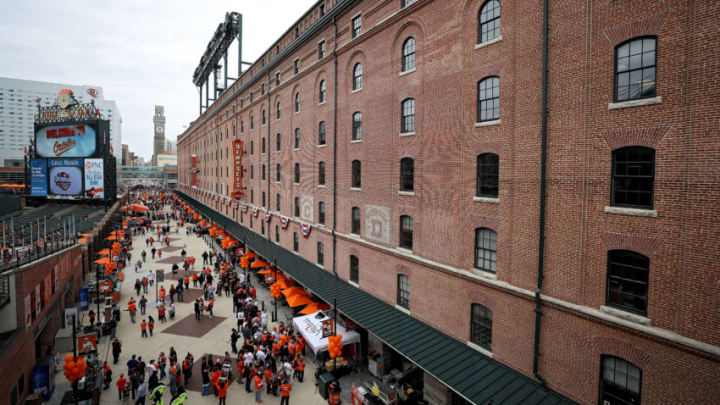 BALTIMORE, MD - APRIL 03: Fans enter the ballpark before the Toronto Blue Jays play the Baltimore Orioles during their Opening Day game at Oriole Park at Camden Yards on April 3, 2017 in Baltimore, Maryland (Photo by Patrick Smith/Getty Images) /
How active will the Baltimore Orioles be this offseason? Not very.
When it comes to offseason movement, the annual General Manager meetings aren't where we typically see much movement, but conversations surrounding possible deals are started and the offseason wheels are kicked into motion ahead of next month's Winter Meetings. What does this mean for the Baltimore Orioles?
We already know that Mike Elias isn't going to make any big waves in free agency. At least when free agent signings start to roll in, it will provide us with a fun hunt for information about who this new player that we have probably never heard of is.
On Friday afternoon, MASN's Roch Kubatko relayed a few quotes from Elias as the Orioles general manager wraps up his trip to Scottsdale, Arizona and returns to Baltimore to finalize his 40-man roster ahead of the November 20th deadline to protect any Rule 5 draft-eligible players.
Hold on tight, folks. These are some blazing hot offseason updates coming at you.
Per Kubatko, the Orioles will look to bring in a fourth catcher before spring training and a center field minor league free agent. This on top of the pitching and middle infield depth Elias has already discussed.
I'm assuming the fourth catcher will be another Jesus Sucre type, a defensive-minded veteran, with major league experience, who can work with this young pitching staff in Sarasota.
The disappearance of Sucre after spending some time in Triple-A with the Norfolk Tides and the departure of Bowie Baysox catcher and MLB-veteran Carlos Perez leaves the Orioles with very little in terms of experience behind the plate in the upper minors, other than rookies such as Martin Cervenka and Brett Cumberland.
As for the center field depth option, Mason Williams's name was thrown out as a possibility. Williams played in 121 games with the Tides last season, hitting .308 with an .848 OPS and 18 home runs. A knee injury prevented him from seeing much time in the majors after a September call-up.
Williams certainly proved worthy of a look with his performance in Norfolk. At 28, he will never live up the hype that surrounded him many years ago as a highly-touted prospect in the New York Yankees system, but he's a perfectly fine option to sit in Triple-A as an emergency option.
The Orioles may be quiet in free agency, but we could see a few trades, which are always more interesting.
There's sure to be plenty of discussions around Jonathan Villar and Mychal Givens, the main trade chips on the major league roster, and it seems as if there's plenty of genuine interest from other organizations in acquiring a few different controllable pieces on the Orioles roster.
More from Birds Watcher
Personally, I'm curious to see if any prospects are moved. The Orioles have done a fantastic job of increasing the talent pool down on the farm and have seen a large number of prospects make positive strides after just one season with a new development plan in place, especially in the lower minors.
However, are there any prospects in the Orioles Top 30 who just don't fit into the plan, yet can provide value to another organization? Just a random thought. As someone who watches Baltimore Orioles minor league baseball on a nightly basis during the regular season, I'd hope we see these guys get an opportunity with the O's, but you never know.
With the deadline to set the 40-man roster set for Wednesday, will Ryan McKenna, Cody Sedlock, and/or Gray Fenter be added to the roster? We know Keegan Akin, Ryan Mountcastle, and Dean Kremer are safe, but will anyone else be protected?