Baltimore Orioles: Houston Astros World Series Loss Brings Back Memories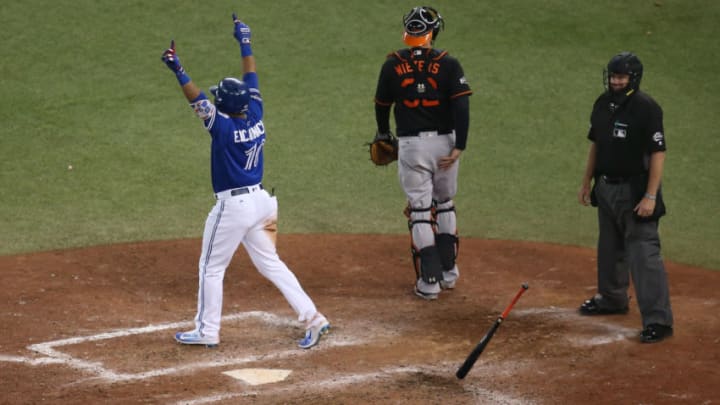 TORONTO, ON - OCTOBER 04: Edwin Encarnacion #10 of the Toronto Blue Jays reacts after hitting a three-run walk-off home run in the eleventh inning to defeat the Baltimore Orioles 5-2 in the American League Wild Card game at Rogers Centre on October 4, 2016 in Toronto, Canada. (Photo by Tom Szczerbowski/Getty Images) /
There were shades of a Baltimore Orioles 2016 Wild Card game in last night's World Series contest.
Whether you are a Baltimore Orioles fan who has a soft spot for the Washington Nationals or the O's fan who just can't find it in themselves to root for that other DMV franchise, there's no denying that the Washington Nationals earned the right to be forever known as the 2019 World Series champions.
For the Houston Astros, 36-year-old Zack Greinke carved his way through Washington's lineup before being removed with one out in the 7th inning and holding a 2-1 lead. Could he have finished the inning and saved the Astros for another frame? Maybe, but Houston manager AJ Hinch elected to go to his bullpen, which would go on to give up five runs over the final two-plus innings and giving the road team yet another win in this World Series matchup.
While watching the Nationals close out their first World Series title, it was hard not to sit back and think about that dreaded 2016 American League Wild Card game between the Orioles and Blue Jays. You remember it well.
There's plenty of blame to go around, if you're a Houston Astros fan. Houston went 1-8 with runners in scoring position on Wednesday night and left 10 men on base. They had every opportunity to break things open against Max Scherzer but failed to capitalize each time. Should AJ Hinch have put Roberto Osuna back on the mound in the 8th inning after closing out the 7th?
More from Birds Watcher
There's no single answer as to why the Astros were unable to secure the victory, that's not how baseball works, but the question has to be asked, where was Gerrit Cole? Cole was shown warming up multiple times last night but AJ Hinch elected not to use his ace who threw 110 pitches on Sunday in a Game Five victory.
Hinch stated afterward that he was prepared to use Cole to close out the game, if the Astros were winning, but the decision not to use Hinch when things started to get out of hand was reminiscent of Buck Showalter's 2016 decision to keep Zack Britton in the bullpen as Ubaldo Jimenez gave up three runs and Orioles fans were left wondering…what if?
Game Seven of a World Series is a bit different than a Wild Card game, but as Orioles fans, we send our sympathies to the Houston Astros community and our congratulations to the Washington Nationals. Just to note, the Orioles went 2-2 against Washington this season.