Baltimore Orioles 2019 Draft Highlight: Shayne Fontana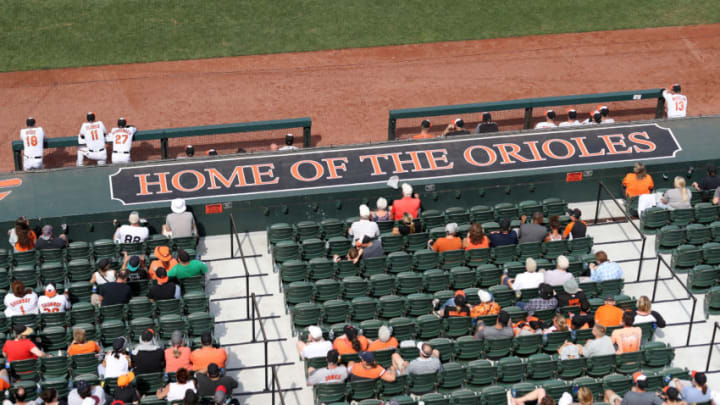 BALTIMORE, MARYLAND - SEPTEMBER 22: A general view during the Baltimore Orioles and Seattle Mariners game at Oriole Park at Camden Yards on September 22, 2019 in Baltimore, Maryland. (Photo by Rob Carr/Getty Images) /
The Baltimore Orioles 2019 draft class will always be remembered for the number one overall pick, catcher Adley Rutschman, but it was full of impressive picks.  Birds Watcher takes a look at several draft picks whose play should put them on the radar.
Drafted in the 23rd round of the 2019 MLB Draft out of Lynn University in Florida, outfielder Shayne Fontana played for three teams in the Baltimore Orioles minor league organization this past season.  He started in the Gulf Coast League (Rookie) before being promoted to Aberdeen (A-Short) in July and then finished out the year in Delmarva (A-Low) following an August promotion.
In 51 total games and 178 at-bats, the 22-year-old native of New Brunswick, New Jersey compiled a slash line of .275/ .370/ .410/ .780 with 15 extra-base hits, 34 runs scored and 19 RBI.  His 2019 season was split almost evenly among the three MiLB stops: 15 games in the GCL, 19 in Aberdeen and 17 in Delmarva.
Statistically speaking, Fontana's best level was his first.  He hit .349/ .482/ .465 with 11 runs scored, one home run and seven RBI for the GCL Orioles.  At the time of his promotion to the Ironbirds, he was in the midst of a five-game hitting streak and was batting .385 over that span.
The move to the New York-Penn League cooled Fontana off a bit as he generated a .250/ .321/ .361  slash line with 13 runs scored and four RBI.  He did, however, start to display his power potential with three doubles, one triple, and one home run.  Once again, at the time of his promotion to Delmarva, Fontana was riding a four-game hitting streak.
More from Birds Watcher
His time with the Shorebirds and the South Atlantic League produced more of the same but with a bit more power.  Fontana batted .254/ .338/ .429 with 10 runs scored, five doubles, three triples and eight RBI over his 17 games in Delmarva.  He also got to experience post-season baseball with the Shorebirds and went 3 for 8 (.375) with one double in Delmarva's two playoff games.
One area that Fontana excelled in during the 2019 season was clutch hitting.  Nine of his nineteen RBI came with runners in scoring position and two outs; he batted a solid .321 in those situations. Also of note, Fontana was 15-19 in stolen base attempts.
While striking out at a rate of slightly below 16%, Fontana drew walks at a rate of 10%, a rate that he will need to improve to see continued success.  The left-handed hitter will also need to improve upon his .148 batting average against southpaws; he did, however, hit .298 off of right-handed pitching
Of the seven 2019 draftees with at least 150 at-bats this past season, Fontana's OPS was third best.  His 2019 season was noteworthy and as such his progress should be watched in 2020, where I expect him to start with the Shorebirds.  Time will tell if Shayne Fontana was a solid pick but the fact that he played for three levels in his first professional season bodes well.
Stay tuned, as we will be highlighting five more 2019 Baltimore Orioles draft picks who excelled in their first season in the organization over the coming days.