Baltimore Orioles: Former Starting Pitching Prospects Finding Success In Bullpen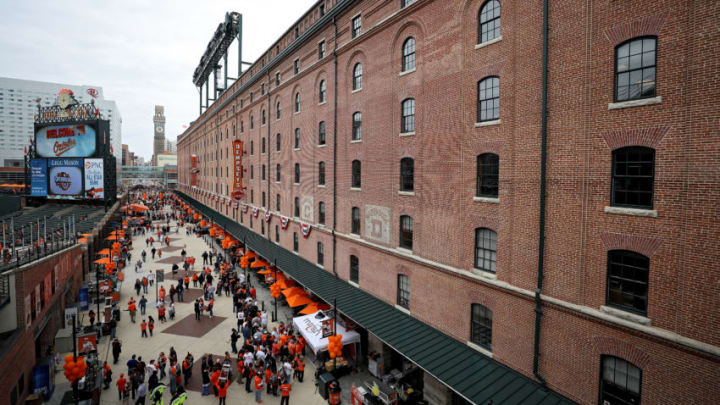 BALTIMORE, MD - APRIL 03: Fans enter the ballpark before the Toronto Blue Jays play the Baltimore Orioles during their Opening Day game at Oriole Park at Camden Yards on April 3, 2017 in Baltimore, Maryland (Photo by Patrick Smith/Getty Images) /
Former starting pitching prospects have seemed to find new life in the bullpen.
Much has been written over the past few days about the continued struggles of the Baltimore Orioles bullpen, struggles which won't be resolved very easily. A severely overworked staff and lack of talent has led Brandon Hyde to use his relievers in less than ideal situations as he tries to find anyone to get through the remaining innings of 2019, but at the end of the day, it comes back to the talent on the roster.
Mychal Givens has the stuff, but has been hot, cold, and freezing cold this season. Gabriel Ynoa has been unable to build upon a solid July, his first month as a full-time reliever. He owns an 8.59 ERA in August and has surrendered eight home runs in 14.2 innings of work. Richard Bleir has allowed opponents to hit .327 against him this season, Paul Fry has been solid one month and been tagged the next all year, and while Shawn Armstrong has shown flashes of impressive pitching, he owns a 5.13 ERA and 1.42 WHP since joining the Orioles in late April.
The 2019 Baltimore Orioles bullpen has been an adventure, often leading to uneasy feelings in the 9th inning of games, no matter how far ahead the O's are at the time. Currently owning a league-worst 6.32 ERA (5.73 FIP) and home run rate (1.96 HR/9 IP), this bullpen also ranks among the worst in baseball in walk rate (4.16 BB/9 IP) and is one of just five bullpens with a negative collective WAR (-1.1).
However, we may be ending 2019 with a positive storyline out of the bullpen. Hunter Harvey has appeared in just two games and has only two major league innings under his belt, but it's so hard not to get excited about his potential as a late-inning reliever for the Baltimore Orioles.
If you're thinking, wasn't he supposed to be this elite starting pitching prospect and so we're talking about a failed prospect who has to turn into a reliever, stop right there. Can we stop with this kind of thinking? Bullpen arms can be extremely valuable and be the reason whether you are raising a World Series trophy at the end of the season, or not.
Touching 100 mph and showcasing his big curveball, Harvey has four strikeouts and no hits allowed in his two innings of work at the big league level. We won't see much more of him this season, with his undisclosed innings limit in place, and that's fine considering his extensive injury history. We're going to allow ourselves to have positive thoughts about this one and say Harvey is a bullpen piece moving forward for the Orioles. Just stay healthy, please!
Fellow Baltimore Orioles starting pitching prospects are finding success out of the pen.
While none of the guys mentioned below are at Hunter Harvey's level, the Orioles do have a handful of minor league arms making successful transitions from starting pitcher to bullpen arm. Just one of them is a Top 30 prospect, but that doesn't mean they can't make some sort of impact at the major league level, or at least get a shot in 2020.
RHP Dillon Tate– Norfolk Tides
Tate has already made his major league debut and struggled with the Orioles, but he may have been brought up a little too early. Tate began the year as a starter with Double-A Bowie, but transitioned well to the bullpen before missing a big chunk of time with an injury. Since making his Triple-A debut back on August 8th, Tate is 2-0 with a 2.00 ERA and 0.89 WHIP. He has also converted two of three save opportunities.
International League hitters have just four hits against Tate in nine innings and fell victim to the strikeout seven times. On the mound, Tate looks even more confident than he did when he was having success in Double-A. He's missing bats, getting hitters to chase, and working his secondaries well.
Finishing the season in Triple-A and a spring training out of the pen may work in Tate's favor as he looks to join Harvey in the Orioles bullpen next year.
*Editor's Note- Tate was called up to the Orioles again ahead of Friday night's game. He pitched three scoreless innings against Tampa Bay in relief of Ty Blach.
RHP Cristian Alvarado– Bowie Baysox
If I was making a list of my top 10 favorite prospects to watch in the Orioles system, Alvarado is on it. I first saw him two years ago when he was with the Frederick Keys and loved much of what I saw. He didn't have the greatest outing against the Lynchburg Hillcats that day, but the way he carried himself during warm-ups (he started this contest), interacted with the fans before his start, and how he refused to give up on certain things that weren't working for him that evening all impressed me.
A 24-year-old right-handed pitcher who signed out of Venezuela, Alvarado went 19-18 with an ERA approaching 5.00, a WHP near 1.30, and a batting average against north of .280 in his two seasons as a starter with the Frederick Keys. He is now a member of the Bowie Baysox bullpen and has become an effective closer for one of the hottest teams in minor league baseball over the course of the second half of the season.
Armed with his high leg kick (high leg kicks get me every time), Alvarado has increased his strikeout rate from 18% to 23%, is holding Eastern League hitters to a .200 average, and owns a 1.01 WHIP. As of August 23rd, he is on a six-game scoreless outing streak, striking out 11, walking none, and allowing just four hits while converting five of five saves. Say what you will about a player being "clutch" and if it means anything or not, but Alvarado has delivered when the Baysox need him the most. Bases loaded late in the game and trying to protect a lead? Alvarado has a strikeout for that.
LHP Brian Gonzalez– Bowie Baysox
A third-round pick of the Baltimore Orioles back in 2014, Gonzalez was the first player selected by the Orioles that year after not having a first or second-round pick. The 2014 draft brought the likes of John Means, Stevie Wilkerson, David Hess, and Tanner Scott to Birdland, and also saw the Orioles draft NBA star Pat Connaughton in the fourth-round. The Orioles also drafted pitcher Brandon Bonilla, the son of Bobby Bonilla, but I'm falling down a deep rabbit hole of looking at past drafts at this point and that's not what this article is about.
More from Birds Watcher
Gonzalez was with Bowie last year, making 17 starts and posting an 8-6 record with a 5.69 ERA, 1.64 WHP, and allowed opponents to hit .269 against him. Repeating Double-A in a new role, Gonzalez has had a bit more success out of the pen, when he's healthy.
With just 38 innings under his belt, the 23-year-old lefty owns a 4.03 ERA (3.87 xFIP), 1.05 WHP, and a .210 batting average against. His strikeout rate is slightly improved from last season (up from 18% to 20%), but his walk rate has dropped from 9.4% to 6.8% out of the pen. Of his 22 total outings (including rehab stints in the lower minors), Gonzalez has 14 scoreless outings under his belt.
Taking out his 3.2 inning and four ER start, Gonzalez owns a 3.42 ERA as a reliever. I'll be greatly interested to see if he starts 2020 in Triple-A and what he can do in a full season out of the bullpen.
The key with all three of these pitchers is them continuing their success in 2020. If 2020 is going to be another tough season to watch at the major league level, I rather watch while the likes of Tate, Gonzalez, and Alvarado get their shot rather than more Tom Eshelman types.