Baltimore Orioles: Ryan Mountcastle Leads The Way At A Young Age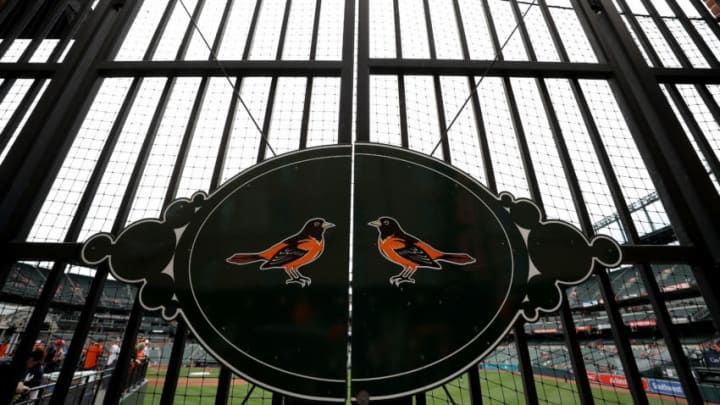 BALTIMORE, MARYLAND - APRIL 04: A general view from the outfield before the start of the Baltimore Orioles and New York Yankees game at Oriole Park at Camden Yards on April 04, 2019 in Baltimore, Maryland. (Photo by Rob Carr/Getty Images) /
As the International League season rolls along, Baltimore Orioles prospect Ryan Mountcastle continues to roll.
Growing up just minutes away from Harbor Park in Norfolk, Virginia, I spent every summer with my family watching Norfolk Tides games from one of the more iconic minor league baseball stadiums in the country. When I think back on my childhood, those memories are some of my favorite. Despite now living four hours away from my hometown, but closer to my beloved Baltimore Orioles, I still get to enjoy watching the Norfolk Tides every single night, thanks to MiLB TV. Even through the screen of my iPad, the sounds and smells flood my senses and I remember why baseball is such an amazing sport.
The last few years haven't provided much to cheer for when watching the Tides. Currently owning a 43-68 record in the International League, a .500 season is out of the question for the Baltimore Orioles Triple-A affiliate, something this team has accomplished just three times in the last decade (one playoff appearance). But much like the major league Orioles, this season has been fun to watch, despite the record. A big reason for that has been first base prospect Ryan Mountcastle.
Mountcastle has been a highly regarded prospect in the Orioles system since the Orioles used a first-round pick on him back in 2015. Now 499 games later, Mountcastle has scorched 64 career home runs, 128 doubles, and owns a .294/.326/.466 slash line. He's a three-time All-Star ('17 with Frederick, '18 with Bowie, '19 with Norfolk), a four-time Organizational All-Star, a 2018 MLB Futures Game participant, and a 2017 Rising Stars participant in the Arizona Fall League.
Since beginning his career as a shortstop, Mountcastle has had to adjust to learning a new position multiple times, moving to third base last season and now first base in 2019, and even some left field. Despite the constant position changes, the highly-touted Orioles prospect has remained hot with his bat and now finds himself as the second-best first base prospect in baseball, the fourth-ranked prospect in the Orioles system, and 70th overall in Major League Baseball.
Demands for Mountcastle's call-up to the big leagues have been loud and growing as the season moves along. While it's hard to watch Chris Davis reach new lows as Mountcastle torches his way through the International League, it's important to keep one thing in mind, Mountcastle is very young, still learning, and well worth the wait.
The average age of a position player in the International League is 27 this season. Mountcastle is just 22. The average age of pitchers in the league is just under 27. Not only is Mountcastle competing against much older competition, he's facing elite pitching prospects along the way. With Norfolk competing in the South Division and playing a majority of their games against the Durham Bulls (Tampa Bay), Charlotte Knights (Chicago White Sox), and Gwinnett Stripers (Atlanta Braves), Mountcastle has seen his fair share of major league quality arms.
Overall, the Hagerty High School (Oviedo, Florida) product is producing a slash line of .314/.338/.514 with 19 home runs, 26 doubles, 65 RBI, a .200 ISO, and 111 wRC+ in 102 games, all with Triple-A Norfolk. He's traded in some of his groundballs for line drives, producing a career-high line-drive rate (29.6%) and using the expansive outfield of Harbor Park to his advantage.
The questions around his defense still remain, but he seems to have found his home at first base. While not an elite defender, Mountcastle can more than hold his own at the position and looks like a veteran on defense, compared to his early play. You don't see the hesitations, uncertainties on what his duties are on certain plays, and some of the routine blunders that come with inexperience. When you watch Mountcastle play first base, you see a confident defender who isn't a liability, like he was at third base.
More from Birds Watcher
There's also the question about his lack of walks. After posting a 3.7% walk rate in High-A with the Frederick Keys, Mountcastle walked just 1.9% of the time in his first 39 games in Double-A. He returned to Double-A Bowie in 2018 and was challenged by former O's manager Buck Showalter to be more selective at the plate. He responded by increasing his walk rate to 6.1%, still very small, but a big improvement. That number has dropped significantly this season, currently sitting at 3.4%. At this point, it is what it is. More walks would be nice, but if he can produce in the majors as he has throughout his minor league career, he will be fine.
Over his last 20 games, Mountcastle has a hit in 18 of them and reached base in 19. With less than a month remaining in the minor league regular season, Mountcastle hasn't slowed down. Two weeks ago, his average sat at .298. Thanks to eight multi-hit performances since then, he's upped his season average to .314 and leads all International League hitters in hits with 133.
The moral of the story is Ryan Mountcastle is a quality prospect for the Baltimore Orioles (which we all knew), he's very young, and he still has adjustments and improvements to make at the plate which will make him even more of a dangerous hitter.
Should he get a September call-up to end the year? I think he does, but doesn't see a whole lot of playing time. Whether the Orioles make a move and clear first base for Mountcastle or he finds himself in the outfield, he will be with the major league club next year. A September call-up with a few games here and there to get his feet wet and to acclimate himself with the major league clubhouse and his future teammates would a perfect finishing touch to a big season.
Give us a follow on Twitter @BirdsWatcherFS!