Baltimore Orioles: Hunter Harvey's Attempt To Establish Himself In AAA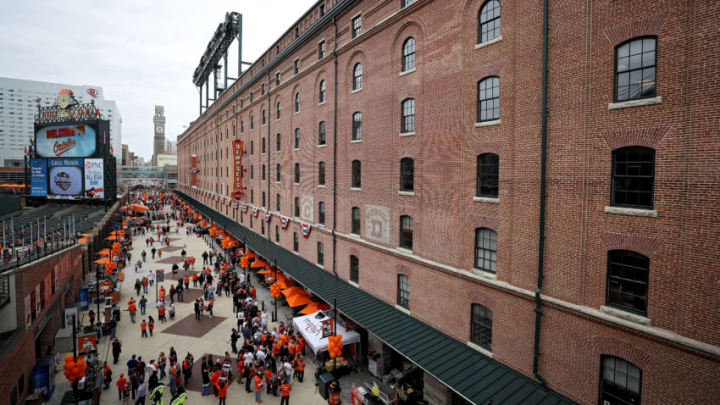 BALTIMORE, MD - APRIL 03: Fans enter the ballpark before the Toronto Blue Jays play the Baltimore Orioles during their Opening Day game at Oriole Park at Camden Yards on April 3, 2017 in Baltimore, Maryland (Photo by Patrick Smith/Getty Images) /
Baltimore Orioles pitching prospect Hunter Harvey continues his long path to the major leagues as a reliever after struggling in a starting role with the Bowie Baysox.
Hunter Harvey's minor league career started with a ton of promise. The 2013 first-round pick of the Baltimore Orioles out of Bandy High School in Catawba, North Carolina was an absolute stud in his first two minor league seasons. In 2013, he posted a 1.78 ERA in eight starts between his stint in the Gulf Coast League and in Low-A with the Aberdeen Ironbirds.
In 2014, at just 19, he was selected to the Futures Game and posted a 3.18 ERA with 106 strikeouts in just 87 2/3 innings over 17 starts in class-A Delmarva. Harvey was a dazzling prospect with quite the ceiling.
Since his 2014 season, fortunes for Harvey have not been as good. He has thrown just 127 innings since the start of 2015 (63.1 of which coming in 2019) due to a whole slew of injuries, including a missed 2015 season due to a leg injury and elbow soreness and Tommy John surgery in 2016 . In 2017, he was able to come back from surgery and make five starts and in 2018 more elbow soreness and a shoulder issue held him to just nine starts.
This season was supposed to be a different story for Harvey. This was the year for the now 24-year-old to finally be healthy and show what he can do in the minors and maybe end up at Camden Yards at some point in the season. While he has remained healthy up until now, he struggled in his role as a starter for the Bowie Baysox.
In Bowie, Harvey was just 2-5 with a 5.19 ERA in 14 appearances. As a starter, Harvey posted a 6.12 ERA and a 1.62 WHIP as opponents hit .304 against him. Including his relief outings, he allowed 14 home runs in just 59 innings and his WHIP of 1.42 was not awful but not good. Hitters in the Eastern League were batting .277 off of Harvey. His three relief appearances in Bowie were the first time in his minor league career he appeared out of the bullpen.
However, the organization still promoted Harvey to AAA Norfolk in early July due to success in his three relief outings for the Baysox, his electric fastball which touched 100 mph in his short outings, and that famous big curveball. The switch seemed to be working. While an ace pitcher might have been what the Baltimore Orioles were hoping for in 2013, having Harvey as a gas-throwing middle reliever at the MLB level would not be a shabby outcome for the Birds.
Harvey has made just three relief appearances in Triple-A, faltering in his most recent outing. He gave up five earned runs and has walked one in one inning against the Durham Bulls (Tampa Bay affiliate), the top team in the International League. In his three appearances with the Tides, the right-hander has given up five runs on six hits while allowing four walks, but is still sitting in the upper-90s with his fastball.
More from Birds Watcher
While three appearances at the AAA level is not enough time to write someone off,  it is hard to say the move to the bullpen has fixed any issues (six total relief outings). There are still questions surrounding whether or not Harvey can become a major league contributor. Maybe he helps out the bullpen at some point, or he may just be another guy whose career went down in flames due to injuries. It will be interesting to see how he performs for the remainder of 2019. Maybe he will turn things around and do enough for a September call-up.
Also, with the amount of success the Orioles are seeing from their top pitching prospects in the farm system, Mike Elias and the rest of the organization might be quicker to move on from Harvey. He is not what he was once thought to be and it may not matter with the plethora of pitching talent now in the Orioles' organization and more which is sure to come in the immediate future.
What do you think O's fans? Is it time to write off Hunter Harvey or is there still a chance he can be a viable option for the future of the Baltimore Orioles?