Baltimore Orioles: Adley Rutschman Pick Answers One Major Question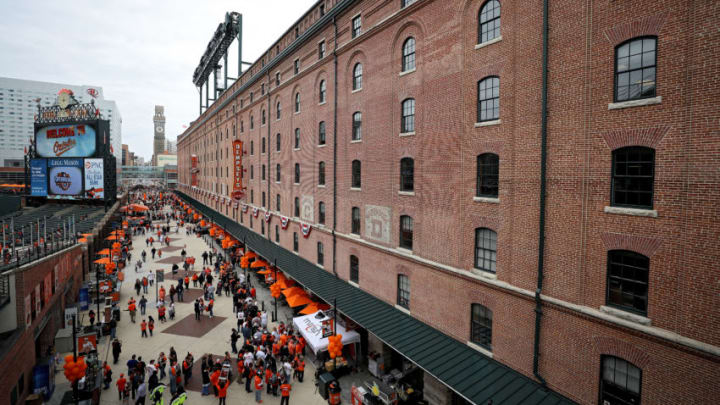 BALTIMORE, MD - APRIL 03: Fans enter the ballpark before the Toronto Blue Jays play the Baltimore Orioles during their Opening Day game at Oriole Park at Camden Yards on April 3, 2017 in Baltimore, Maryland (Photo by Patrick Smith/Getty Images) /
When do the Baltimore Orioles expect to be contenders? The pick of Adley Rutschman answers this question.
It came down to four players: Oregon State catcher Adley Rutschman, Texas high school shortstop Bobby Witt Jr, Vanderbilt outfielder J.J. Bleday, and California first baseman Andrew Vaughn. According to general manager Mike Elias, the Baltimore Orioles were confident in all four picks becoming impact players at the major league level.
The decision "was not unanimous" and came right up to the deadline, but just as every mock draft predicted, the switch-hitting Adley Rutschman was selected to be the face of a rebuilding Baltimore Orioles franchise. Do we now have a timeline for contention?
One fan compared last night to spring training, full of optimism. Today is a lot like the moments after opening all of your presents on Christmas morning; we just want to play with all of our new toys. Not only has Rutschman joined the organization, but the Orioles were able to snag a high-profile high school shortstop in Gunnar Henderson and a high-upside corner outfielder in Stanford's Kyle Stowers.
Elias held a conference call with O's beat writers to discuss their selections, with enough quotes to keep fans excited for a long time. Two particular quotes stood out above the rest.
First, Elias provided a bit of insight (Jon Meoli on Twitter) into how the Orioles may use Rutschman for the rest of this season, "With a bat as special as what we think his is, we have to decide how much we want him to catch going forward." After completing a full season of college ball behind the plate, it sounds like the Orioles will limit his time behind the plate, wherever he is initially assigned.
The pro-Bobby Witt Jr crowd often pointed out the fact that a catcher's life is very short in the big leagues. Like an NFL running back, the quality of work tends to decline once the age-30 season approaches. An athletic shortstop will see the field more often each season and have a longer career. This may be true, but doesn't sound like it was the determining factor in selecting Rutschman over Witt Jr. The Orioles are going to be smart with his development. Something new in Birdland.
The window for contention may be closer than expected for the Baltimore Orioles.
Going off scouting reports from those patrolling the college ball fields and pre-draft reports about expectations of the many of the top candidates to go 1:1 last night, it sounds like Rutschman could be the starting catcher for the Baltimore Orioles to begin the 2021 season, about 18 months from now. That's a remarkable turnaround, but Rutschman is a remarkable prospect and very few people would be shocked if he was the man behind the plate on Opening Day at Camden Yards in 2021.
Does 2021 open the window for contention? We aren't talking 2021 World Series run, but contending for a playoff spot? Rutschman won't be the only high-profile prospect ready to break into the major leagues that season. Let's assume development goes as expected for some of these top prospects (keeping in mind this plan could fall apart at any moment).
First baseman Ryan Mountcastle will be up in the bigs this season after he leaves Mike Elias with no option but to find a major league roster spot for him. As long as Austin Hays can finally stay healthy, he's on the path to becoming a fixture in the O's outfield, likely center field.
Also already in the organization is outfielder Yusniel Diaz. Diaz struggled a bit after last year's trade, but transitioning to a new organization and new league so late in the season is a valid excuse for a slow down. Diaz was scorching hot this spring, however, a hamstring injury has prevented the O's second-ranked prospect from seeing a full slate of regular season games this season. He still profiles as a solid corner outfielder with a very strong arm and capable bat.
As for the pitching, 2021 should bring a group of underrated pitching prospects. The arms of RHP Grayson Rodriguez and LHP DL Hall are becoming high-profile pitching prospects, but remain to be largely overlooked, being Orioles' pitching prospects and all. National evaluators are now referring to Rodriguez as a major league ace and Hall is one of the hardest throwing lefties in all of baseball. The two should form a one-two punch like Birdland hasn't seen in many years.
Don't overlook plenty of other potential major league contributors like RHP Dean Kremer, LHP Keegan Akin, RHP Blaine Knight, IF Adam Hall, and at least one from the bunch of RHP Drew Rom, RHP Brenan Hanifee, RHP Michael Baumann, and RHP Cody Sedlock.
More from Birds Watcher
Next up, Mike Elias will look to the international market for elite talent, a valuable market which has been completely ignored by the Baltimore Orioles. This will take a bit longer to bear fruit, but all reports indicate that Elias and his staff have been tirelessly working at growing those relationships and finding valuable talent on the international scene. The 2019 crop of prospects have been spoken for, hopefully, 2020 can bring at least one big name and open up the gates into a fascinating world.
When it comes to free agency, Mike Elias has already proven he can bring value to Birdland. Dwight Smith Jr., Hanser Alberto, and Pedro Severino aren't guys likely to be contributors on a contending team, but they are providing tremendous value in 2019. All three were brought in by Elias at a minimal cost. Now imagine what he can do in a full period of free agency (began his duties once the offseason was in full gear this season).
There are numerous hurdles to jump over when rebuilding. Injuries happen, development flatlines, and sometimes the yips just take over a once promising player. Nothing in baseball is guaranteed, but when Mike Elias says he wanted to take the player who would be major league ready when the Orioles are ready to contend and he went with the advanced college bat, that says a lot.
How are you feeling after last night's festivities? Let us know!