Baltimore Orioles: Growing Strikeouts On The Farm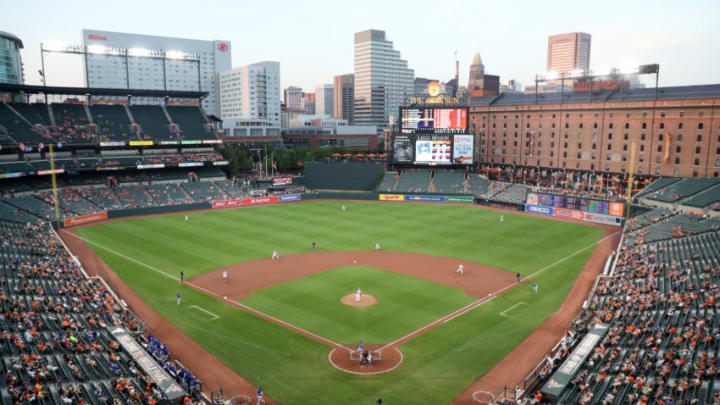 BALTIMORE, MD - AUGUST 29: A general view during the second inning of the Baltimore Orioles and Toronto Blue Jays game at Oriole Park at Camden Yards on August 29, 2018 in Baltimore, Maryland. (Photo by Rob Carr/Getty Images) /
Pitchers in the Baltimore Orioles minor league system are putting up some impressive strikeout numbers so far in 2019.
When Mike Elias was named Executive Vice-President and General Manager of the Baltimore Orioles, he brought with him Sig Mejdal as Assistant General Manager of Analytics.  Both came to Baltimore after a successful run in Houston with the Astros.
The pair brought with them an analytical approach to performance and player development.  Part of that was referred to by Elias as a "special sauce".  That "sauce" was one of the reasons behind the Astros' AAA, AA, A-Adv. and A-Low teams all leading their respective leagues in strikeouts in 2018.
That "sauce" appears to be working in the Orioles' organization in 2019, as well.  There have been some impressive strikeout totals put up by Baltimore Orioles' minor league pitchers so far this season.
Delmarva (A-Low) RHP Grayson Rodriguez leads the entire system with 28 strikeouts over three games pitched.  He is followed by fellow Shorebirds' pitchers Ofelky Peralta (23 K's in three games), Gray Fenter (21 K's in three games), Drew Rom (20 K's in three games) and finally, Bowie (AA) pitcher Hunter Harvey (19 K's in three games).
All told, 29 pitchers in the Baltimore system have tallied double-digit strikeout totals so far this season.  Additionally, there have been six games in which a pitcher has struck out double-digit batters.  Peralta has done it twice ( 10 K's on 4/9 and 11 on 4/15), Rodriguez twice (10 K's on 4/5 and 10 on 4/12), Norfolk's (AAA) Keegan Akin once (10 K's on 4/12), and Frederick's (A-Adv.) Michael Baumann once (10 K's on 4/10).
Equally impressive is the organization's strikeout/9 innings rate.  Twenty-one pitchers have rates of 10.0 or higher and are led by Peralta who is sporting a rate of 19.4 strikeouts/9 innings.  Rounding out the top five are Delmarva's Tim Naughton (18.0/9), Baumann (16.6/9), Fenter (16.2/9) and Rom (15.4/9).  At the end of the 2018 season, twenty-six pitchers finished with a similar rate of 10.0 or higher.
More from Birds Watcher
Not only are the pitchers striking batters out, but they are also keeping their walks down.  Baumann has a 16.0 walk-to-strikeout ratio while Peralta has an 11.50 ratio, and Delmarva's Tyler Joyner has a 10.0 ratio.
To put this in perspective, the entire Orioles' organization finished the 2018 season with an 8.3 strikeout/9 innings rate compared to the current 2019 rate of 9.6/9.  The walk rate, while down, is not down to the 2018 level (3.5 walks/9 innings in 2018 versus 4.3 walks/ 9 innings in 2019).
The upside of all of this is the number of quality starts (6.0 or more innings pitched and 3 or less earned runs surrendered) produced.  To date, there have been seven quality starts in 2019.  They have been thrown by Akin, Frederick's Cameron Bishop, Bowie's Marcos Molina, Peralta, Rodriguez, Norfolk's Josh Rogers, and Bowie's Bruce Zimmermann.
While these individual numbers have not necessarily translated into superior win-loss records throughout the Baltimore Orioles system, they do indicate that the system Elias and Mejdal have brought to Baltimore will bear fruit in the future. Baltimore minor league pitchers will certainly be fun to watch progress in 2019.
*Update*- After this post was scheduled to be published, Tyler Herb, Zach Muckenhirn, and Pedro Araujo combined to record 15 strikeouts for the Bowie Baysox. They lost the game, 5-0 to the Erie Seawolves. The Delmarva Shorebirds were the only other minor league team in action last night. Their staff combined for 10 strikeouts.