Baltimore Orioles: A Look At The Early Minor League OPS Leaders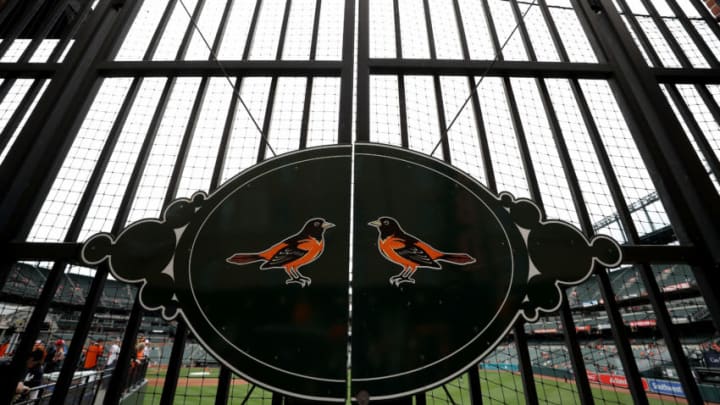 BALTIMORE, MARYLAND - APRIL 04: A general view from the outfield before the start of the Baltimore Orioles and New York Yankees game at Oriole Park at Camden Yards on April 04, 2019 in Baltimore, Maryland. (Photo by Rob Carr/Getty Images) /
The 2019 minor league season is now roughly two and a half weeks old.  Examining the early batting leaders reveals a few surprises as well as some names of Baltimore Orioles minor leaguers worth keeping an eye on as the season progresses.
The Baltimore Orioles minor league system has several players with big-bat potential.  Players such as Yusniel Diaz, Austin Hays, Anthony Santander, Chance Sisco and D.J. Stewart all pack offensive pop.
Despite this potential, none of those aforementioned names are currently at or near the top of the system's list of batting leaders.
Based on OPS (on-base percentage + slugging percentage) as of April 21, the current leaders are: Ryan Ripken (1.020), Robert Neustrom (.995), Mason McCoy (.943), Ryan Mountcastle (.919) and Will Robertson (.929).  That is two players from Delmarva (A-Low), Neustrom and Robertson, two from Frederick (A-Adv.), Ripken and McCoy, and one from Norfolk (AAA), Mountcastle.
Neustrom, the Orioles' 2018 5th-round pick out of the University of Iowa, was selected based on his bat and he is living up to those expectations.  Playing for the Aberdeen Ironbirds (A-Short) in 2018, he produced a slash line of .272/ .313/ .404 with 29 RBI in 61 games.  Currently, with the Shorebirds, he is slashing .320/ .435/ .560 with 11 RBI in 13 games.  It is early in the season and the slash line will change but what stands out is the fact that Neustrom has almost equaled his 2018 home run and walk totals in just 13 games.  He already has three home runs and 10 walks, compared to his four home runs and 13 walks in 2018.
Additionally, Neustrom currently leads the Shorebirds in runs scored (12), RBI (11), home runs (3) and slugging percentage (.560) and is considered the Orioles #29 prospect by MLB Pipeline.
Will Robertson's early success can be attributed to his driving the ball more; his fly ball and line drive rate combined is almost 75%.  Furthermore, his slugging percentage is second to Neustrom's.
The Shorebirds are off to a 12-2 start on the young season and both Neustrom and Robertson are a big part of that torrid start.
Baltimore Orioles prospect Ryan Mountcastle is extremely hot right now.
The Keys (8-9) are not off to as good of a start as the Shorebirds are, but it is not because of the tandem of Ripken and McCoy.  They both are among the Keys' top three in total bases, batting average and slugging percentage;  Ripken, with two home runs, is tied for the team lead in that category, while McCoy leads the team in hits (27) and RBI (13).
McCoy, the Orioles' 6th round draft pick in 2017 out of the University of Iowa, just continues to grind out at-bats, something he has done his entire short career within the Baltimore Orioles organization. What jumps out at you is the fact that he has reached base safely in every one of the 16 games in which he has appeared and has gone hitless in a game only twice.
Ripken, who was producing the best slash line ( .333/ .353/ .667) of his six-year minor league career, was placed on the 7-day IL on April 20th (retroactive to the 18th).  Hopefully, the time on the IL does not cool-off his early batting numbers.
More from Birds Watcher
Mountcastle, the Orioles #2 prospect according to MLB Pipeline, has always been known for his strong bat and he is certainly showing that bat in Norfolk.  He is hitting .375/ .381/ .800 with four home runs and 13 RBI over his last 10 games.  On the season, he is hitting .306/ .338/ .581 with 17 RBI and leads the Tides in hits, home runs, and RBI.  Additionally, he is second in the entire International League in RBI.
The one common denominator to this quintet has been keeping the ball in the air as opposed to grounding out.  Driving the baseball has served them all well.  The hope is that this trend continues.
Bowie's (AA) OPS leader is Rylan Bannon and his .855 OPS is good for ninth in the organization.
The question is, are these numbers sustainable?  It is too soon to know that but what I do know is that all five of these players are worth keeping an eye on.  Although the numbers represent early-season returns, they do demonstrate there is hope for the future in the Baltimore organization.
Of particular interest to me and ones I will continue to monitor, are McCoy, Neustrom and Robertson.