Baltimore Orioles: PECOTA is the latest projection system down on the O's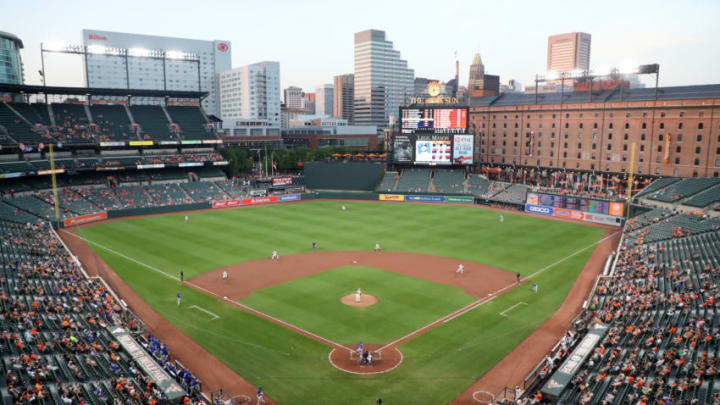 BALTIMORE, MD - AUGUST 29: A general view during the second inning of the Baltimore Orioles and Toronto Blue Jays game at Oriole Park at Camden Yards on August 29, 2018 in Baltimore, Maryland. (Photo by Rob Carr/Getty Images) /
Today is PECOTA day and as expected, we have another projection system down on the Baltimore Orioles
Baseball Prospectus released their PECOTA projections earlier this morning and as you could've guessed, the Baltimore Orioles ones are tough to look at. This has been a common theme throughout the offseason, but one we admittedly expected.
Projection systems can be fun and while we understand that they're not intended to be 100% correct, it's still intriguing to find out how certain players, or our favorite teams, are projected for the upcoming season.
At first glance, a few things stand out. PECOTA has the Orioles projected for a 57-105 record with a league worst (by a wide margin) 910 runs allowed.
We know that the Orioles pitching staff isn't great, and that it'll be full of young, inexperienced pitchers this year. The Orioles were worst in the majors in 2018 with 892 runs allowed, and that PECOTA has them projected for worst in the league again this year isn't surprising.
However, the last time a major league team allowed more than 900 runs in a season was back in 2008, when the 79-83 Texas Rangers gave up 967 runs. It's happened 13 times since 2001, but just once in the last decade.
Someone has to be projected to come in last. Projecting the Orioles to be historically bad is a tough look.
Baseball Prospectus uses FRAA (Fielding Runs Above Average) to measure defensive performance. It's scaled where 0 is average, positive is better, and the "horrendous" example they use is Melky Cabrera's -13.2 in 2011.
PECOTA projects the Orioles to post a league-worst -28.1 FRAA, which is completely dreadful. The Orioles defense was a big part of why they were so bad last year, and the same goes for why they're projected to be the worst team in MLB in 2019.
Ideally, Jonathan Villar moving to second-base full time and getting someone with a capable glove at shortstop will help, but they need to get Trey Mancini back to first-base as soon as possible. Playing him in the outfield is only hurting the Orioles' young pitchers.
In terms of player projections, PECOTA has DJ Stewart getting 50% of the playing time in right-field, with Austin Hays playing behind him at 35%.
Stewart is projected to hit .211/.292/.377 with 15 homers and 9 steals in 317 plate-appearances. PECOTA has Hays good for a .236/.259/.411 line with 11 homers, 2 steals, and 239 plate-appearances. Neither is encouraging.
I like Stewart as much as anyone, but in an ideal world Hays wins the starting job in right-field this year. Anything else will surely be seen as a disappointment.
More from Birds Watcher
Renato Nunez is unsurprisingly projected to get 70% of the playing time at the hot corner. It's hard to imagine anyone on the roster taking the job away from him, at least until Ryan Mountcastle is ready for the majors. Even then, we don't know if his glove will stick at third.
Lastly, PECOTA thinks the Orioles pitching staff will be terrible. Dylan Bundy is the only starter with a projected ERA under 5.00, and just he and Alex Cobb are projected to throw more than 150 innings.
Bundy is projected to notch 165 strikeouts. Cobb, at 101, is the only other pitcher over the 100 mark. Bundy, Cobb, Andrew Cashner, and David Hess are all projected to allow more than 20 home-runs. Camden Yards is certainly a bandbox, but this feels incredibly negative, even if it's realistic.
Look, we know the Baltimore Orioles are going to be bad in 2019, and the plethora of projection systems are trying to confirm that for us. But that doesn't take away the sense of optimism that Opening Day brings, nor does it take away from our love for the Orioles. We'll take the projections with a grain of salt and keep looking forward to the 2019 season with our heads held high.