Baltimore Orioles: Keep Your Eyes On These Former Iowa Hawkeyes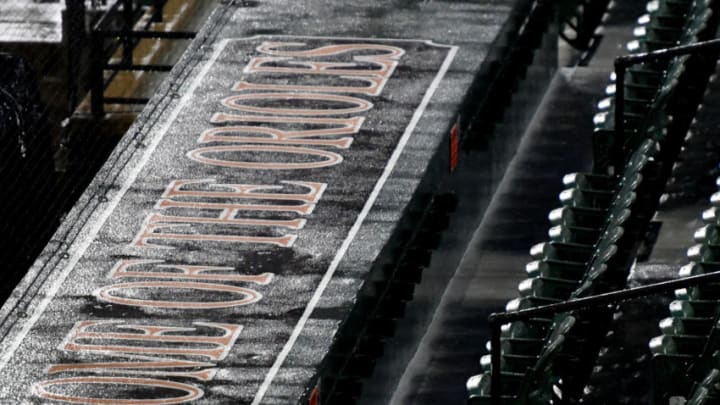 BALTIMORE, MD - SEPTEMBER 27: Empty stands after the baseball game between the Houston Astros and the Baltimore Orioles is canceled at Oriole Park at Camden Yards on September 27, 2018 in Baltimore, Maryland. (Photo by Mitchell Layton/Getty Images) /
A pair of former Iowa Hawkeyes turned Baltimore Orioles prospects put in solid campaigns in 2018.
Immediately after the 2017 MLB draft, I pegged Baltimore Orioles sixth-round draft pick SS Mason McCoy as one of two players (outfielder Lamar Sparks being the other) I was excited to watch develop over the next few years. The former Iowa Hawkeye has continued to pique my interest and is now joined in the organization by a former college teammate, outfielder Robert Neustrom, who ended his debut season on a high note.
McCoy dominated his way through the JUCO ranks at Illinois Central College before finishing his collegiate career at Iowa in 2016 and 2017. He racked up 140 hits and posted a combined OPS of near 1.000 in two JUCO seasons, slotting into the clean-up spot of the Iowa lineup upon his transfer.
He slashed .291/.367/.390 in 56 games for the Hawkeyes, this after breaking the Northwoods League (collegiate summer-ball league) record for hits in a season with 112 in 71 games. Despite high interest from MLB clubs, the rising-senior went undrafted in the 2016 draft, taking McCoy by complete surprise, as explained in this piece on Hawk Central by Chad Leistikow.
""I guess I have to keep doing the same thing and show that every single one of the scouts that didn't draft me were wrong and that I'm more than capable of playing at that level," McCoy said. "I know that I am. I guess I just have to show everybody else that I am — again.""
McCoy responded to the snub by hitting .328 with 25 extra-base hits and an .868 OPS his senior year with the Hawkeyes, earning himself a call from the Baltimore Orioles in the sixth round.
Like McCoy, Robert Neustrom experienced a high degree of success at the plate while in the Iowa lineup. Earning major playing time as a freshman (the same season McCoy transferred in), Neustrom slashed .310/.376/.484/.860 across three collegiate seasons, logging 21 home runs in the process, including a career-high 11 in his junior season.
The Orioles used a fifth-round pick on Neustrom in last year's draft, assigning him to short-season Aberdeen where he continued to produce hits and ended his brief campaign on a highly positive note.
Keep your eyes on both of these Baltimore Orioles prospects.
McCoy is the exact type of prospect that draws me to minor league baseball. He brought with him a huge chip on his shoulder and a mindset of wanting to prove every single doubter wrong. Are you going to find him on a top prospects list, no, but that doesn't mean he won't contribute at the major league level.
The right-handed hitting shortstop has worked his way through two levels of A-ball in Aberdeen and Delmarva, hitting .275 with a .346 OBP in his first two professional seasons. This past season in Delmarva, McCoy hit 18 doubles, 10 triples, and four home runs, while also swiping 13 bases (an 87% success rate).
He came on strong during the second half of the season, raising his batting average by nearly 40 points and going a perfect 10-10 in stolen base attempts. He will likely begin the 2019 season with the High-A Frederick Keys, but if he continues to show a steady bat and flash the leather, he could very well be moved quickly. A lack of middle infield prospects in the system leaves a wide open door for McCoy to walk through.
His defense is what will carry him through the minor leagues and into the role of a major league utility middle infielder. McCoy played both shortstop and second base with the Shorebirds, but has the glove and arm to stick at shortstop. I really like his defense and am pretty excited to get a number of live looks this summer at Harry Grove Stadium.
What will Robert Neustrom's first full season in the Baltimore Orioles system bring?
A left-handed hitting outfielder, Neustrom played in 61 games for the Aberdeen Ironbirds and put up solid numbers across the board. There is only so much you can take away from a player who completed a full season of playing the highest level of college baseball and them immediately followed that by transitioning to professional baseball, but Neustrom quickly found his stroke, finished strong, and will go into 2019 with a bunch of eyes on him.
More from Birds Watcher
Hitting .272 with a .313 OBP, Neustrom added 16 doubles and four home runs, ending with a wRC+ of 111. Using Prospects Live's minor graph data (check out this amazing resource here), we can see just how strong Neustrom ended his 2018 campaign.
From his debut in late-June until the first week of August, Neustrom's 10-game wRC+ rolling average stayed well below the league-average mark of 100, dipping below 50 for a stretch. However, from August 9th until the end of the season (September 3rd), Neustrom's wRC+ never dropped below 110, peaking above 150 over his final week.
His strikeout rate showed a steady decline, the on-base percentage improved from week-to-week, and his ISO power showed strong growth over the final month of the season. Of his final 11 games, six of them were multi-hit games, including back-to-back three-hit performances on August 27th and 28th.
Expect to see a bit more power out of his bat in his first full season with the Orioles. He put up solid power numbers at Iowa and in the Cape Cod and Northwoods leagues, both wooden bat summer leagues. All of the scouting reports on Neustrom agree that he is potentially an everyday major leaguer. He may begin the year in Delmarva, but he is another candidate to move up quickly through the system. If he makes it to Frederick this year, make sure you take a trip to catch a game or two. You might see a few pretty bombs off the bat of Neustrom at the Grove.
Both former Hawkeyes will be exciting players to watch closely in 2019. The major league team may be tough to watch most nights, but there's always minor league ball to watch and this Orioles' farm system is quickly progressing into a respectable unit. Stay tuned next week as we release our list of top 10 prospects in the Baltimore Orioles system. Spoiler alert, it's pitcher heavy.