Baltimore Orioles: Jimmy Yacabonis could steal a spot in the 2019 rotation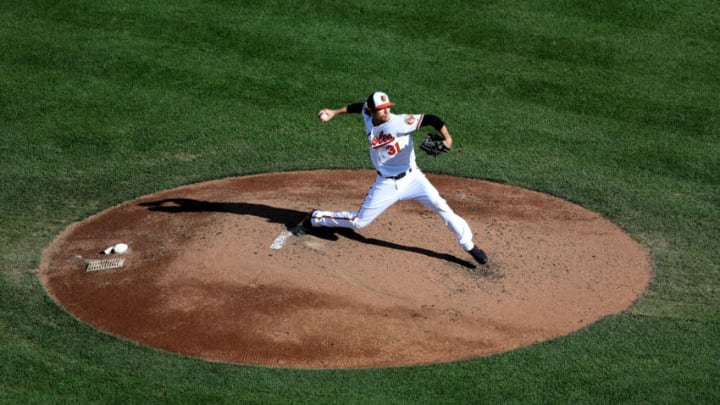 BALTIMORE, MD - SEPTEMBER 30: Starting pitcher Jimmy Yacabonis #31 of the Baltimore Orioles throws to a Houston Astros batter in the third inning at Oriole Park at Camden Yards on September 30, 2018 in Baltimore, Maryland. (Photo by Rob Carr/Getty Images) /
As of today, the Baltimore Orioles have three spots in the rotation spoken for; the other two are up for grabs. Could Jimmy Yacabonis fill one of them in 2019?
The Baltimore Orioles had trouble keeping their pitchers healthy in 2018. To be fair, they had trouble with a lot of things. But because they couldn't keep a steady rotation, they wound up turning to several young pitchers in the organization for help, including young righty Jimmy Yacabonis.
Drafted out of St. Joseph's University in the 13th round of the 2013 amateur draft, Yacabonis had been a strong presence in the Orioles' minor league bullpens for six seasons coming into 2018. He made his debut in Baltimore in 2017, in part due to a dominant 2016 stretch in Bowie in which he threw 44.1 innings with a 2.03 ERA and a 25% strikeout rate.
Yacabonis pitched exclusively out of the bullpen in Baltimore in 2017 and he was moderately effective, posting a 4.35 ERA in 20.2 innings. However, the peripherals weren't great; his shockingly low 8.9% strikeout rate and too-high 15.6% walk rate came through in his 5.67 FIP.
More from Birds Watcher
Coming into 2018, the Orioles tried a new approach with Yacabonis, using him as a starter in Norfolk to open the season. All told, Yacabonis made 21 starts in Norfolk and 7 in Baltimore in 2018. He pitched to a 4.26 ERA in the minors and a 5.40 ERA in the majors, and his strikeout rate sat just below 20% at both levels.
Yacabonis has a big fastball that reaches the high-90's, and a plus slider that has a 13% whiff rate in the majors. He also has a seldom-used changeup that isn't a terrible pitch, but that he doesn't seem to have any confidence in.
Yacabonis' two plus-pitches are what made him a successful reliever in the minors, but that's also what will limit his upside in the big leagues. The lack of a third pitch is likely to keep him from getting through the order three times in a game, more often than not.
One thing Yacabonis could benefit from is a change in the coaching staff. Brandon Hyde seems unlikely to retain pitching coach Roger McDowell; if Hyde is able to put a stronger player development person in his place, Yacabonis could stand to gain a great deal. If whoever takes over for McDowell can work with Yacabonis and help him develop the changeup into a usable third pitch, Yacabonis could become a legitimate fifth starter.
Right now, Steamer is projecting Yacabonis to throw 48 innings in 16 starts, with a 5.53 ERA and a 17% strikeout rate. Whether or not he gets to 16 starts is up in the air, and will depend on how healthy the rest of the rotation is. But at this point, it seems likely enough that Yacabonis makes the 25-man roster out of spring training.
Don't mistake Yacabonis for a future ace, but if he can keep the walks down and improve on his 73% left on-base rate and his 16.7% homer/fly-ball rate, he could realistically serve as an option at the back of the Orioles rotation next year.