Baltimore Orioles: What to do when your nemesis wins the World Series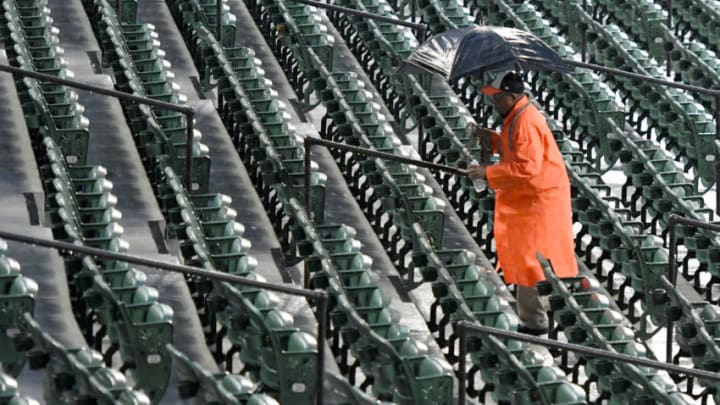 BALTIMORE, MD - SEPTEMBER 27: A security guard walks up the stairs after the baseball game between the Houston Astros and the Baltimore Orioles is canceled at Oriole Park at Camden Yards on September 27, 2018 in Baltimore, Maryland. (Photo by Mitchell Layton/Getty Images) /
As a Baltimore Orioles fan, you might be working this morning with the realization that your nemesis, the Boston Red Sox, have just won the 2018 World Series. It's not the end of the world, but things might get worse before they get better for the Orioles. Where do we go from here?
If you're a Baltimore Orioles fan, which you'd probably have to be if you're reading an Orioles blog right now, you might have several questions about how the 2018 season panned out.
You might be thinking: Why can't that be us? Why do the Red Sox keep winning? When will we be back on top of the AL East? How should I feel about Manny Machado making the final out last night, looking absolutely foolish by striking out swinging on a back-foot slider?
Well, there's good news and bad news today, folks.
More from Birds Watcher
The good news is that the Orioles will be back. It may take a while, but we can be sure of it. Baseball is cyclical; everything comes back around. The Orioles will be back in the playoffs sooner than you think.
The bad news is that the wait is more than likely going to be painful.
Let's face it; the Orioles are terrible right now. They have very limited talent at the major league level, and they have a bottom-tier minor league system.
Those things are certainly fixable, but they take time. Considering there will be a new front office in Baltimore, hopefully sooner than later, we know the Orioles will at least be on the path toward righting the ship.
But it would be easier to bear if the Orioles weren't in the AL East. The Red Sox and the Yankees have geared themselves back up as unstoppable forces again, with both teams poised to be 100-game winners for the foreseeable future.
The Rays have one of the best farm systems in MLB, and several of them graduated to the majors this year. They look to be in a great position for the next few years, and if they can add a big-time slugger to that lineup, they'll be just as worrisome as either of the two monsters in this division.
And let's not forget the Blue Jays, who despite being quite terrible for stretches in 2018, have the best prospect in MLB heading into 2019 in Vladimir Guerrero Jr., in addition to the likes of Bo Bichette and Kevin Smith.
If only the Orioles played in the AL Central, right?
Just know this: it's alright to be upset about baseball today. We'll be back before you know it.
There will be news breaking over the next few weeks about the Orioles new front office. There will be a new President of Baseball Ops in Baltimore shortly, followed by a new GM and manager.
MLB's winter meetings will be here shortly thereafter, and we might see a few trades and signings (that's less likely, but we need bullpen help, bad).
MLB's winter meetings will be here shortly thereafter, and we might see a few trades and signings (that's less likely, but we need bullpen help, bad).
The point is this: if you're a frustrated Orioles fan today, remember that we'll soon forget about the 2018 season, and the World Series champ Boston Red Sox along with it.