Baltimore Orioles: International prospects won't help the Orioles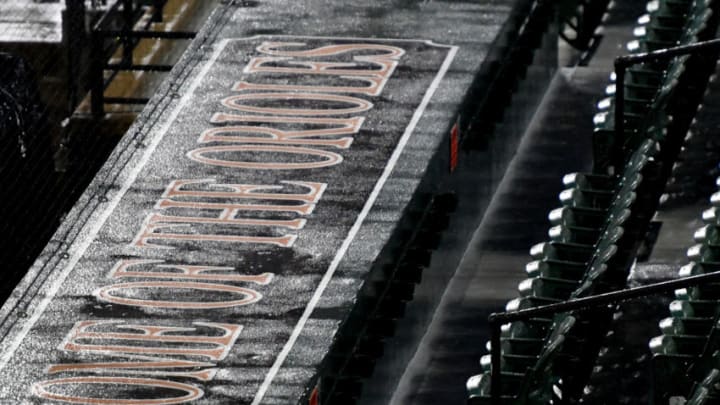 BALTIMORE, MD - SEPTEMBER 27: Empty stands after the baseball game between the Houston Astros and the Baltimore Orioles is canceled at Oriole Park at Camden Yards on September 27, 2018 in Baltimore, Maryland. (Photo by Mitchell Layton/Getty Images) /
The Baltimore Orioles signed four low-key international prospects on Thursday afternoon, but as long as the player development department remains as is, there's no reason to think any of these players will pan out
On Thursday afternoon, the Baltimore Orioles announced they'd agreed to terms with four international prospects. Outfielders Kevin Infante and Angel Gomez are both allegedly versatile defenders with moderate upside at the plate. Shortstop Gilbert Machado is said to be a plus-defender, and RHP Kelvin LaRoche apparently has a consistent delivery which could lead to plus-command and durability.
None of these prospects were headliners, nor did any of them encourage excitement among the Orioles fanbase at the news of their signing. That's not to say that none of these guys will prove to be successful at the major league level; any of them could hit and it'd be a big win for the Orioles.
But there's one thing I can't help but focus on from the press release. Director of Player Development, and interim General Manager Brian Graham said, "We look forward to having our player development staff work with all four players to further enhance their skills".
More from Birds Watcher
Not for nothing, but I'm not entirely convinced that having the current player development staff working with the prospects is the best thing for the organization. I say that partially in jest, but on some level, it's a completely serious statement.
One one hand, it's very encouraging to see the Orioles finally digging into the international market and building relationships in Central America and the Caribbean. The Orioles have, for far too long, avoided signing international players.
That changed earlier this year when then-GM Dan Duquette both reached into the market and signed infielder Moises Ramirez and RHP Carlos Del Rosario, and acquired bonus slot money in several trades, most notably the Kevin Gausman one.
Now that Duquette is gone, there's been some speculation about whether the organization would continue to sign international prospects. We still don't know what the new front office will look like, but it seems that the Orioles will continue to go after international players. That's a good thing.
Now on the other hand, the Orioles have been notoriously bad on the player development side. Now that MLB is on a much more level playing field than it was a few decades ago, teams have more difficulty gaining competitive advantages over other clubs, simply by building a better research and development department. Every organization in MLB has some form of analytics department.
The most obvious area in which teams can gain competitive advantage over their opponents is within their player development departments. And the Orioles have continuously proven to be incompetent, especially on the pitching side.
D.L. Hall could be the real deal; he looked very good in 94+ innings at Delmarva this year, and will likely shoot up prospect boards this spring. But do we really trust that the Orioles will develop him into an effective major leaguer?
I was hesitant to write this piece because it's very much on the negative side. But the Orioles have a serious problem.
Brian Graham, once again for effect, "We look forward to having our player development staff work with all four players to further enhance their skills".
We're not sure you guys can do that, Mr. Graham.
The hope is that sometime over the next six months or so, the Orioles can put a new front office in place, and in turn completely flip the player development department so the organization can finally take advantage of the prospects they have and start putting a decent product on the field.
As long as the current system is in place, the Orioles aren't going anywhere.