Baltimore Orioles: Getting in on the Faux GM Winter Meetings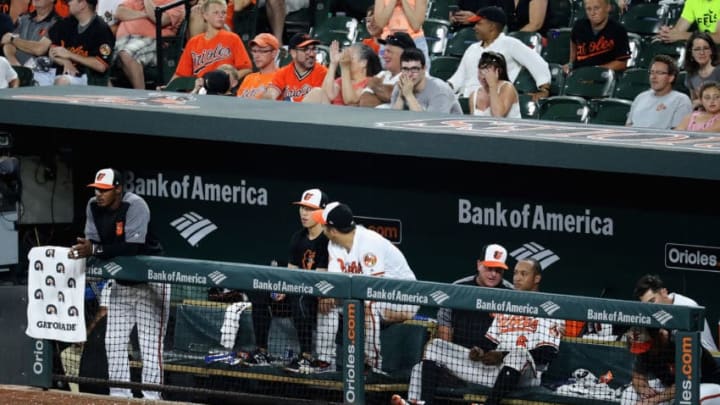 BALTIMORE, MD - JUNE 22: Members of the Baltimore Orioles look on from the dugout during the ninth inning of their 6-3 loss to the Cleveland Indians at Oriole Park at Camden Yards on June 22, 2017 in Baltimore, Maryland. (Photo by Rob Carr/Getty Images) /
Who wouldn't want to have the opportunity to make the Baltimore Orioles the best team in the MLB? At FanSided, the team experts are getting the opportunity to be the Faux General Managers and hold their very own Winter Meetings.
It's no secret what the Baltimore Orioles need to succeed. And, it's no secret that the other 29 teams are looking for the same thing. On Monday when the FanSided MLB teams hold their Faux Winter Meetings, Birds Watcher's site expert, Kristen Bentley, gets to test her chops as the Faux General Manager.
She's already been making moves to shore up the team's weaknesses and get them ready to make it to the playoffs.
The MLB site experts agreed on a set of ground rules:
Respect the 40-man roster as of Black Friday.
Do not exceed 15% of the 2017 opening day payroll from COTS.
Follow the stated plan, if there is one. (For example, the Marlins are cutting payroll).
Trades should target actual MLB talent.
The FanSided Faux Commissioner has final say on the trades and he will check the reality of them before deciding.
The details about the Faux Winter Meetings
The Faux Winter Meetings will take place online from Monday, November 27 at noon EST and will end on Wednesday, November 29, at 9 PM EST.
Free agents have an "Uber Player Agent" who will serve as arbitrator and make final decisions. He runs the Faux Winter Meeting spreadsheet.
There are already bids being placed on Shohei Ohtani, but they must be placed by teams who have the International Money to spend. The Uber Player Agent will most likely choose based on the flip of a coin, unless a team has the faux money to spend.
If trades happen in real life, then they will be honored by the teams in our Faux Winter Meetings. We will report the fake deals and the real deals.
Players, like Manny Machado and Bryce Harper, can be extended, but the Uber Player Agent will negotiate and make the final decision.
More from Orioles News
Faux General Managers can do all of the same things that a real GM can do, like DFA, release, claim, etc. But, Faux General Managers need to do this with MLB players, not minor leaguers.
Plenty of action from Faux General Managers
The Faux General Managers have been actively talking via email about trades for about a week. So, there will be plenty to announce on Monday and prior to Monday.
Next: The details on the O's new player: Konner Wade
As fans of the Orioles, you are encouraged to get involved in the action, chatting on Facebook or in the comments. This is all in good fun, so enjoy!!