Baltimore Orioles: Happy 35th Birthday to Darren O'Day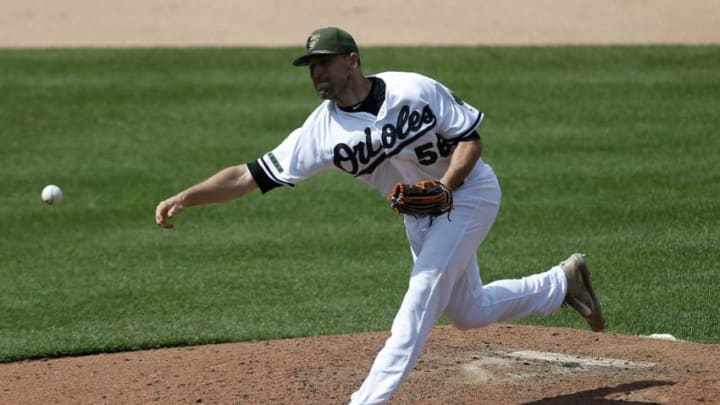 BALTIMORE, MD - MAY 29: Darren O'Day #56 of the Baltimore Orioles pitches against the New York Yankees during the eighth inning at Oriole Park at Camden Yards on May 29, 2017 in Baltimore, Maryland. MLB players across the league are wearing special uniforms to commemorate Memorial Day. (Photo by Matt Hazlett/Getty Images) /
Baltimore Orioles relief pitcher Darren O'Day is 35 years old today, Oct. 22, 2017. And, at Birdswatcher, we'd like to wish him a very Happy Birthday.
As the Baltimore Orioles submarine pitcher celebrates his birthday, let's look at his 2017 season.
O'Day is one of only four Orioles with a guaranteed contract for 2018. He shares that job security with Chris Davis, Adam Jones, and Mark Trumbo. O'Day is signed for two more season, through 2019, and will make $18 million.
Where he ranked with the Orioles
O'Day was a reliable reliever who finished the season with a 3.43 ERA in 60.1 innings. He had a WHIP of 1.077. When comparing him to other pitchers with the O's, he had the fifth best ERA and the second best WHIP. The pitchers with better ERAs were Richard Bleier (1.99), Mychal Givens (2.75), Zach Britton (2.89), and Brad Brach (3.18).
With Britton out for much of the season, O'Day was able to finish 16 games earning saves in two of them. Brach and Britton had the rest of the saves for the season.
BALTIMORE, MD – MAY 06: Darren O'Day /
Full of pitching mojo
Back in 2013, the Baltimore Sun ran an interesting feature about Darren O'Day and his unlikely trek to the MLB. In the piece, Dan Connolly wrote:
""To paraphrase a popular beer commercial, O'Day may be the most interesting man in the baseball world.""
Connolly wrote this as O'Day was at the height of his career, making millions, married to a beautiful woman, and playing in the MLB. All of these are still true and O'Day is still pitching in his unusual style and getting the outs that the Orioles need. O'Day may not get the attention that he once did, but during his age-34 season, he performed as well as he did several years ago.
Notable 2017 stats
O'Day struck out 76 of the 240 batters he faced in 2017. In only one previous season did he strike out more batters. In 2015, he struck out 82 and earned his only invitation to the All-Star Game.
More from Orioles News
O'Day usually only enters the game for an inning and gets his work done with accuracy. He saw the most work in August and in that month his ERA was 1.23. and he struck out 16 batters in 14.2 innings pitched.
The best and worst of 2017
In 2017, O'Day's worst month was July where he pitched in 11 games, but had an ERA of 6.75. Batters against him had an average OPS of .960. He struggled at the beginning of April, too, as he finished the month with an ERA of 6.10. His worst game of the season was on April 9 against the New York Yankees where he gave up four runs in 0.2 innings.
The Orioles are fortunate to have a reliable guy like O'Day in the bullpen. He has never been a reliever with a lights-out fastball, but with his delivery, his average 88.3 MPH velocity does the job. In fact, in 2017, his fastball velocity was up from the previous year according to Fangraphs. His slider, which he uses about 45% of the time averages 80.6 MPH.
Next: Rumors about Wade Miley and the 2018 season
Overall, O'Day was one of the most reliable and consistent pitchers on the team. When he entered the game, he did what he was supposed to do – hold scores and get batters out. He had 17 holds, 2 blown saves, and he finished the season with a win-loss record of 2-3. Out of his 64 games pitched, he had 50 outings where no runs were scored on his watch.