Baltimore Orioles brought back on the bat of Adam Jones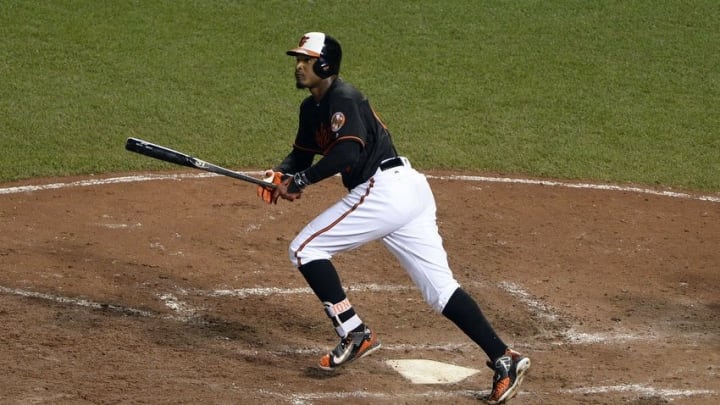 Jun 24, 2016; Baltimore, MD, USA; Baltimore Orioles center fielder Adam Jones (10) hits a solo home run during the sixth inning against the Tampa Bay Rays at Oriole Park at Camden Yards. Baltimore Orioles defeated Tampa Bay Rays 6-3. Mandatory Credit: Tommy Gilligan-USA TODAY Sports /
The Baltimore Orioles used an Adam Jones homer to come back on Tampa in their 6-3 victory at Oriole Park at Camden Yards.
As has been stated ad hoc, Adam Jones is the de facto leader of the Baltimore Orioles. He shows it both on the field and off. In last night's 6-3 win over Tampa at Camden Yards, he demonstrated why he was the leader of the Birds on the field, as his timely home run helped bring the Orioles back and send Tampa down to defeat.
Yovani Gallardo got the start, and hung in there despite a rocky beginning. Gallardo's line: 5.1 IP, 7 H, 3 R, 2 BB, 3 K. Gallardo got off to an inauspicious start as he allowed a single, a double, and a home run (in no particular order) which gave Tampa a 3-0 lead. After one inning, it kind of looked like it wasn't going to be the Orioles' night.
But Gallardo found himself quickly and shut Tampa down from there. At that point it was just a matter of the O's getting on track offensively. They didn't have a base runner until the fifth inning when Chris Davis hit a ground-rule double to left field. Hardy's RBI-single later in the inning cut the Tampa lead to 3-1. 
Live Feed
What If... The Mariners Did Not Trade Adam Jones? /
SoDo Mojo
One inning later it was Jones' homer that set the tone for the rest of the game. Granted Tampa still led 3-2, however Jones is the type of player who has a knack for table setting in a sense, and he put Tampa on notice that their reign at the top of the scoreboard would soon be over. Davis' two-RBI single later in the inning gave the O's the lead.
Manny Machado would also homer later in the game in his first action in nearly a week after his suspension. That ran the final score to 6-3. The Orioles found themselves in a bit of a position last night as they were facing a Tampa team who had lost seven straight coming in. The law of averages says that at some point someone's going to pay for a team losing that many games in a row. For awhile, it looked like it might be the Orioles – last night. But that obviously didn't happen. 
More from Orioles News
The O's now face Tampa in a split doubleheader today to make up for a game that was rained out in the first week of the season. If you're looking for Tampa to snap that losing streak, today might be the day – one of the reasons teams don't like doubelheaders is because they normally split them. It's almost a free invitation to lose a game. However that's why they play the games in a sense.
Next: Baltimore Orioles: Bullseye on their backs?
As I said this is a split doubleheader which means that both games will require separate admissions. In game one this afternoon Kevin Gausman will take the ball for the O's, and he'll be opposed by Tampa's Matt Andriese. Game time is set for just after 1 PM.