Baltimore Orioles: A look back at civil unrest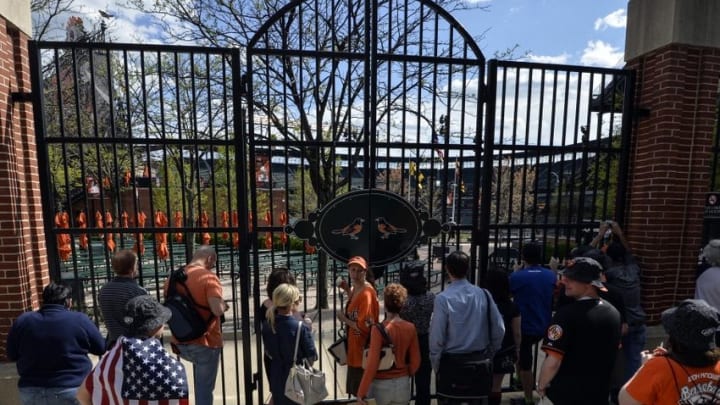 Courtesy of Tommy Gilligan-USA TODAY Sports /
It's almost fitting that the Baltimore Orioles find themselves in Tampa starting tonight. However unlike right around this time last year, they'll be the visiting team at Tropicana Field. The weekend which corresponds with this coming weekend (last year, that is) saw the O's hosting Tampa. However due to circumstances beyond anyone's control, that series was moved to Tampa – with the O's as the home team…on the road.
We all remember what happened, and it was all covered ad hoc on this site. One year ago today, the Orioles were hosting the Boston Red Sox at Oriole Park, in a game that became marred by the civil unrest which was occurring around the city and around the ballpark before and during the game. One of the windows in Dempsey's Brew Pub was broken, numerous cars were vandalized, and even some fans attending the game were intimidated by protesters.
This of course was only the first act in a week-long saga surrounding the death of Freddie Gray at the hands of the Baltimore City Police. April 27th brought an even
Courtesy of Tommy Gilligan-USA TODAY Sports /
worse situation, with full blown riots brewing citywide, prompting the cancellation of that evening's Orioles' game vs. Chicago. The next evening's game was canceled as well, and the scheduled game on April 29th was moved to a matinee…in front of an empty Oriole Park at Camden Yards.
Live Feed
Max Fried rumors: 4 trade packages to get the Braves to budge /
FanSided
On a side note, the image of the fans that day watching the game from outside the ballpark's left field gates was one that was very powerful in my view. It showed the determination of the city of Baltimore, which I know has always been there. We saw it in 1814 when the city withstood the British bombardment with the defense of Fort McHenry, prompting Francis Scott Key to write what we later called our national anthem. There's a certain defiance of circumstances which is truly Baltimorean. The Orioles are so much a part of the pysche of this city, and thus the people weren't going to be kept from their team.
I don't want to turn this into a political column, however the fact is that there were aspects on both sides of the situation that both fueled things and led to them. However there can be no doubt that those who aimed to do harm to the city and private property had no business doing what they did. It caused the city to look bad, and so many lives to be altered – in some cases permanently. Our society is not perfect, and perhaps if we accept that as opposed to constantly trying to change it we might do better than having incidents like these. In essence, I'm saying that humanity itself will never be perfect. We can try, but we'll constantly fall short.
More from Orioles News
Needless to say, the events of a few days in Baltimore affected so many people – including the Orioles and their fans. But this wasn't about baseball, nor should it have been. It's about justice – both in the area of criminal justice, as well as in civil security. We can't look past the event(s) that led to the riots; we just can't. Those issues need to be addressed, and not just in Baltimore. It's a nationwide struggle. However we also can't use those events to excuse or pardon the riots themselves. It's really that simple.
The Orioles represented Baltimore to the nation and the world with an unbelievable amount of grace and understanding while all of this was going on. And when they finally returned home after a road trip, for the first time in history they wore home uniforms that said BALTIMORE as opposed to ORIOLES. That in solidarity with the city and it's people – regardless of which side of the divide they fell.
Next: Baltimore Orioles: Mike Wright loses with hard luck
This week marks the anniversary of those events, as I said. My hope is that we never forget why the events occurred, and perhaps in the future think of what should be done to prevent them from happening again.