Austin Hays could be a linchpin for an Orioles October crusade
Austin Hays has not been playing his best baseball since appearing in the All-Star Game, but he is still integral to this young squad and could be a linchpin to the Birds making a deep run in October.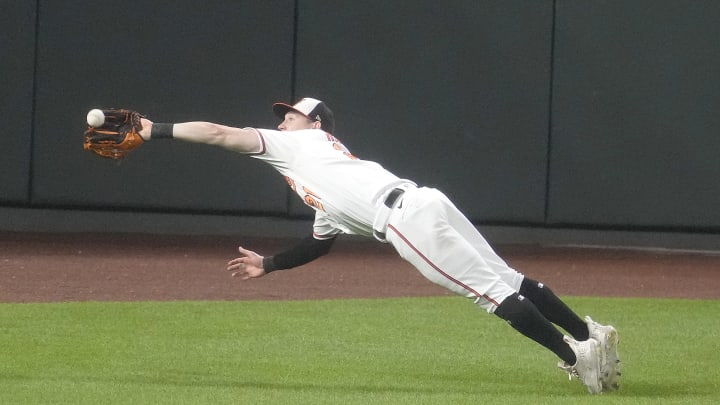 St. Louis Cardinals v Baltimore Orioles / Mitchell Layton/GettyImages
One of the key pieces in the Orioles outfield is Austin Hays. Someone who ended 2022 on a down note, Hays came out like a man on fire to start 2023. With an Orioles team on the cusp of a playoff berth, Hays is an important piece to a team with ambitions of going far in the postseason.
A cold couple of months does not diminish what Hays still contributes to the O's
An impressive .314 batting average saw Austin Hays selected to the July 11th MLB All-Star Game. He smashed 33 extra-base hits which led to a nearly .500 slugging percentage, rarely hit into a double-play and fielded the ball like an angel in left field. Since then, however, the 28-year-old has been suffering at the plate. His ability to contribute has come into question, but is that fair for Hays?
Let us first start off with the sad facts of the post-July 11th Austin Hays. A .237 batting average, more double-plays and a significant drop in extra-base hits have seen him drop to around fifth in the lineup. He still patrols left field, yet there have been instances of him making an appearance only as a pinch-hitter. The only thing that has not changed is his immaculate fielding skills. They are an asset the Orioles cannot live without.
While Hays might not be the player he was in May and June, he is doing exactly what Brandon Hyde and the Birds need him to against the big teams. The left fielder is batting .323 against Boston, .320 against Toronto, .389 when facing the Rangers and a much less fascinating but still solid .263 in games against Tampa Bay. Some of those stats are boosted by his hot start to the campaign, but Hays still comes up clutch.
If hitting a double is important, then preventing one is too. Hays has provided no shortage of highlight-reel putouts in the outfield this season. He has robbed home runs and laid out on the run to catch the ball.
Ending rallies before they even start, Hays is one of the Orioles pitching staff's favorite players. His prowess on the grass takes some of the focus off of his 0-4 nights, as he usually secures a win through his glove when he fails to reach base during a game.
Hays occupies an important role in the batting order going into the postseason, which the Birds have nearly clinched a spot in. Fifth in the lineup places him right behind the cleanup hitter. When facing talented pitchers, the Orioles have not always had a strong start to the game offensively. Hays can, and has, when he was playing well earlier in the season, start a rally in the lower half of the order. The hot-hitting Aaron Hicks could be getting an extra RBI if the batter in front of him reaches base.
The 28-year-old should not be judged by either half of the 148 games the Birds have played so far. His time to determine what exactly he did for the squad in 2023 will be decided in October. Second half of the season Hays is not what Orioles' fans want.
An in-form Hays could be a critical piece in building up the recently faltering Orioles into an October menace that is set to wreak havoc on their opponents.