Free Agent Pitchers the Baltimore Orioles Should Avoid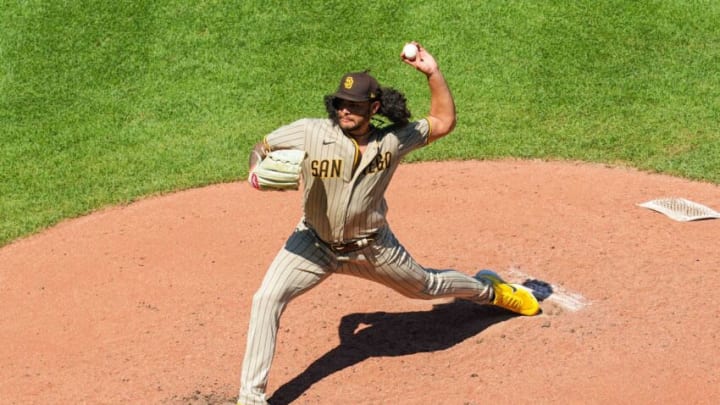 Aug 28, 2022; Kansas City, Missouri, USA; San Diego Padres starting pitcher Sean Manaea (55) pitches against the Kansas City Royals during the fourth inning at Kauffman Stadium. Mandatory Credit: Jay Biggerstaff-USA TODAY Sports /
The Baltimore Orioles are after more starting pitching, and they don't care who knows it.
Since the Winter Meetings began, both O's EVP/GM Mike Elias and manager Brandon Hyde have expressed the club's intent to make further additions to the major league roster, more specifically the pitching staff. I won't use the word "liftoff" so as not to induce some sort of cataclysmic meltdown.
While several names who would have been good fits for the Baltimore Orioles have signed elsewhere, there are still plenty of talented starters available. That includes Carlos Rodón, the biggest fish left in the free agent pond. There are, though, a few pitchers considered to be in the "middle tier" that appear to be good fits on the surface but after a more thorough look, are players that Elias should steer clear of.
Baltimore Orioles: Free Agent Pitchers to Avoid
Sean Manaea
At first glance, Manaea looks like an ideal fit for the Baltimore Orioles. How could a left handed, fly ball heavy pitcher not be? There's no real tactful way to say this, but Manaea gets hit hard. A lot.
The lefty is a relative soft tosser with a 91 MPH average fastball. While there's nothing inherently wrong with that, it becomes problematic when it's accompanied by below average movement and secondary pitches that struggle to generate swings and misses. Manaea was near the bottom of all the wrong leaderboards: in the 8th percentile in average exit velocity, 14th percentile in HardHit% (balls hit over 95 MPH, and 18th percentile in Barrel%.
Manaea had middle of the road command last year which is fine in a vacuum, but alarming when armed with context: 1) Manaea's margin for error is razor thin given his lack of velocity or plus secondary pitches, and 2) his command had previously been amongst the league's best. It's no surprise his ERA jumped to 4.96 and his FIP sat at 4.53.
From 2018-21, Manaea finished within the 89th and 97th percentile of qualified pitchers in walk percentage. In 2022? He dropped to the 53rd percentile. That's still above average, but not nearly high enough for a pitcher with his skillset to operate effectively. It's possible that this was a blip, but Sean Manaea walks too thin a tightrope to be a reliable option.
Drew Smyly
Drew Smyly is another lefty that isn't as good a fit as one may seem, though he fared much better than Manaea in 2022 (3.47 ERA/4.23 FIP).
Now, there are some positives. Smyly made great strides in terms of batted ball quality last year, dropping his average exit velocity by two miles per hour and lowering his HardHit% by three percent (increased usage of his effective cutter seems to have helped). He rarely walks anyone, keeps the ball in the park, and unlike Manaea can generate whiffs on borderline pitches.
So why isn't he a fit, you ask? His splits are just a tad too skewed for my personal liking. Right handed hitters have enjoyed success off of Smyly throughout his career to the tune of a .775 OPS and .332 wOBA, compared to a .661 OPS/.289 wOBA against lefties. Pitching in Camden Yards in front of a talented infield defense would certainly be helpful, but it would behoove the Baltimore Orioles to pursue other options.