Orioles Lose Game 2 of Series vs. White Sox (8/24/22)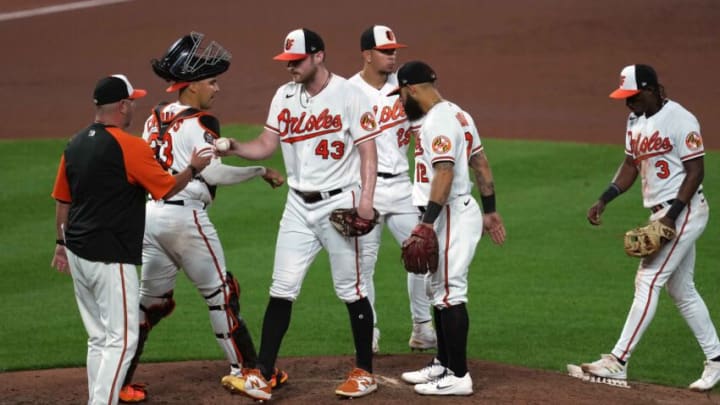 Aug 24, 2022; Baltimore, Maryland, USA; Baltimore Orioles manager Brandon Hyde (18) removes pitcher Bryan Baker (43) from the game in the seventh inning against the Chicago White Sox at Oriole Park at Camden Yards. Mandatory Credit: Mitch Stringer-USA TODAY Sports /
After taking the season series against the White Sox, The Orioles drop game 2 of their three-game series.
The Orioles starting lineup:
C. Mullins CF, 2. A. Rutshcman DH, 3. A. Santander RF, 4. R. Mountcastle 1B, 5. A. Hays LF, 6. R. Urias 3B, 7. R. Odor 2B, 8. J. Mateo SS, 9. R. Chirinos C
Spenser Watkins (4-3, 4.04 ERA, 48 K) started on the bump for the Orioles today.
The White Sox starting lineup:
AJ. Pollock LF, 2. A. Vaughn 1B, 3. L. Robert CF, 4. J. Abreu DH, 5. G. Sheets RF, 6. Y. Moncada 3B, 7. E. Andrus SS, 8. R. Gonzales 2B, 9. S. Zavala C
Recapping the Orioles 5-3 loss to the Chicago White Sox
The starting pitcher for Chicago was Lucas Giolito (9-7, 5.34 ERA, 132 K)
Gavin Sheets hit a 2-RBI single in the 1st to give the White Sox a 2-0 lead in the 1st.  Watkins settled down after that.
Adley Rutschman scored in the 4th to make it 2-1 in the 4th.
Bryan Baker (3.98 ERA) came in for the O's in the 7th.
Keegan Akin (2.60 ERA) entered in with the bases loaded.
Gavin Sheets hit an infield single to score Seby Zavala to give Chicago a 3-1 lead in the 7th.
Kendall Graveman (2.66 ERA) took the mound for Chicago and got out of a tough spot.
Louis Head (6.67 ERA) came in for Baltimore with two runners on in the 8th.
Elvis Andrus scored on a wild pitch to extend the White Sox lead to 4-1.
AJ Pollock hit a single to score Romy Gonzalez to extend the lead to 5-1.
Nick Vespi (4.22 ERA) came in for Baltimore in the 9th with 2 runners on and kept the lead to four.
Liam Hendriks (2.93 ERA) entered in for the White Sox to finish out the game.  Austin Hays hit a 2-run 406-foot home run (14) to give the O's some life in the 9th to bring the score to 5-3, but that would be the final.
The Orioles will look to take the series in the rubber game tomorrow Thursday, August 25th at 7:05 PM EST.