Baltimore Bangers: Orioles walkup song power rankings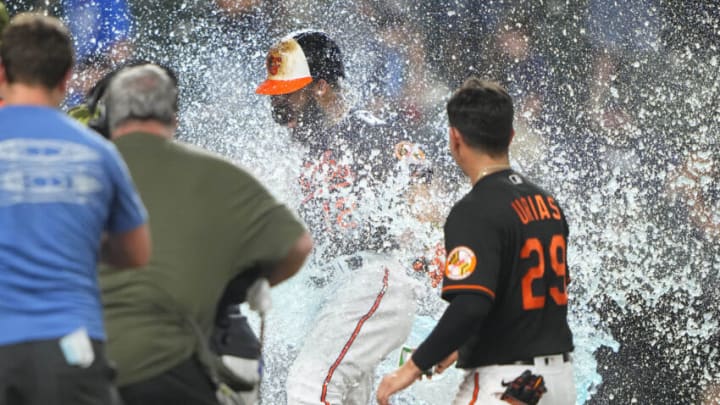 May 20, 2022; Baltimore, Maryland, USA; Baltimore Orioles second baseman Rougned Odor (12) is doused with Gatorade after hitting a walk-off two-run home run during the thirteenth inning at Oriole Park against the Tampa Bay Rays at Camden Yards. Mandatory Credit: Gregory Fisher-USA TODAY Sports /
The Baltimore Orioles are finally winning again and fans are commensurately packing into Camden Yards, turning what was often a cavern of echoes from 2017-21 back into the raucous madhouse it was in the mid-90's and early 2010's when the O's were fighting for playoff spots. The party atmosphere is back!
Baltimore Orioles walkup song power rankings
Essential to attaining peak vibes at any social gathering is the soundtrack. Whether you're crushing beers on a pontoon boat, day drinking on the last day of a bachelor/bachelorette party to dead your hangover, or sitting in your favorite team's ballpark with 40,000 close friends, the beats coming out of the speakers must be on point.
Orioles fans have been greeted in the past by bangers ranging from 2Pac and Dr. Dre's "California Love" (Adam Jones) to Moby's "Flower" (J.J. Hardy), but which tunes are the best to currently emanate from the Camden Yards PA system? Birds Watcher presents the definitive-but-not-really Orioles walkup song power rankings.
5. Ramon Urias – Neverita by Bad Bunny
Bad Bunny is one of the most popular musical artists on the planet, makes music that transcends language, and has a mean Canadian Destroyer to boot.
Bad Bunny even managed to turn Neverita, a song about a woman who doesn't reciprocate the feelings he has for her, into a song that would feel perfectly appropriate at any club or outdoor party. Urias would've found himself higher on the list had he stuck with "Yo Visto Así" (loose translation: I dress like this), another swaggy Bad Bunny joint, but claims a spot in the top five nonetheless.
Modern rappers have occasionally bucked past trends of intros and building a beat to get right into their bars and the Memphis-born Moneybagg Yo is no exception.
The track starts off heavy and lets you know in uncertain terms that Moneybagg Yo has had it with the haters and the fakes and has plenty of, well, time today to address them. The aggressive start to the song is also a great fit with Ryan Mountcastle's approach at the plate and the beat features enough bass to get Camden Yards shaking.
3. Cedric Mullins – Father Stretch My Hands pt. 1 by Kanye West
West's The Life of Pablo was a mashup of all the signature Kanye sounds: soul sampling, operatic beats, and an infusion of gospel. All three are heard clearly in the early seconds of "Father Stretch My Hands pt. 1".
The beat, produced by a team including Rick Rubin, Metro Boomin, and West himself creates a grandiose sound blessed by the raspy tones of Kid Cudi that act as the cherry on top of a melodic sundae. The reigning Silver Slugger Award winner made a fine choice with this one.
The Life of Pablo was good in its own right, but My Beautiful Dark Twisted Fantasy (the track on which "Gorgeous" features) is widely considered Kanye West's magnum opus.
Kanye's audacious production and unparalleled confidence at the time resulted in a masterpiece that sounds like it could be played at the foot of the Parthenon or inside the Roman Coliseum. "Gorgeous" is another Kanye/Cudi collaboration with an unmistakable beat carried by distorted guitar strings that gives off psychedelic vibes. It's hard to stick out on an album that includes "Power", "All Of The Lights", and "Devil In A New Dress" (which Rick Ross took ownership of on the last verse), but "Gorgeous" does it despite being a comparatively mellow offering,
Baltimore's elite catcher, supreme hugger, and best baseball boy deserves an entrance befitting of a king, and there are few better choices than a song from the best album made by one of the most influential artists of the era.
It's no surprise that the Orioles Minister of Swag takes the number one spot with the 2022 single released by Migos members Quavo and Takeoff (aka Unc and Phew).
The track boasts a heavy bass line for which producer Murda Beatz is known, and it's hard not to get out of your seat when the bars of Quavo and Takeoff kick in; they made a song about Taco Tuesday sound dope, for goodness sake. Combine the production with the dulcet Migo tones and Rougned Odor and you get magic. Dare I say, Orioles Magic.