Baltimore Orioles: Is Adley Rutschman the Best Catcher in Baseball?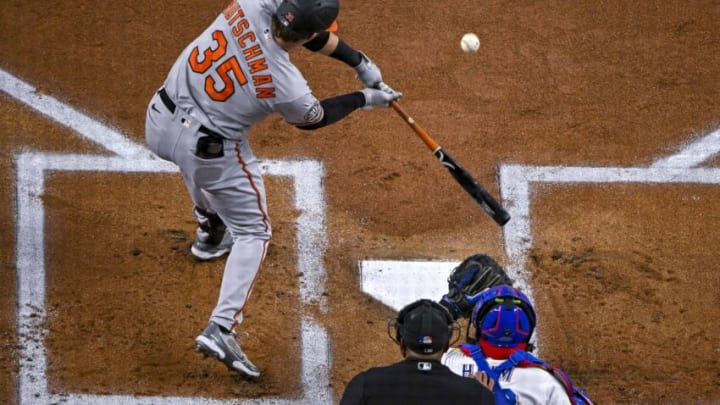 Aug 3, 2022; Arlington, Texas, USA; Baltimore Orioles designated hitter Adley Rutschman (35) in action during the game between the Texas Rangers and the Baltimore Orioles at Globe Life Field. Mandatory Credit: Jerome Miron-USA TODAY Sports /
With the first pick of the Mike Elias regime, the Baltimore Orioles selected a switch-hitting catcher named Adley Rutschman out of Oregon State with the number one overall pick. Since then, that catcher has mashed at every level of the minor leagues and has become arguably the best hitter on a team that sits only two games out of a playoff spot in August.
Of course, most Orioles fans remember that Adley Rutschman had a slow offensive start to his big league career after being called up on May 21st but he has since become a double and walks machine who has also been an extremely valuable defensive catcher for a team that has struggled in that category since losing Matt Wieters after the 2016 season. Rutschman has been successful enough that just yesterday one Twitter account made the claim that he is already the best catcher in baseball, beating out guys like Will Smith, Jose Trevino, and Alejandro Kirk despite having not played three full months in the big leagues yet.
While this is only one claim made by one account, it is notable that Adley is already being claimed as a top-tier catcher by a national audience and it is interesting to see if this holds up compared to some of the other great catchers in the game.
The Offense
Aug 2, 2022; Arlington, Texas, USA; Baltimore Orioles catcher Adley Rutschman (35) hits a double during the fifth inning against the Texas Rangers at Globe Life Field. Mandatory Credit: Raymond Carlin III-USA TODAY Sports /
Adley Rutschman has only played 61 games in his career thus far and has split time between catcher and DH since his debut. He has hit well this season with a .256/.363/.441 slash line and a 129 OPS+ with five home runs and 19 RBI. He has drawn plenty of walks with a 12.9% walk rate and has only struck out 16.9% of his plate appearances which shows a good awareness at the plate.
Is Adley Rutschman already MLB's best backstop?
As mentioned earlier, Adley has also hit plenty of doubles with 22 of his 54 hits have been doubles and 28 of his 54 hits going for extra bases. Adley has also stolen two bases which is unordinary for a catcher but he has shown good speed for his position with a league-average sprint speed for all position players. He has also increasingly gotten better this season each month as he had a 52 OPS+ in May but has increased that to 143 in July and 232 with a .400/.571/.600 slash line so far in August. Overall, he has had a .367/.530/.510 slash line since the All-Star break with seven doubles and fifteen walks in fifteen games.
All of this suggests that, despite the slow start, Adley has been a premier offensive player over recent months which has allowed him to become the regular two-hole hitter with Trey Mancini gone and Austin Hays and Ryan Mountcastle struggling.
Two glaring weaknesses for him offensively are his lack of home run power which will likely develop as he ages and his struggles as a right-handed hitter.  The home runs were a strength for Adley in the minors as he hit 18 in only 80 games with the Bowie Baysox last year as well as 8 in 55 games in his career with the Triple-A Norfolk Tide. The lefty/righty splits, however, have been problematic.
As a lefty, Adley hits .296/.396/.526 in 177 plate appearances with all five of his home runs and 24 of his 28 extra-base hits. From the right side, he bats .153/.282/.220 in 71 plate appearances. This glaring difference occurs for many switch hitters, especially early in their career as they get more reps from the left side and the right side is often neglected. Notably, this occurred with Cedric Mullins early in his career when he struggled so much from the right side that he gave up switch-hitting altogether prior to the 2021 season. For Rutschman, the .209 BABIP as a righty indicates that he has been unlucky at times and his numbers could get better as time goes on and he gets more experience against lefties.
Baltimore Orioles: is Adley Rutschman already the best catcher in baseball?
Rutschman's biggest offensive strength is his plate discipline. As a rookie, he has already proven himself to be one of the most disciplined hitters in baseball. His 12.9% walk rate is in the 94th percentile of all big league hitters and his whiff percentage and chase rate are also amongst the best in baseball, at 87th and 85th percentile respectively.
As indicated by his impressive whiff rate, when Adley swings at pitches he often makes contact. His zone contact % is 86.9 percent, essentially 5 percent better than the average hitter. Even with all the contact he generates, he still hits the ball hard when he does make contact, ranking in the 64th percentile for hard hit %. All this is to say that Adley is disciplined well beyond his years and plate discipline often translates year over year and makes a hitter an even more difficult out.
Another catcher known for his plate discipline is Yasmani Grandal who has routinely been considered a top-tier catcher over the past several years but has taken a huge step back this year for the White Sox. Last season, Grandal had an absurd 23.2% walk rate with a .420 on-base percentage and a career walk rate of 14.7%. However, injuries have slowed him down over the past several years and he is no longer considered the elite catcher that he once was.
The Defense
Jul 26, 2022; Baltimore, Maryland, USA; Baltimore Orioles catcher Adley Rutschman (35) throws during the first inning of the game against the Tampa Bay Rays at Oriole Park at Camden Yards. Mandatory Credit: Tommy Gilligan-USA TODAY Sports /
One reason why Rutschman was considered the sure-fire number one pick in 2019 and the consensus top prospect after Wander Franco graduated to the big leagues was because of his elite catching abilities. Sure enough, Rutschman has already proven to be one of the best defensive catchers in baseball as his pop time to second base ranks in the 88th percentile and his framing ranks in the 91st percentile amongst catchers. For those of you who do not understand this terminology, pop time is defined by Baseball Savant as how quickly, in seconds, a catcher can get the ball out of his glove and to the base on stolen base attempts and pickoffs.
Adley Rutschman: defensive wizard
Framing is simply defined by Fangraphs as the ability of a catcher to get more strike calls for his pitcher than expected. Simply put, Adley is among the elite catchers in baseball in run prevention by throwing out baserunners and stealing strikes for his pitchers. Both of these abilities are not particularly sexy but make a big impact on the team and help his pitching staff who have had an amazing turnaround this season.
In standard statistics, Rutschman's 25% caught stealing rate is not particularly impressive but it also needs to be considered that stolen bases are not nearly as common in today's game as they had been in the past and teams are especially reluctant to run when a guy with elite pop time is sitting behind home plate. If teams are going to decide to run on Adley, they must be sure they will be successful and thus 18 of 24 would-be base stealers have been. Adley routinely gets the ball from his glove to second base in under 2 seconds and has weirdly been slightly slower in times where he has caught the baserunner versus times when the runner has been successful in stealing second. The difference is only 0.05 seconds but that is significant when the play occurs in less than two seconds.
This can partially be attributed to the fact that Adley is likely more accurate in his throws when he uses that extra millisecond but should mostly be attributed to the small sample size. The quick exchange time combined with an 86.6 mph average on pickoff throws attributes to his elite pop time.
Framing is much more difficult to quantify than pop time but several outlets have done their best in doing so. According to BaseballSavant, Rutschman has saved two runs this season with his framing ability which may not seem like a lot but it makes a difference. For example, last season Orioles catcher Pedro Severino lost ten runs for his pitching staff due to his poor framing abilities which do make a difference, especially in close games or games where that one strike could get a team out of an inning. With the potential implementation of robot umpires in the coming years, this framing ability may become obsolete but for now, the ability to gain strikes is a valuable tool.
Comparing Adley to the Competition
Jul 22, 2022; Baltimore, Maryland, USA; New York Yankees catcher Jose Trevino (39) catches Baltimore Orioles left fielder Austin Hays (21) fly ball at Oriole Park at Camden Yards. Mandatory Credit: Tommy Gilligan-USA TODAY Sports /
It is more than fair to say that baseball is lacking truly elite catchers right now which is why Adley could even be considered to be the best catcher in the game. The starting catchers in this year's All-Star Game were Kirk of the Blue Jays and Willson Contreras of the Chicago Cubs. Both of them are having good seasons and have both likely been better offensively over the entire season as they both have a higher OPS+ than Adley. Kirk is a good pitch framer but has one of the slowest catchers in baseball in terms of pop time, ranking in the 26th percentile.
He has been particularly impressive at the plate in avoiding strikeouts and hitting the ball hard. He ranks in the 99th percentile in strikeout% at 10.3% and is also in the top 10% of the league in expected batting average, expected weighted on-base average, and whiff%. Kirk has also struggled offensively over the past month or so and his overall defense is not as strong as Adley's.
For Contreras, the pop time is in the elite range but his framing is subpar. He hits the ball hard and routinely has one of the top maximum exit velocities in the league. This year, Contreras hit a ball 116.2 miles per hour which ranks him in the 98th percentile for max exit velocity.  Statistically, he is one of the better offensive catchers but his defense does weigh him down.
Other catchers that have been well regarded this season and over the past few years are JT Realmuto, Will Smith, and Jose Trevino. Realmuto has quietly had another solid season for the Phillies with 118 OPS+ and 12 home runs in 92 games. Defensively, he has the quickest pop time to second base in all of baseball and is an above-average framer and above-average in essentially every offensive category. Smith has also been solid offensively with 129 OPS+ and 16 home runs. He has been a solid catcher for the Dodgers and won a World Series ring with the team in 2020 but might be most well-known for the common name that he shares with a Braves relief pitcher and actor.
Defensively, Smith is above-average but not elite and his biggest strengths are his plate discipline and expected slugging percentage. Trevino burst onto the scene this season for a Yankees team that looked to have catching as a weakness this season with Kyle Higashioka expected to take over for Gary Sanchez. Trevino has been a solid hitter but is the best framer in baseball which has allowed his pitching staff and bullpen to make huge strides this season. He quickly made a name for himself during the All-Star Game where he, along with pitcher Nestor Cortes were mic'd up while giving signs to one another.
Is Adley Rutschman the Best Catcher in Baseball?
It is tough to say whether or not Adley can be considered the best catcher in baseball but I believe it is, at least, premature to make that claim. According to Fangraphs WAR, Rutschman has the eighth most amongst catchers but it is not unrealistic to say that he would be in the top five had he played the same amount of games as the players ahead of him.
According to this metric, Realmuto and Trevino are the two best catchers this season based on their combined offensive, defensive, and baserunning prowess. Realmuto is particularly impressive because of his relative strength and athleticism amongst catchers, two areas that Adley Rutschman is also relatively strong in. Right now I would claim that Realmuto is the best catcher in baseball but I think he is the only player that I would definitely take ahead of Rutschman. Guys like him, Trevino, Smith, Kirk, and Sean Murphy are all close enough in skill that I could argue that any of those guys would be second behind Realmuto.