Baltimore Orioles: How Joey Krehbiel has baffled hitters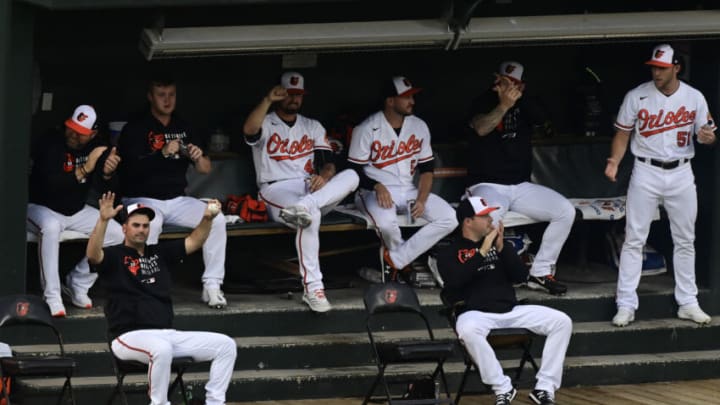 Baltimore Orioles bullpen. Mandatory Credit: Tommy Gilligan-USA TODAY Sports /
The Baltimore Orioles have been exceeding expectations in most departments this season, arguably none more so than the bullpen, which quickly assuaged concerns that trading Cole Sulser and Tanner Scott to the Marlins would leave the O's with a depth problem.
Few have been more impressive through the first three months of 2022 than Joey Krehbiel. An 11th-round draft pick in 2011, Krehbiel had brief cameos with the Diamondbacks and Rays before the Orioles claimed him off of waivers last September and gave him 7.1 innings of work, over which he posted a 4.91 ERA and 5.22 FIP.
Given the small sample, it was hard to project that he would become one of the bullpen stalwarts with the sixth-lowest ERA in the majors.
In an age where bullpens are filled to the rim with archers launching 98 mph arrows at hitters, you wouldn't expect someone whose fastball velocity is in the bottom tenth percentile of Major League pitchers to be in the top tenth percentile in average exit velocity and HardHit%.
It would be doubly surprising that the same pitcher ranks in the top third of pitchers in expected ERA, expected wOBA, and expected AVG. Krehbiel has done precisely that, though, thanks to an arsenal of pitches that move every which way but straight.
His four-seam fastball is a slightly above-average pitch despite the lack of premium velocity; it has a -3 run value relative to the average fastball, 76th on the MLB leaderboard.  Batters are hitting just .130 with a .229 wOBA against Krehbiel's four-seamers.
This is due in part to the fact that Krehbiel "pitches backward"; he throws his fastball just 29.2% of the time. Krehbiel's fastball generates 9.8 inches of horizontal movement, 2.2 inches more than the average four-seamer with a similar release point and pitch velocity. The cutter and slider have been the two least compelling pitches of the four Krehbiel throws but still, generate more movement than average.
The standout pitch in Joey Krehbiel's bag is clear: the changeup. His changeup has been elite, constantly making hitters look the way Mike Zunino looked here. Batters have produced a meager .083 batting average and  .131 wOBA compared to a .174 xBA and .214 xWOBA.
Batters whiff on the pitch nearly one-third of the time Krehbiel throws it. Its 4.3 inches of additional vertical break vs. average ranks 33rd out of 287 qualified changeups.  All of those numbers add up to a -5 run value and the 14th most effective changeup in the Majors (yet only second on his own team, as Tyler Wells' changeups ranks ninth). When you look at it relative to all other pitch types, his change becomes even more impressive; of the 1,764 individual pitches thrown by qualified pitchers, Joey Krehbiel's changeup is ranked 115th in run value.
For the Baltimore Orioles, it is a legitimately elite pitch that can only be described as some sort of baseball jackhammer that certainly has a lot to do with why hitters can't square him up on a regular basis.
Krehbiel has capitalized on the opportunity that the Baltimore Orioles trade gave him. After a decade spent in the minor league organizations of three other clubs, he has finally established himself as a Major League player. In a bullpen that's featured breakouts from flamethrowers like Jorge López, Félix Bautista, and Cionel Pérez, it's easy for a guy that doesn't frequently decalibrate radar guns to get lost in the shuffle.  Make no mistake, though; Joey Krehbiel has been just as impressive.