Baltimore Orioles: Surprise surprise? Richie Martin is back!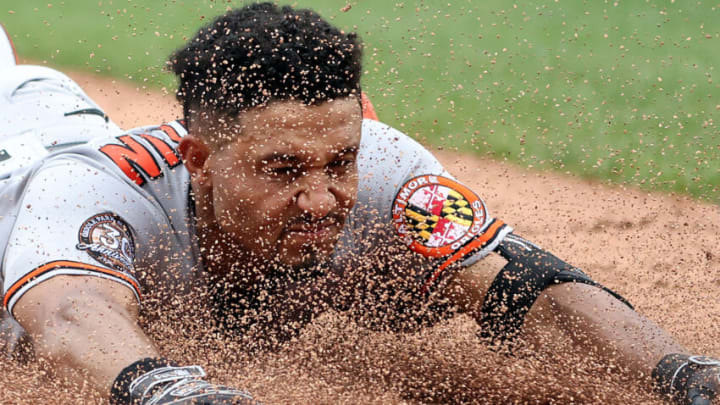 Richie Martin #1 of the Baltimore Orioles. (Photo by Jamie Squire/Getty Images) /
As Ramon Urias went onto the 10-day IL, it was all anyone could do but to question Richie Martin's return. After two games with the Baltimore Orioles, that question has been answered.
The questioning, in-part, mostly came from either his last stint in the Major Leagues, or his current season with Triple-A Norfolk. Both options were worrisome, and the issues were warranted. There also is the fact of a little known name of Gunnar Henderson that everyone surrounding the Baltimore Orioles cannot wait to see get to The Show.
Regardless of where you sit on this, both Saturday and Sunday afternoons against the Royals may have changed your mind. Leading up to this weekend, Martin was hitting .294 with 14 RBIs, and 17 stolen bases. His career numbers with the Baltimore Orioles playing in the big leagues, had previously looked like this: .221 BA, 7 homeruns, 31 RBIs, and 10 bags over 157 games.
Although his batting average got better in 2021, everything else too a plunge from his 2020 numbers making the Baltimore Orioles faithful very nervous to see his name called back up. Didn't we just see this in Chris Owings? Didn't we learn out lesson last time? Is this the best we have?
Baltimore Orioles: Surprise surprise? Richie Martin is back!
Those questions and more came up Saturday morning before an afternoon battle against KC. Saturday wasn't a showstopper for Richie Martin, but he did collect a hit and get his confidence back on the field. That confidence grew from a decent outing, and exploded Sunday afternoon.
Sunday afternoon saw the Baltimore Orioles complete the series against the Royals, and Richie Martin played a big role in that. He went 3-5, scored three times, hit two triples, and drove in two runs. He showed his versatility by playing at both 2B and SS, and although he did commit and error on Sunday, he had nine assists over the weekend.
You could say that Marin was the trade off for the Baltimore Orioles releasing Chris Owings, and if that is the case, he has far exceeded expectations. If the bat remains hot, it will supplement his fielding and speed nicely. It's two games, but the sample size is wildly surprising!